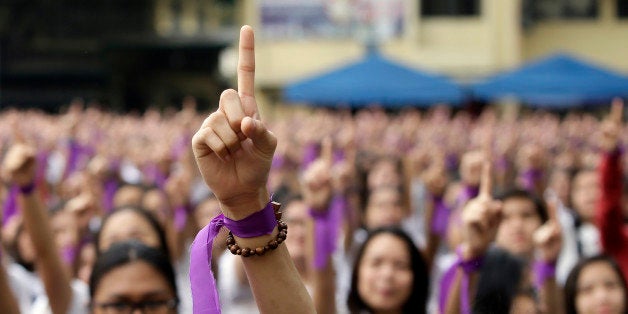 At first glance the world of business has little bearing on violence against women -- something that usually happens in the street or at home rather than in the office or boardroom. However, business can't thrive in a world where so many women, who perform two-thirds of the world's work, continue to live in fear of violence, abuse and discrimination.
We believe that successful, sustainable business should be a force for good. And building safer, fairer and more sustainable economies makes good business sense too. Today is the International Day for the Elimination of Violence Against Women and it's time for us all to face the facts.
Violence against women is a global epidemic. one in three women have experienced some form of physical or sexual violence, often at the hands of an intimate partner, and many countries have no laws against domestic violence. No country, culture, race or socio-economic class is immune. Violence can take many forms, including human trafficking, female genital mutilation (FGM) and child marriage. The statistics speak for themselves:
How can our economies grow when so many livelihoods are left in ruins? Many bright futures are lost and so much potential talent will never be realised. No business leader can truly succeed today, without taking responsibility for the systemic challenges facing people around the world, including those faced by so many women who continue to live in fear.
Tragically, acts of violence against women are still on the rise, particularly in many conflict zones, where rape is used as a weapon of war and women are being sold. These conditions are also exacerbated by the growing impact of climate change, such as desertification and falling crop yields that make water more scarce and fuel further social unrest.
Like all rights abuses, acts of violence against women anywhere compromise the dignity of people everywhere. And this isn't just a matter of injustice. Violence against women also carries significant costs to the economy. It results in reduced productivity, hampered creativity and innovation and increased absenteeism from the workplace.
Businesses leaders around the world have not only a moral obligation, but also a clear business incentive to tackle this issue in all their spheres of operation. So it's good to see businesses around the world are already starting to take action.
Safaricom, an African integrated communications provider, has partnered with the Gender Violence Recovery Centre in Kenya to mitigate, where possible, and respond holistically to Gender Based Violence in the community. With a range of clinical, psychosocial, legal and policy measures Safaricom aims to raise awareness of domestic violence and strengthen effective response and prevention.
The Kering Foundation, the charitable arm of the Kering Group, which includes fashion and sports brands such as Gucci, Stella McCartney and Puma, exists to combat violence against women.
This month its White Ribbon for Women campaign encourages everyone to make a stand and speak out against violence to women. Fashion designer, Stella McCartney, has designed a limited edition White Ribbon for Women brooch to help raise awareness of the campaign.
It's time to break our silence, to take action and renounce all forms of violence and discrimination. Not just today, but in every day to follow. We can all speak out for women the world over who can't.
This article was developed by The B Team in partnership with Vital Voices and Kering, as part of a global campaign to combat Violence Against Women.
Related
Popular in the Community