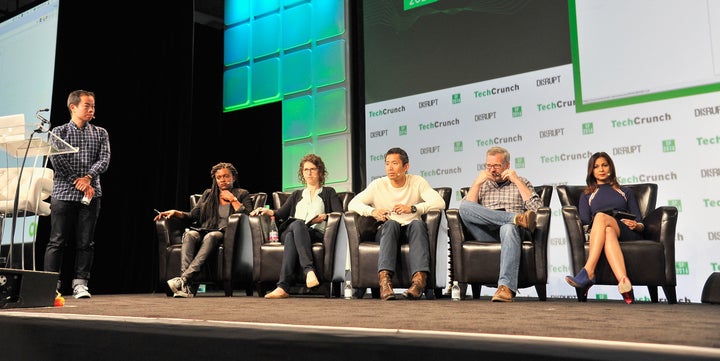 My late husband and I shared the common belief that it is the middle class that drives the economy, not millionaires. At a glance, our economic system rejects that belief. There is no shortage of preferential loopholes such as the carried interest tax loophole that play into the coffers of the rich rather than bolster our middle class. What is so symbolic about the carried interest tax loophole is that there is such widespread support to close it ― and yet it remains open. There's no quicker way to put someone to sleep than to start discussing tax codes. But thanks in part to the agreement between candidates from Jeb Bush and Donald Trump to Bernie Sanders and Hillary Clinton and in part to a grassroots demand for a re-examination of our tax code, the carried interest tax loophole is keeping the room awake.
The carried interest tax loophole is the controversial loophole allowing private equity managers, hedge fund managers, and venture capitalists to tax incomes at the capital gains rate instead of as ordinary income. The Congressional Budget Office estimates that the federal government is missing $1.8 billion in tax receipts each year by not closing the loophole. Other estimates are ten times that.
The fight is taking place in DC and on Wall Street. Now, some Silicon Valley venture capitalists are jumping in, claiming that if their loophole is closed, they will see their taxes almost double. Thing is, that's the point! Changing the way that carried interest is taxed is an argument based soundly in logic and fairness. These venture capitalists are not paying their fair share in taxes.
The arguments to keep it open are weak at best and laughable at worst. Private equity managers, backed by the American Investment Council, and venture capitalists, backed by the National Venture Capital Association Trade Association, are able to compensate their lacking arguments with lobbying and checks.
Everyday Americans look at their pocket books and read about the legislation left untouched to close the loophole and come up with one answer: they do not have the money to buy Congress' ears. Lobbyists and wealthy special interest groups may not buy the seats outright, but they buy the majority of time that these elected officials have to listen. A few wealthy elite are confirming that our tax structure is tipped in favor of the already elite, and confirming to a weary middle and lower class that Congress follows the money, not the constituents.
Our government plays an intricate balancing act in an attempt to appropriately fund enough goods and services so as not to just adequately run the country, but to maximize the potential of running the country for the common good of ALL Americans.
A few wealthy elite are confirming that our tax structure is tipped in favor of the already elite.
Nobody is denouncing the ingenuity Silicon Valley contributes to America. Google, Facebook, and Uber, to name a few, have impacted daily routines of average Americans in a way that deserves a conscious place in our great American Hall of Fame ― but they do not deserve to create a hole in the federal government's funds for public goods and services. And they definitely do not deserve to self-indulge in the belief that they are too special to pay taxes like any other Californian.
The venture capitalists who continue to argue closing this loophole will hurt their wallets are subscribing to a special level of greed. In the last few weeks, legendary hedge fund managers like Alan Patricof and Whitney Tilson have come out in favor of closing the loophole ― stating they know they'll be just fine with the higher tax rate. Their peers will be just fine as well. And America will not see a sudden shortage of private equity managers or venture capitalists.
As a long-time resident of California, let me remind you that during the recent "Great Recession" people lost their homes en masse. They moved to more affordable rentals ― which have since become more scarce and less affordable. I watched the increased number of homeless, I saw as developers began to monopolize on the situation. But Governor Brown has made strides ― such as adopting higher wages ― and I hope to see the state's economy grow. It is time for all Americans of means to set aside their faulty arguments and step up to do the right thing. Support closing the carried interest tax loophole, send the message to the American people that wealth does not own Congress and that our system is not unfairly rigged.
REAL LIFE. REAL NEWS. REAL VOICES.
Help us tell more of the stories that matter from voices that too often remain unheard.