Correction: The headline and text of this post have been updated since publication. See author's note below.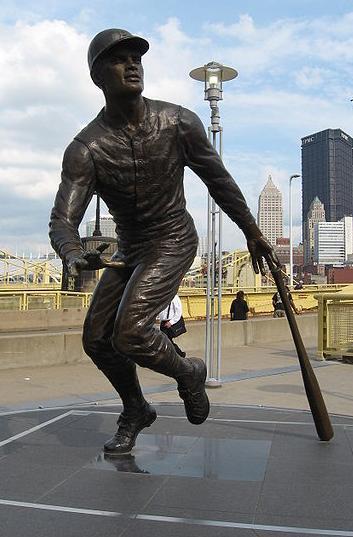 On April 15, players throughout Major League Baseball will take the field with numbers on the back of their jerseys that can no longer be worn in the league. From players on the Arizona Diamondback to players on the Philadelphia Phillies, MLB players will be sporting the No. 42 in honor of the late, great Jackie Robinson.
MLB retired Robinson's 42 back in 1997 and it was a great move that continues to highlight the importance of a legend who made his presence felt on and off the field, but it's time for MLB to honor another legend: Pittsburgh Pirates great, Roberto Clemente.
12 All Star selections (1960-1967, 1969-1972)
Two World Series championships (1960, 1971)
12-time Gold Glove Award winner (1961-1972)
1966 MVP for the National League
1971 World Series MVP
3000-hit Club
And that's just on the field. Like Robinson, Clemente's legacy lives off the field as well. No, Clemente wasn't the first Latino baseball player in Major League Baseball -- that distinction belongs to Luis Manuel Castro. And he wasn't even the first Puerto Rican baseball player in MLB -- Hiram Bithorn gets that honor.
During his early years at the Pittsburgh Pirates Spring Training in Florida, Clemente was not provided with the comfortable hotels other players had. Instead, Clemente lived with a black family in the Dunbar Heights section of Fort Myers, Florida. And when the Pirates held their annual spring golf tournament at a local country club, Clemente and the other black teammates were left out.
While Clemente's white teammates ate at roadside restaurants during their Grapefruit League trips, Clemente had to remain on the bus. Clemente eventually convinced the Pirates front office management to allow black players to travel in their own station wagon. Clemente compared his ordeals to being in prison.
Clemente was also responsible for getting the Pirates to postpone their 1968 season opener out of respect for the death of Martin Luther King, Jr. Clemente gathered his Pirates teammates, which included 11 black players, and got the April 8 opener moved to April 10.
It was Clemente's belief in doing the right thing that unfortunately took his life.
In 1972, during a flight to Nicaragua to bring aide to earthquake victims, Clemente's plane crashed in an aviation accident. There were no survivors.
Clemente had no place being on the plane, but being the man he was, Clemente boarded the plane because he heard that the supplies that were being flown to the country were not ending up in the hands of the people who needed them. Clemente hoped he could make sure the supplies ended up going where they needed to go.
Clemente was a man of charity and man who believed in doing well. In his honor, MLB now has the Roberto Clemente Award, given every year to a player who "best exemplifies the game of baseball, sportsmanship, community involvement and the individual's contributions to his team."
But it's time for MLB to do more.
Clemente's family has long pushed for MLB to retire the legend's number throughout the league, just like Robinson's, but gave up hope in 2012:
It's become pretty clear to us this commissioner doesn't want anything to do with it, to be perfectly honest. That just means we're going to have to wait until there's a new commissioner. And we will.
While it would be a nice gesture to have his number retired throughout the league, I don't believe it's the right step. It's a strange practice to have every team retire a number even if that player did not play for them, but there is something else MLB can do.
Instead, MLB should hold a Roberto Clemente Day every year, just like Jackie Robinson Day, and honor the great by allowing players to wear his number if they choose.
While Clemente may not have kicked down the doors for Hispanic players, he did pave the way and does hold some firsts as a Hispanic player.
First Latino American to be selected for the Hall of Fame
First Latino to win a World Series as a starter
First Latino to win a league MVP award
First Latino World Series MVP
With the growing number of Latino players in MLB, this would be a great way to honor one of baseball's all-time greats and a player that many current Latino baseball players look up to today.
UPDATE: After receiving an email from Major League Baseball, it was brought to my attention that MLB has, in fact, held a Roberto Clemente Day every season since 2002.
While I was unaware of this day, I did some research and searched the MLB websites for "Roberto Clemente Day." From what I was able to find, MLB's Roberto Clemente Day serves as a day for teams to nominate a player from their team for the Roberto Clemente Award. Fans are then allowed to vote for who they believe deserves the award.
While I am delighted to know that MLB has a Roberto Clemente Day, I believe many fans and I had no idea such a day existed.
The point of my piece was to bring to light to the fact that Roberto Clemente should be recognized in a larger scheme. MLB's current Roberto Clemente Day is a great start, but it is limited to pre-game festivities that are unknown to the casual baseball fan.
Every year we see ESPN celebrate Jackie Robinson Day along with MLB. We see players share their feelings on Jackie Robinson. This is what is needed for Roberto Clemente.
Support HuffPost
The Stakes Have Never Been Higher
Related
Popular in the Community