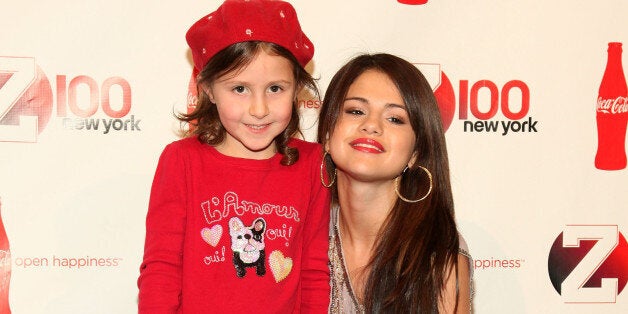 Remember the old adage often repeated to young children: "Beware of strangers with candy?" Well, it's more relevant than ever. There are people with self-serving intentions tempting your children with sugary treats. Only they're not strangers. They're the athletes and pop superstars shilling Coke, Pepsi and other sugary beverages to the kids who worship them.
Selena Gomez and Andra Day are just the latest celebs to trade on their fame to sell Coca Cola -- and sell our kids out. What's especially distressing is that Gomez and Day are lending -- or, rather, renting -- their ethnic heritage to help Coke target young Hispanic and African American children.
In case you didn't know -- and I am assuming Gomez and Day don't, or they might pause before throwing their fans under Big Soda's bus -- minority children consume more soda and, not coincidentally, suffer significantly higher rates of diabetes and obesity than their white and Asian peers. They also see a heck of a lot more advertising and marketing aimed directly at them.
Nestle masterfully sums up the soda industry's diabolically perverse agenda in one sentence: "Decades of soda company philanthropy have convinced many African and Hispanic American groups that soda companies have their interests at heart, that philanthropic gifts are welcome contributions, and that efforts to tax sodas or cap soda sizes are modern-day manifestations of elitist white supremacy."
You can see this strategy being deployed on steroids right now in Philadelphia, where the soda industry's spending a fortune to defeat Mayor Kenney's proposed soda tax. The beverage industry can't afford to let this initiative pass, because it would encourage other cities to do the same. It's one thing for ultra-liberal Berkeley to pass a soda tax; it's a whole other ballgame if Philadelphia does it. The beverage industry's fighting tooth and nail (to the tune of millions) to defeat common sense measures that would fight poverty and disease in underprivileged communities.
And Day sees her participation in Coke's "Share a Cup and a Song" campaign, which will plaster the lyrics to her anthem "Rise Up" on more than 40 million coke cups to be sold exclusively through McDonald's, as a way to inspire people to 'persevere.'
Day told the Associated Press "That's what the song is all about. That's why I like this Coke campaign, because it makes you inspire community. I hope people are able to see the encouraging stories through this."
She's talking about the stories of the four African American women featured in a short documentary called "I Rise," which you can watch on your cellular device after you scan the Coke cup using Shazam's new image recognition technology.
I'm sure that Day sincerely believes that Coke is giving her a platform to empower people. But that's not Coke's agenda. They want to sell more soda. And what a horrible irony now that we understand how truly addictive sugar is. It triggers the exact same brain centers as heroin and cocaine. With all due respect to Day, that's hardly a pathway to empowerment.
Targeting minority youth has been a goldmine for the beverage industry for decades, but now it's becoming a minefield. When is it going to blow up? How can we get influential celebrities like Gomez and Day to understand that their endorsements constitute a huge betrayal of their fans? There are uncanny parallels between the fight against soda and the fight against tobacco. Of course, neither of these women would ever dream of encouraging their social media followers (Gomez alone has -- I kid you not -- 77 million on Instagram) to start smoking cigarettes. So why are they urging their fans to drink a beverage that contains a whopping 10 teaspoons of sugar in every can?
The Coca Cola executives who persuaded Gomez and Day to make this deal knew it would infuriate and appall a lot of child and health advocates, as well as parents. Did they warn either star of that? Did they mention, even in passing, the furious debate that's raging over the crucial role soda has played in sending the rates of diabetes and obesity in America soaring (see FedUP )?
I don't believe Gomez or Day would intentionally harm a single child, and yet their association with Coke will inevitably set millions of children on a path to poor health. We can't go on letting these stars use their cachet to hook our kids. There has to be pushback from everyone in this country who understands the health epidemic that sugar is feeding.
Which raises the question, where is our Surgeon General? Where is the American Diabetes Association, The American Heart Association, The American Dental Association, The Robert Wood Johnson Foundation?
Day is right! We need all caring adults to "Rise Up"! Rise up loving parents and school principals! Rise Up mayors, governors, senators and doctors! Speak out boldly, loudly, and clearly to stop this off-key exploitation of Americans most at-risk children.
The young fans of Disney made Selena Gomez a star. Doesn't she owe them something--at the very least, not to exploit their adoration for her by helping a greedy corporation sell them a product that is addictive and could potentially shorten their lifespan? We all need to start singing a new tune.
Calling all HuffPost superfans!
Sign up for membership to become a founding member and help shape HuffPost's next chapter