Thousands of people from the U.S. and 166 other nations are urging President Obama and Secretary of State John Kerry to stop arming Israel and start backing a U.N. arms embargo on Israel, Hamas, and other Palestinian armed groups.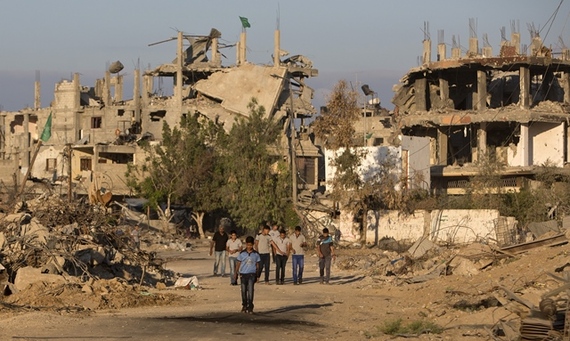 Palestinian boys walk past buildings which were destroyed by Israeli strikes on September 14, 2014. (MAHMUD HAMS/AFP/Getty Images)
Of the 71 killed on the Israeli side, six were civilians. Palestinian armed groups fired thousands of indiscriminate rockets and mortar shells on Israel from the Gaza Strip, in itself a war crime. There were reports that they fired indiscriminate rockets from near hospitals or health facilities, or used these civilian buildings for military purposes.
Meanwhile, in the occupied West Bank, the Israeli government continues taking Palestinian land in what amounts to war crimes. Israel is steadily appropriating more and more of Palestinians' land for illegal Jewish-only settlements. Thousands of Palestinian civilians have lost homes and farmland to an ever-expanding Israeli settlement enterprise that replaces Palestinian communities with Jewish-only homes, frequently at gunpoint.
The brutal results of Israeli practices speak for themselves. As I've previously written, according to the U.N., Israeli forces killed more West Bank Palestinians in 2013 than the combined totals for 2011 and 2012. Since January 2011, over 8,000 Palestinians in the West Bank, including 1,500 children, have been seriously injured by live ammunition fired by Israeli forces or wounded by other means.
For all the talk in the U.S. media of a U.S.-backed "peace process," the reality is that the U.S. has consistently provided the kinds of weapons, ammunition and fuel that Israel has used to facilitate serious human rights violations in the Occupied Palestinian Territories. These include, for example, guided missile parts, rocket launchers, artillery parts and small arms, as well as thousands of tons of fuel for fighter jets and military vehicles. Not only that, but U.S. foreign policy simultaneously shields Hamas and Palestinian armed groups from accountability as well.
But the Obama Administration has done neither. As a consequence, the U.S. is shielding Israel, Hamas, and other Palestinian armed groups from global accountability. With U.N. Security Council authorization, the International Criminal Court could investigate, put out arrest warrants for, and even prosecute individuals suspected of committing war crimes and crimes against humanity. But for the U.N. Security Council to back such a step, the U.S. must not veto the resolution.
That's why nearly 200,000 people from 167 countries added their names to Amnesty International's global call. As diplomats from around the world gather in New York City, people concerned about basic human rights are demanding action. The current ceasefire should not be seen as an excuse for more of the same in U.S. foreign policy.
Calling all HuffPost superfans!
Sign up for membership to become a founding member and help shape HuffPost's next chapter