By Jennifer Rigg, Executive Director, Global Campaign for Education - US

As a parent of two active children, I see the amazing skills and knowledge they're gaining at school every day. Yet the vital right to education is just a dream for 75 million children impacted by emergencies and crises. Across our global community, we cannot wait any longer and must act today to reach all children with quality education.
Education Cannot Wait: a fund for education in emergencies will officially launch at the first-ever World Humanitarian Summit on May 23, 2016. We urge world leaders to commit new funds, above existing aid commitments, to jumpstart the Education Cannot Wait fund and meet the education in emergencies funding gap of $8.5 billion - which is just $113/child per year.
Why now?

This fund is timely as the world is in the midst of the largest refugee crisis since World War II. The impact is long lasting across entire generations: the average displacement due to refugee situations is 17 years, meaning that entire generations are uneducated and unprepared to contribute to recovery and stability.
Last year alone, 60 million people were forcibly displaced from their homes due to disasters or conflicts and half were children under the age of 18. For many of these children, education - and the future it opens to them - is a lasting casualty. According to a new policy paper jointly released by the Global Education Monitoring Report and UNHCR, refugee children are five times more likely to be out of school than other children.
Yet less than 2 percent of all humanitarian funding has been allowed to support education, leaving millions of children and young people out of school and vulnerable to trafficking, child labor, early marriage and extremism.
What Can We Do?

The Education Cannot Wait fund is our opportunity to change this situation. It is critical for international donors to step up and put forward the finances necessary to make this initiative a success.
In the United States, the U.S. government and non-governmental organizations have played key roles in driving forward the right of all children to quality education. USAID's education strategy includes a focus on reaching youth in crisis and conflict-affected contexts. Now is the time for the U.S. and all world leaders to lead with bold support and ambitious funding for Education Cannot Wait.
More than 10 million people have signed a petition urging world leaders to ensure all children can go to school, without danger or discrimination. The recent Call to Action shows the support of over 60 leading organizations for the Education Cannot Wait fund. We must bring new and immediate financing to deliver education alongside protection and other essential humanitarian and development aid. The Call to Action urges the Education Cannot Wait fund to:
• be financed with multi-year donor commitments,
• be supported by new funding and resources that are ambitious enough to address the scale of the crisis in education and emergencies,
• be supported by resources that are additional, and not at the expense of other critical education and poverty-fighting interventions, and
• build on existing financing mechanisms so as to ensure smooth transition from crisis response to longer term development of education systems.
It is vital that this funding is new - not simply reallocated from existing spending. We need everyone's help to make quality education a reality, no matter where a child or family lives.
In the United States, please join our Global Campaign for Education - US Coalition Chair on Education in Emergencies, Jesuit Refugee Service/USA, and contact your policymakers urging them to dedicate new resources to the Education Cannot Wait fund.
We must step up and deliver new funding for education in all settings. Education is a life-saving intervention and universal right that simply cannot wait.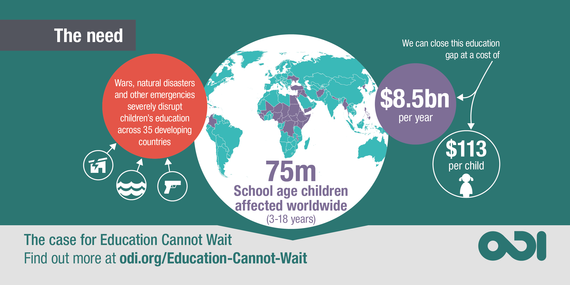 Calling all HuffPost superfans!
Sign up for membership to become a founding member and help shape HuffPost's next chapter