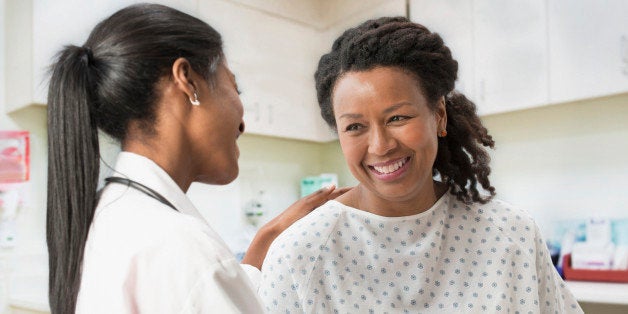 In his recent State of the State address, New York Governor Andrew Cuomo spoke not just as a political leader but as a son still grieving the loss of his father.
"I have kicked myself every day that I didn't spend more time with my father at that end period," he said. The governor noted that he had the choice but that many in his state do not. "Their employer says, 'If you don't come, you're fired, you don't get paid."
Fortunately, there's a solution. Governor Cuomo announced that one of his top priorities this session will be passing 12 weeks of paid family leave.
Hundreds of miles away in Milwaukee, Wisconsin, Nancy Yarbrough welcomed those remarks. When her mother had two heart attacks, Nancy was determined to care for her. But she was horrified to discover family leave was unpaid, adding financial stress to the pain of losing "the one who brought you into the world, nurtured, and cared for you."
Hard as it was to talk about her loss, Nancy felt the legislators in her state needed to understand. So she traveled to Madison January 26 to testify before the Senate Labor and Government Reform Committee about a paid leave bill like New York's. Nancy looked the senators in the eye and said, "I can't understand why I had to choose between paying my bills and being right beside my mother in her last days. I took a deep breath today and told my mother, this is for you."
Senators from both parties were clearly moved by Nancy and by all the other stories they heard that day -- including several people forced back to work within days of giving birth because of living "paycheck to paycheck"; a father who was told to get into work instead of caring for his newborn because "You didn't have that baby, your wife did"; a mother whose unpaid leave meant she couldn't afford the funeral for her newborn baby. The Senators referred to their own family members, to the indelible mark left by grief.
I also testified that day. I talked about a group that had come to Madison 28 years earlier to try to persuade legislators to pass a state Family and Medical Leave Act -- unpaid time, but at least a guarantee of job protection and continued health insurance. That group was made up of children; each had a story of why their parents had needed time to care for them or another family member. They met with Secretary of Employment Relations John Tries.
One of the kids was Noah Michaelson, then age nine, who'd had cancer when he was five. The only way he'd been able to bear the grueling treatments, he said, was having both his parents there, one to hold him and the other to tell him a story. Yet the kid in the next bed had no parent present during his treatments. What Noah didn't know at the time but now understood was that this child's parents would have lost their jobs and health insurance if they'd been at his side.
Secretary Tries was moved by those children. When they'd all shared their stories, he told them, "We're so used to hearing from lobbyists, we forget about the people who are affected by the bills that we pass." Then he asked if any of the kids had a question. The youngest was my son, age 7, who'd once been hit by a car and couldn't fathom having to be in the hospital without his parents. He shot his hand up and asked, "Why wouldn't the governor sign this bill?"
Thanks to the kids, the governor did sign. That bill helped pave the way for the federal Family and Medical Leave Act, signed 23 years ago on February 5. It was a great first step. But many kids -- and ailing parents -- still lie alone in the hospital. Nearly one in four mothers go back to work within two weeks of giving birth. Countless people fall into financial hardship simply for being good family members. And, as business experts remind us, that hurts businesses as well as families.
Three states, California, New Jersey and Rhode Island, have already passed bills that grant workers access to paid leave through family and medical leave insurance funds. Our movement may double that number this year with wins in places like New York, Washington, D.C. and Connecticut. More wins are on the horizon.
Paid leave will keep gaining momentum. Many voters, who have made this a priority, are asking elected officials and candidates my son's question: "Why wouldn't you support this?" Babies and cancer and ailing parents touch all of us. It's high time to make family leave available and affordable to every American.
REAL LIFE. REAL NEWS. REAL VOICES.
Help us tell more of the stories that matter from voices that too often remain unheard.