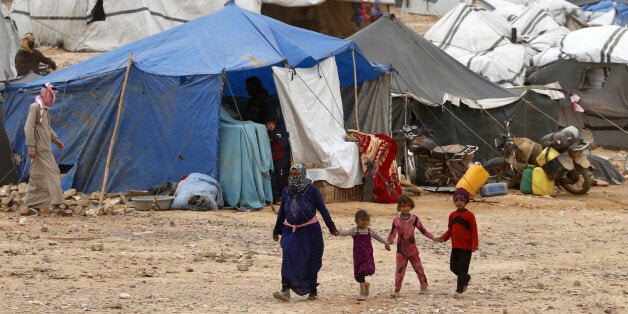 Can there be a better illustration of the threat to women and children in conflict than the current Syria crisis?
In February, a missile attack on a hospital specialising in mothers, babies and young children narrowly missed killing women anaesthetised for surgery and babies in incubators. Recently, in Aleppo, patients and doctors weren't so fortunate when the city's main referral hospital for children was razed by a direct missile strike. The brutal event killed patients, medical staff and the only known paediatrician left in the area. Sadly, relentless assaults on the region may render even the last remaining health services temporary.
Women and children are often the main casualties of conflict and have been deliberately targeted by militant groups. They endure suffering from violence and intimidation long after conflict ends. Girls are being abused as sex slaves, beaten and raped, and trafficked across borders.
Such brutality is not limited to Syria. Systematic violence against women and children is a tactic of war across the globe. Rape is used as a weapon to terrorize and control populations. Children are kidnapped, forced to become soldiers and increasingly used in suicide missions. According to the United Nations Children's Fund, around 300,000 girls and boys are being used in conflict in over 20 countries around the world. In South Sudan, 16,000 children have been recruited to fight since 2013. In eastern Democratic Republic of the Congo at least 200,000 cases of sexual violence have been documented since 1996, during the country's many insurgencies.
Young girls in fragile states are also acutely vulnerable to poverty. They face additional barriers to education and economic opportunity, and therefore a higher risk of child marriage. During conflict, parents are more likely to commit their daughters to marry to generate an income for the family, to buy protection and sometimes as a safeguard from the increased risk of sexual violence. UN Women says the rate of early marriage among Syrian refugee girls in Jordan is 51 per cent, compared to just 15 per cent for girls in Syria before the conflict started.
Both our organizations work to mitigate the impact of conflict on women and children. Our projects include equipping men and boys as well as community leaders to become change agents in their communities and advocate to end violence. We also work to ensuring families have access to basic services and to economic opportunities, which can keep women and children out of harm's way, as can providing Women, Adolescent and Young Child Friendly Spaces in emergencies.
While these are vital responses to the symptoms of the conflict, what's still largely missing is the chance for women and children to have their voices heard, to participate in every stage of the peace process. This despite a UN resolution passed in 2000 that called for the adoption of a gender perspective to "consider the special needs of women and girls during conflict, repatriation and resettlement, rehabilitation, reintegration and post-conflict reconstruction."
In 2016, isn't it about time that the world included women and children at every stage of the peace process? Only when they are guaranteed a safe space at the decision-making table and invited into real dialogue, will nations be able to end the horrifying escalation of civilian abuse.
Only when the world deliberately values women and children in peacetime will they be protected during conflict.
Related
Popular in the Community