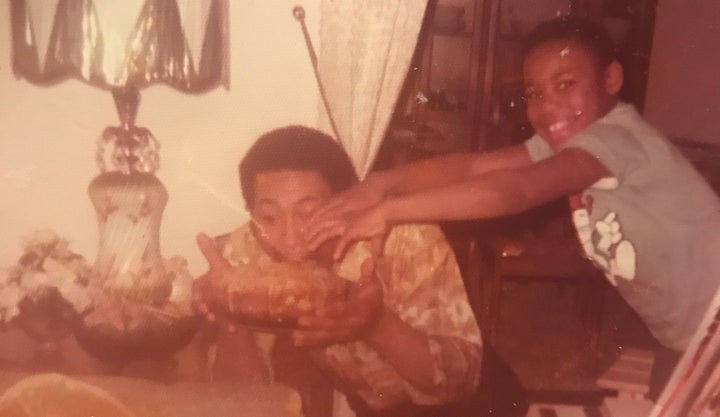 May is Mental Health Awareness Month. Unfortunately mental health isn't talked about much in the Black community. It's almost considered to be taboo, and that really needs to change. We've always been told to "just pray about it." Now, I'm a true believer in prayer, but sometimes we need a little outside help along with prayer.
Here's the thing: I can't ask or expect other people in my community to talk about mental health unless I am also willing to share my own story and how it impacts me daily.
Growing up, my father was a tough, gritty, hardworking man's man who worked most of his life in the shipyards of Norfolk, Virginia. He suffered from manic depression, which is now called bipolar disorder, as well as from schizophrenia. His mental illness took a toll on my family, even as he proudly labored to support me and my four sisters.
After being diagnosed and several years of struggling with this disease, my father took his own life at the age of 49. I was only 26 at the time.
In the years since, his suicide has impacted my life and the lives of my sisters and other family members in different ways. It's something we all struggle to comprehend, but in recent years I've learned that keeping silent about it is more harmful than speaking out and letting others know they aren't alone.
1 in 5 Americans will experience a mental health condition in their lifetime, and African Americans are no exception. In fact, according to the Health and Human Services Office of Minority Health, African Americans are 20 percent more likely to experience serious mental health problems than the general population.
Despite being approximately 13 percent of the total U.S. population, African Americans make up a eye-popping 40 percent of those experiencing homelessness. And the homeless population is even more likely to develop mental illness.
All this might make it feel like the deck is stacked against us, and in many ways it is.
Movements that bring awareness to issues faced by African Americans have to be more than election year gimmicks like Black Lives Matter.
The only way to actually begin to make a difference is to talk about it.
Because of the stigma surrounding mental health, particularly in the Black community, many people are not aware of how it affects the intersection with crime and criminal justice reform.
It's no secret that there are large disparities in the world of criminal justice when it comes to race. Today, Black men and women make up approximately 1 million of the nation's 2.3 million incarcerated population.
For these men and women life in prison can worsen underlying mental illnesses and make it even more likely that they'll end up incarcerated again after serving their initial sentence. Real criminal justice reform begins with providing compassion and help to communities of color. This will go a long way in making sure those struggling with mental health receive treatment and help they need, instead of automatically throwing people behind bars. Bad people need to be put in jail, but for the many who suffer from mental health disorders, we have to get them help.
And because life on the street means a higher likelihood of interaction with the police, one of the first steps cities and states can take to help people who suffer from mental illness is to equip our law enforcement officials with the latest strategies and training in interacting with those they suspect or know to be mentally ill.
Talking about mental illness might make us uncomfortable, but removing the stigma surrounding it is ultimately what we must do to make sure our brothers and sisters are getting the help they need.
Related