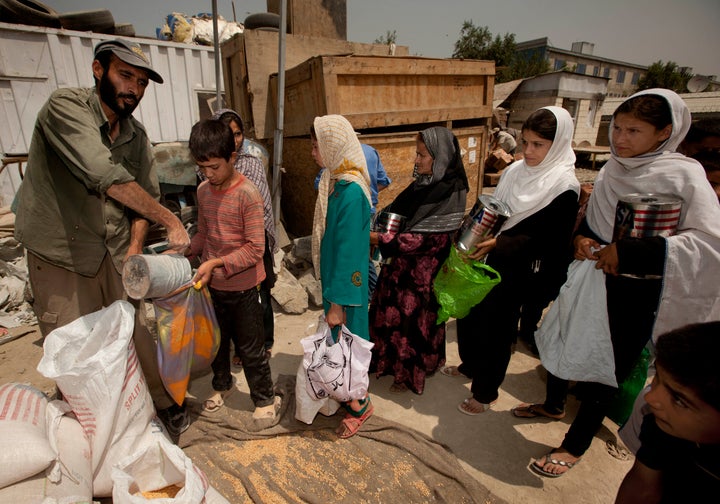 The U.N.-led process for determining the next round of global development goals is officially underway. Politicians, technocrats, and bureaucrats have been effectively deputized to determine what should build upon and replace the existing Millennium Development Goals (MDGs), which have a rapidly approaching deadline in 2015. The development community is planning a flurry of conferences, meetings, and consultations in at least 50 developing countries over the next six months. This process will include country and thematic consultations, a high-level panel of eminent persons making recommendations, and a web-based platform to solicit views from the general public.
Simply put, these high-stakes discussions will set the development agenda for a generation and will likely influence how hundreds of billions of dollars are spent by both developing country and donor governments.
But something is missing: the views of the world's poorest citizens.
Six months ago, I proposed a radical, yet simple, idea. Why not ask the world's ordinary citizens, namely the poorest and most marginalized, what they really want out of the new global development goals? Let's hand the microphone to those who stand to benefit the most from the new development agenda.
We should proactively be asking about their concerns, priorities and aspirations. And listening intently to their responses. By giving them a seat at the table, they can speak up for themselves, determine their own futures, and set their own agenda.
That is why groups like ONE are pushing for a What the World Wants Poll, a standardized set of questions that would be answered globally, covering both developing and developed countries. The resulting data would help to ground official discussions in ordinary people's daily realities and concerns, and give a serious boost of credibility and relevance to the post-2015 framework discussions. Without it, we all run the risk of developing a well-packaged and shiny political product that falls flat with people living in urban slums, rural villages or somewhere in between.
Although this idea seems obvious, it's not on the agenda -- at least not yet. Collectively, we need to make sure that it happens as soon as possible. If it doesn't, then the planned consultative sessions may take place in a virtual vacuum or echo chamber that is detached from the developing world's priorities for the next few decades.
To get a sense of what such a poll would discover, ONE completed a comprehensive analysis of existing household surveys in sub-Saharan Africa, Latin America and East Asia. While the results underscore the need for a much more comprehensive poll, the findings are, in many ways, surprising, and reinforce the wisdom of bringing average citizens into the process.
So, what does the existing data tell us?

• Household Income Issues Top the List of Concerns: Roughly one-in-three respondents cite these kinds of issues as their most pressing concerns. Specific demographic groups, such as African urban youth, raise employment- and income-related concerns at a much higher rate. Put differently, so-called kitchen table issues predominate throughout the world -- regardless of whether families actually have kitchens or dining room tables. This suggests that people may be clamoring for a post-2015 framework that prioritizes income-related issues as the primary catalyst for securing the freedom and flexibility to address their needs and aspirations.
• Agriculture and Food Security Feature Large: Roughly one-in-seven respondents cite this as their top priority, which should not be surprising to anyone who has visited the developing world. Agriculture remains the primary, or major, source of employment and income for the vast majority of people living in developing countries. By illustration, if rural households are able to increase their small farm's productivity and better access markets, then their means to address the multitude of immediate priorities -- such as educating and keeping their children healthy -- would be significantly improved.
Collectively, we must be able to look forward without losing sight of the current MDGs, to which we must remain deeply committed. The MDGs have mobilized and channeled unparalleled actions from a broad range of actors, including developing and developed country governments, non-governmental actors, and the private sector. Many developing countries have achieved unparalleled rates of improvement: reducing child mortality, combating HIV/AIDS, malaria, and other infectious diseases, and increasing school enrolment. These robust results illustrate both the power of aspirational global goals and the necessity of continuing to accelerate progress over the next three years.
Despite the immediate need for continued action, we must also ensure that the next batch of global development goals are truly inclusive, representative, and grounded in what the world wants.
Over the next few years, the global community will grapple with profound issues that will have an outsized impact on development-related investments for decades. Clearly, the U.N. and others are taking this process very seriously and proactively seeking out stakeholder views. If augmented by direct engagement with the world's poorest people, these laudable efforts will undoubtedly increase the quality of the post-2015 goals and rally greater support for getting them done. At stake is a world where all people, especially the poorest among us, can truly own and chart their own course for the future.