This article was co-created with Sydney Strauss, a Pacific Northwest based writer and editor passionate about the future of humanity and the planet.

We live in a time of opportunity and possibilities and yet our 21st century society has a habit in need of breaking. For some of us it's eating fast food or working 24/7 in a constant state of busyness, but as a collective humanity, the habit we have to tackle feels a lot more illusory: success, or rather, the way by which we all understand what it means to be successful is at a crossroads.
If asked what individual success looks like, most of us might mention an impressive, high-paying job with a bounty of opportunities for future promotions, salary increases and awards, and nothing is inherently wrong with that. It's the current story of how we judge each other's success and failure rate. And yet today's unconscious definition is blatantly steering us down an unhealthy path and is stuck in the last century.
Today, more people of all ages are realizing that there is more to life than being defined by what we do to make a living. You can go into any organization in the world and people are overworked and they desperately want to know how they can be more satisfied with their lives. Some are becoming aware of the decades-long second Industrial Revolution ideals of constant growth and constant work that have silently convinced us to produce such answers, perhaps without our consent. Those values once aligned in perfect parallelism with the needs of the day, yes, but our 21st century world is on the path toward a clash with those very values. It is our responsibility to stay mindful of how our unconscious behavior -- our habits -- might be chemically reacting with the reality of right now, and to act accordingly.

What if we saw opportunity instead of constantly working at solving problems?
We live in a time rich with potential for new possibilities. We need to remember that we were born with powerful voices, and we must find ways to use them to create new pathways, relationships, and partnerships to live and work together peacefully and productively. There are huge opportunities for business to transform, and this transformation will only begin when each of us starts stepping up to our respective roles in helping to enact change. It's time to connect our own personal experiences and ingenuity to figure out what this journey means to us. We can rewrite the script by regaining our common sense and asking ourselves what is important to us versus how others tell us we should lead our lives.

Indeed, it seems as though our humanity is getting lost amidst the chaotic obsession to "succeed" and grow, yet in the face of a rapidly decaying planet, flagrant racism, xenophobia, and a historic refugee crisis, it is precisely our humanity -- our ability to empathize and creatively and collaboratively come up with innovative solutions -- that is being demanded from us. It is incredibly base conduct for an individual or a company to feed the certainly delicious addiction of massive growth and profit no matter the cost or consequence, and to strive to acquire tangible symbols of having "made it" is really just a means without any actual end. How could those values ever again be authentic notions of success when we, our fellow humans, and our planet are all dangling by a thread?
We assume that "new and improved" is the way to go, so we continue building atop structures with already cracking foundations, slap on a few Band-Aids, and call it good. People of all ages are working around the clock to become the next Google or the next $1B company, because if being unbearably overwhelmed isn't "success," then what is? How did we get to this stale, one-dimensional point in our collective history?
It's time for us to re-define success and failure based on our own compass
Perhaps it's time to leave these antiquated definitions of success behind and create a new path forward. There are incredible opportunities for us to take business to a whole new playing field of being a force of good, and it's up to each of us to pave the way, because if not us, then who?
The 21st century leader is within each of us
There are so many stories of leaders in the 21st century already working hard to create that new playing field of business. Jay Coen Gilbert, co founder of the B Corp Movement is a true vanguard in redefining success with the B Corp movement, which offers businesses a set of strict standards regarding ethical performance -- social, environmental, and legal -- in exchange for the coveted official B Corp certification. With over 1,600 certified B Corps from over 42 countries, including Etsy and Patagonia, the movement to measure success in terms of mindful beneficence instead of inordinate growth is quickly gaining momentum. With the help of people like Jay, we as a society are already starting to break the bad habit of "success."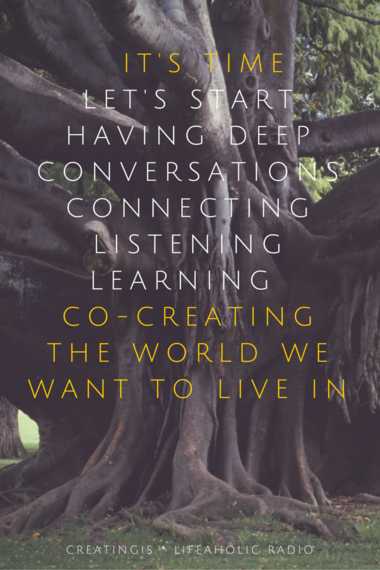 We as a society have been normalized to egregious corporate behavior and accept massive layoffs and burnout, but those are precisely the bad habits that we must try, with our personal greatest might and bold voice, to break if we want to ensure a sustainable and healthy world for generations to come. It's definitely time to move away from the 20th century mindset of fear and appreciate that each of us is here to create and co-create the world we want to live in. We have to stop expecting others to do it for us. With 21st century leaders like Jay and so many others, there is hope that change can come from anywhere and anyone. It's time to stand up and make meaningful, mindful decisions at home and at work. Today, that is our calling as 21st century leaders. We live in an open and connected world and if we have a voice, we have a choice.
What we need more than anything is more people believing in ourselves and taking the time to recognize and remember our bold voice in the world. We need to stop following other people's cookie cutter solutions and see ourselves as having the ability to co-create the world we want to live in, which means that we try different ways on the journey that has less celebrity heroes to worship and more 21st century leaders. It's time for a new mindset and it's personal. What habit no longer serves you? What's your definition of success?
REAL LIFE. REAL NEWS. REAL VOICES.
Help us tell more of the stories that matter from voices that too often remain unheard.