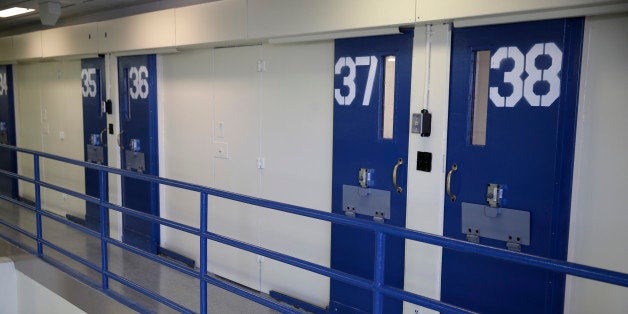 Last week, my organization, JustLeadershipUSA joined the Center for New York City Affairs at the New School in hosting a major forum about the future of Rikers Island, New York City's long-troubled jail complex. With an impressive speaker list - including NYC Comptroller Scott Stringer and former NYC Correction Commissioner Martin Horn -- and nearly 500 attendees including government officials and media, the forum represented an important step in the movement to close Rikers and fix the City's broken criminal justice system.
With more and more media attention on Rikers, New Yorkers are learning about the deadly culture of brutality pervading the island, and the irreparable physical and emotional trauma experienced by the men, women and adolescents housed there.
I know this culture of brutality and violence firsthand. In 1987, I was detained on Rikers Island. A group of young men in the holding cell tried to steal my jacket. Guards watched but did nothing as I defended myself against five other people. I kept my jacket, but was stabbed four times.
Nearly 27 years later, I carried the memory and scars of that experience with me when I attended Bill de Blasio's Mayoral Inauguration on January 1, 2014. I joined hundreds of other New Yorkers braving unbelievably frigid temperatures to watch the City usher in a new era. The Mayor's words brought hope to the audience as he spoke about the Tale of Two Cities in NYC: "We are called to put an end to economic and social inequalities that threaten to unravel the city we love." The more he mentioned the Tale of Two Cities, the more I wondered whether he understood that there was a third city: Rikers Island, a place where human beings, including children like Kalief Browder, are robbed of their sanity, their dignity, their families, their communities and sometimes, their lives.
After the ceremony, I stood on line to meet the new mayor. When it was my turn to shake hands with de Blasio and get a photograph, with my heart racing, I turned to the Mayor and said, "Mr. Mayor, with all due respect, I trust that you and I will have many opportunities to take a picture together. I am here to ask you to CLOSE RIKERS."
The Mayor tilted his head, looked down at me quizzically and said, "Why do you believe that?" I responded, "It's an insidious place, a place that breeds violence and crime, a factory of despair, and corrupt beyond reform. Please close that place!" Mayor de Blasio thanked me, turned for a picture, then asked for my card and said his Chief of Staff would be in touch.
That call never came. But I know this issue is on the Administration's radar. Today, Rikers is under intense scrutiny. Serious debates are underway about how to address the violence, abuse and scandal that have become endemic there. And JustLeadershipUSA and others are building a movement to close Rikers once and for all.
Our country is in the midst of an unprecedented debate about mass incarceration, racial disparities, policing and the very meaning of justice and safety. There's growing bipartisan consensus that our current criminal justice system is broken -- we're misusing criminalization and incarceration to solve social problems, leading to a disaster for communities, especially communities of color.
Rikers stands as one terrible, symbolic example of the horrors of mass incarceration. Pushed by communities and the press, it's good to see City leaders seriously discussing solutions for Rikers. It should be clear that there is only one solution serious enough to warrant consideration here: It's time to #closeRIKERS.
Calling all HuffPost superfans!
Sign up for membership to become a founding member and help shape HuffPost's next chapter