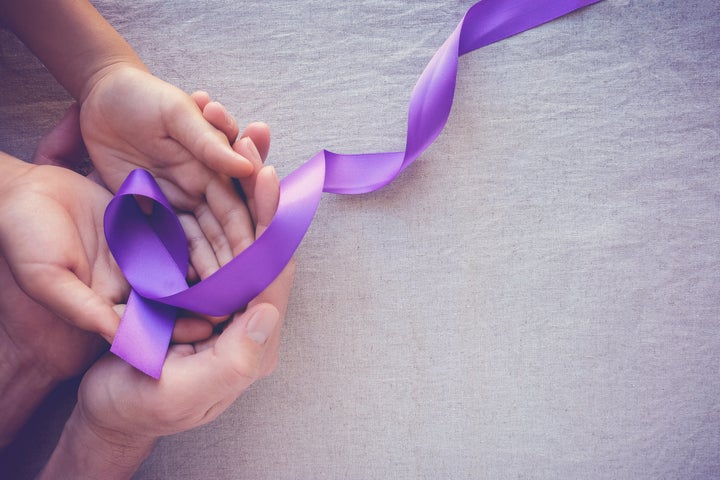 In the face of tremendous obstacles, the brightest stories of hope emerge. Every day, more than 1,000 people worldwide are faced with a diagnosis of pancreatic cancer. Of those, an estimated 985 people will die from the disease. Yet despite these grim statistics, there are stories like Franco Juricic, a young father and marathon runner from New Jersey who recognized his early symptoms, sought medical help and is now not only cancer free, but thriving.
Pancreatic cancer has taken the lives of luminaries and celebrities such as Steve Jobs, Luciano Pavarotti, Sally Ride, Joan Crawford and Patrick Swayze, yet for too long, it has been a neglected cancer. Despite pancreatic cancer having the lowest survival rate among all major cancers (2 to 9 percent), everyday heroes like Franco are overcoming the disease thanks to better education, awareness of early warning signs and rapid intervention.
On November 16, World Pancreatic Cancer Day, more than 60 organizations from 27 countries on six continents will come together as part of the World Pancreatic Cancer Coalition to raise awareness, inspire action and demand better for patients now and in the future.
There is currently no screening test or early detection method for pancreatic cancer, so knowing the symptoms and risks remains the key to early diagnosis. Some warning signs, like yellow skin and eyes, would naturally cause you to see a doctor immediately. Other symptoms of pancreatic cancer, however, such as prolonged abdominal or mid-back pain, unexplained weight loss, loss of appetite, nausea and indigestion, are often vague and may at first appear to be associated with other less serious and more common conditions.
So my message to you is this: don't ignore what your body is telling you.
Pancreatic cancer does not discriminate, yet there are some interesting statistics among racial and ethnic communities. African Americans face a pancreatic cancer incidence rate up to 60 percent higher than other racial groups, and have the highest death rate for pancreatic cancer among all racial and ethnic groups. Others, like persons of Ashkenazi Jewish descent, have a higher than average risk of developing pancreatic cancer due to the relative prevalence of mutations in BRCA1 and BRCA2 genes, which increase an individual's likelihood of developing the disease. And while Latinos do not have a high incidence or death rate, Latinos and African Americans are underrepresented in all cancer clinical trials. If we are to better understand these differences, we must ensure that all racial groups participate sufficiently in clinical cancer trials.
With survival often measured in weeks and months, pancreatic cancer is harrowing – but not hopeless. Research shows that patients diagnosed in time for surgery, like Franco, are more likely to live five years and beyond, and participation in clinical trials at all stages of the disease can increase the likelihood of better outcomes. And new, groundbreaking initiatives like Precision Promise will dramatically improve outcomes for patients with pancreatic cancer. This adaptive clinical trial platform, launching in 2018, will continuously and rapidly bring new treatment options to patients and transform the future of clinical research.
It's time to demand better outcomes for our friends and family affected by pancreatic cancer, and it starts by knowing the symptoms and risks of this disease. Please visit worldpancreaticcancerday.org for information to help you identify the signs to look for, follow us on social media, and spread the word using #wpcd and #pancreaticcancer.
Let's turn World Pancreatic Cancer Day from a day of awareness into a day of action.
World Pancreatic Cancer Coalition Chair Julie Fleshman, JD, MBA, and President and CEO of the Pancreatic Cancer Action Network (PanCAN), based in Manhattan Beach, California Twitter/Instagram: @worldpancreatic Facebook: @worldpancreaticcancerday
Related