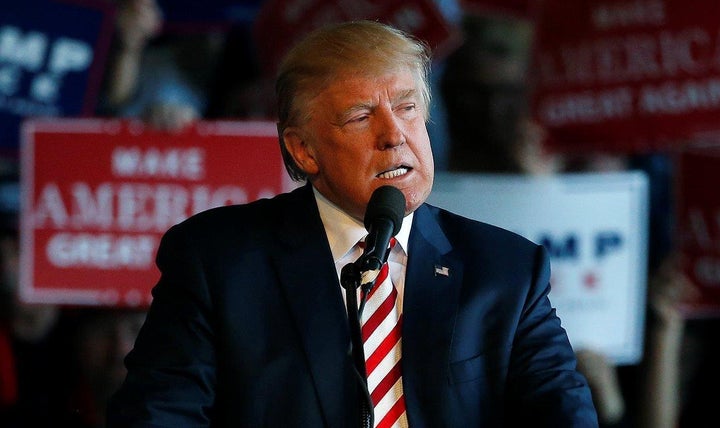 As a presidential candidate, Donald Trump famously said he would drain the swamp, a pledge that resonated with ordinary Americans disaffected with the cronyism and backroom deals that largely define the political culture of Washington. But there is at least one part of the swamp he appears to have left untouched: well-connected government contractors with troubling pasts.
Consider a multi-billion-dollar project the State Department undertook to protect its buildings and other facilities around the world last year. It chose seven security contractors to undertake the project. But of the $10 billion authorized for the security firms, about a quarter, or $2.8 billion, has been designated for two contractors that have drawn intense scrutiny -- directly and indirectly -- for misdeeds that raised ethical and legal questions.
The firms include Aegis Defense Services ($1.3 billion), one with a blemished record that includes accusations of "tactical incompetence" during its operations in Kabul protecting a diplomatic installation. More striking, there is Triple Canopy ($1.7 billion), a company operating under joint ownership and control with the corporate descendant of Blackwater, a firm known for brutal tactics during the Iraq war that made it a symbol of the American occupation in that country.
That Blackwater, or its corporate descendant, remains as a government contractor is astounding, even when you consider the lengths it has undertaken to distance itself from a troubling past, which includes remaking itself with new names.
Yet, according to government spending records, Triple Canopy, now operating alongside Blackwater's corporate descendent, has received nearly $2.7 billion from the State Department to provide security services in Iraq, Haiti and other dangerous corners of the globe since 2005.
Aegis Defense Services, along with another security firm, Pacific Architects and Engineers Government Services Inc. (PAE), have also continued to receive government contracts despite their own track records of troubling behavior.
Consider, for example, that Aegis and PAE have found themselves embroiled in scandals stemming from the work both firms were hired to undertake in Afghanistan on behalf of the government, according to news and government reports.
In the case of Aegis, its contractors working at one of the most vulnerable U.S. diplomatic mission in the world — the American embassy in Kabul — held a "vote of no confidence" in the firm's leadership, citing "tactical incompetence" and "a dangerous lack of understanding of the operational environment," according to Foreign Policy. In addition, several contractors working at the same embassy were fired for dealing drugs. The individuals fired include those working as contractors for Aegis, according to a report in the Wall Street Journal.
Yet, for reasons that defy common sense and shortchange taxpayers, PAE continues to win new work from the State Department, recently securing nearly $65 million in contracts. That came just days after it paid yet another fine, this one totaling $5 million, for submitting false claims for payment to the government. "This settlement affirms our commitment to hold government contractors accountable," U.S. Attorney Channing D. Phillips said in a statement released in September. "Our Office will continue to investigate and seek appropriate recoveries from contractors who do not meet their obligations."
In many ways, the government's ongoing relationship with Blackwater -- or, more accurately, its corporate successor -- is the most puzzling, partly because the Blackwater makeover has not escaped the notice of experts who closely follow the firm.
Foreign Policy notes in a profile of Blackwater that the company changed its name to Xe Services in 2009, partly to put its role in the ugly Nisour Square episode behind it. The company then sold itself to outside investors who were behind a new company called ACADEMI. Suddenly, the government contracts started pouring in, according to the Foreign Policy profile.
"In 2013, for instance, ACADEMI's subsidiary International Development Solutions received roughly $92 million in contracts from the State Department for security guards," Foreign Policy reported in a 2014 article entitled Blackwater's Descendants Are Doing Just Fine. "More recently, ACADEMI, based in McLean, Virginia, and with 1,250 employees, received a $9 million contract from the Pentagon for private security services in Afghanistan."
"In addition to protecting U.S. installations in the war zones, ACADEMI also has contracts to train Pentagon personnel heading abroad at the 7,000-acre training center in Moyock, North Carolina, which was built by Prince as the centerpiece of his Blackwater empire. The site features multiple firing ranges, a three-mile driving track, and two airfields," the article added with a reference to Erik Prince, Blackwater's founder and former chief executive officer.
Then in early June 2014, in what appears to be an attempt to place any vestige of original Blackwater in the past, ACADEMI joined Triple Canopy to form Constellis Holdings, according to Foreign Policy.
None of this bodes well for American diplomats abroad – or taxpayers. For their sake, it is time for the State Department to do the right thing and rid itself of contractors who act with seeming impunity, no matter how they seek to distance themselves from their troubled pasts.
Related
Popular in the Community