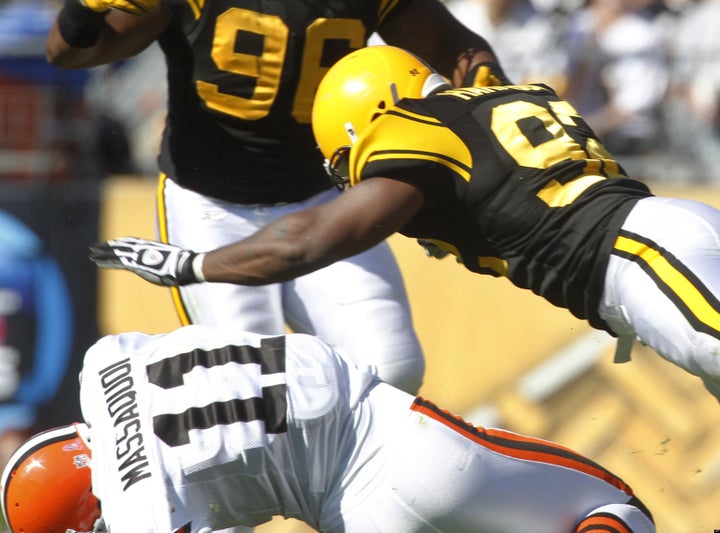 Millions of Cablevision subscribers are pissed off right now. And they should be. The three million plus subscribers who mostly live in New York missed the New York Giants game on Sunday because of a dispute between Cablevision and Fox Broadcasting. They also missed the first two games of the NLCS. Some of these Cablevision subscribers are in the Philadelphia region and may miss the entire NLCS and World Series.
Meanwhile, millions of DISH subscribers have not been able to access Fox's regional sports networks because of a contract dispute. That means they are missing coverage of their local NBA and NHL teams and NCAA football. And DISH subscribers could lose Fox's primary broadcast signal on November 1 if the two sides don't reach an agreement.
All parties share the blame here. But Fox made the decision to take down its signal from these carriers. It is clear that without the unique nature of sports coverage -- live broadcasts to extremely passionate fan bases -- broadcasters like Fox wouldn't have much leverage in these disputes. Fox can and should put its signal back up while it works with Cablevision to resolve their differences. Cablevision, in turn, should quit using its own MSG HD signal as leverage to drive out the competition.
These retransmission disputes are often messy. There's only one thing that is certain: It's time to put and end to the practice of using blackouts as leverage once and for all. But that's why it's all the more important to have someone representing the interests of sports fans here in Washington.
There is some hope for sports fans looking ahead. Sen. John Kerry has promised a "systemic reform" of the retransmission rules system, which he said would ensure that customers don't lose programming during these disputes (i.e. no more missed games).
In addition to retransmission blackouts, there are blackout rules that harm Fox and its local broadcasters. The primary one is the NFL's blackout rule, which is supported by the FCC's sports blackout rule. The FCC rule prohibits a broadcaster from showing a game when it isn't sold out. When this happens, local broadcasters are often forced to buy up blocks of tickets to ensure the game is shown and they sell their allotted local advertising time. And Fox Broadcasting also loses out on national advertising and the ability to promote its own shows in these markets.
These types of local blackouts should also be eliminated. In almost every city, taxpayer subsidies went to help build the stadiums where these games are being played and/or the roads and facilities around them. Hardworking taxpayers have already made an investment in their local teams -- they at the very least deserve to see the games on television.
Every Buccaneers game is expected to be blacked out in Tampa Bay this season even though the city entirely financed the $168.5 million Raymond James Stadium after Bucs owner Malcolm Glazer threatened to move the team if they didn't. Tampa Bay already showed its commitment to the Bucs. It shouldn't have to prove it again and again. Nor should the taxpaying sports fans in Buffalo, San Diego and Oakland.
Senator Sherrod Brown has called on the NFL to reconsider its blackout rules and Sports Fans Coalition has expressed the same concern to the FCC and members of Congress.
Only when enough sports fans have joined together will these media companies and sports leagues end the terrible -- and increasingly routine -- practice of using blackouts as negotiating tools. If all Cablevision subscribers, DISH subscribers and NFL fans join Sports Fans Coalition, we will most certainly be heard.
Don't just be pissed off again. Do something about it this time.
Brian Frederick is the Executive Director of Sports Fans Coalition. He holds a Ph.D. in Communication and lives in Washington, D.C. Email him at bfrederick@sportsfanscoalition.org.
Correction: A previous version incorrectly stated that the NASCAR race this weekend took place on Fox. Thanks to PTIFan for pointing that out.
REAL LIFE. REAL NEWS. REAL VOICES.
Help us tell more of the stories that matter from voices that too often remain unheard.