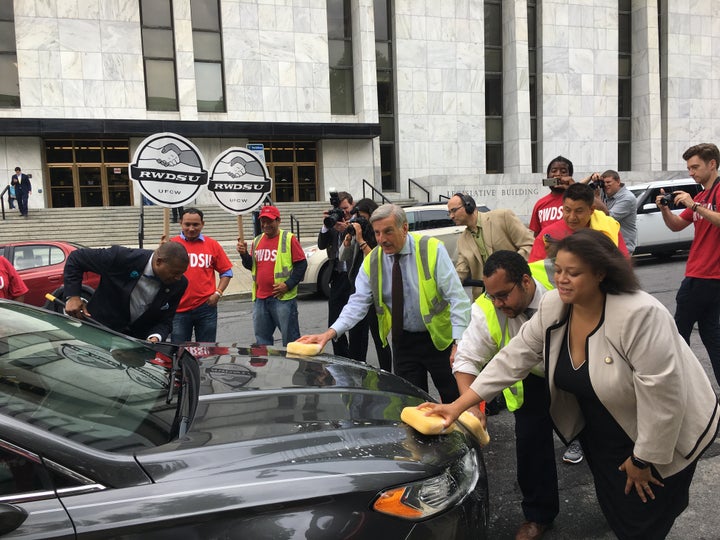 One thing the State Senate should do before ending the session Wednesday is pass a critical piece of legislation that would eliminate the tip credit for car wash owners, which allows them to pay their workers a subminimum wage.
The Assembly passed A.2967-A, on Monday, just hours after lawmakers experienced a day-in-the-life of a car wash worker, and saw firsthand the paltry sub-minimum wages earned after a day of back-breaking work.
Now, I urge the Senate to follow suit and put an end to those washed-out-wages, the result of an archaic state regulation classifies 'carwasheros' as "miscellaneous" tipped employees, and allows their bosses – some of whom are millionaires – to pay workers nearly $3 an hour less than the legal minimum wage.
No worker should earn below the minimum wage. For far too, long car wash workers in New York have earned poverty wages through this abhorrent loophole that left immigrant workers susceptible to wage theft.
In New York City, the minimum wage for businesses with 10 or fewer workers is $10.50 an hour, and $11 for larger businesses. With the tip credit, owners can pay their workers as little as $7.95 an hour for shops with 10 or fewer workers, and $8.30 for businesses with more than 11 employees.
That means workers must rely on tips to make the minimum wage. Workers say tips might average $3 to $5 a car, but many customers don't tip at all, perhaps because they assume the workers make the minimum wage or more.
In theory, workers' tips are supposed to make up the difference, and possibly more. And, if workers' tips don't raise the level of pay to at least the minimum wage, car wash employers are supposed to make up the difference in additional hourly wages.
But tip credit does not work in the car wash environment. Instead, it contributes to systemic underpayment of car wash workers—exactly what the car wash unionizing campaign and car wash workers have been fighting against.
Despite the progress hundreds of workers have made by winning a union contract, workers throughout the industry continue to be victims of wage theft. Numerous times over the past decade, industry leaders have paid hefty settlements to their workers for wage and hour violations.
The Assembly legislation, introduced by Assembly Member Francisco Moya, and the identical Senate bill introduced by Sen. Jesse Hamilton, would guarantee all approximately 5,000 carwasheros in New York City, the minimum wage "without allowance for gratuities."
In the current environment, immigrant workers are under increased stress. The last thing they need is to have to worry about being underpaid and having their wages stolen.
We shouldn't be giving unscrupulous employers incentives to underpay their workers, and that's exactly what tip credit does in the car wash industry. I strongly urge the Senate to wash this loophole away – and Gov. Cuomo should quickly sign it into law.
Popular in the Community