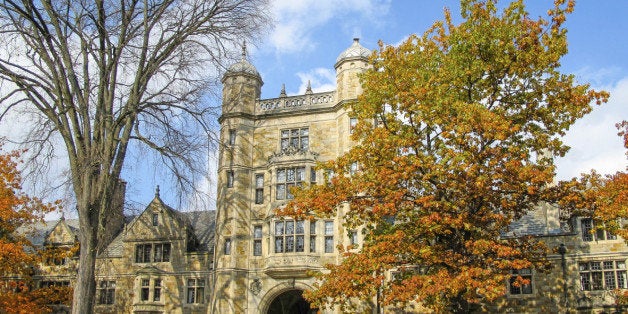 Legal Momentum welcomes news that colleges and universities in the Big 12 football conference (following the lead of the Southeastern Conference (SEC), will bar transfer students who have been disciplined for "sexual assault, domestic violence, or other forms of sexual violence" from participating in collegiate football. That rule was put into effect, partly, in response to a Baylor University football student, Sam Ukwuachu, who was sentenced to six months behind bars, and ten years of probation for sexually assaulting a Baylor female soccer player. Ukwuachu transferred from Boise State, where he had a history of violence, including choking and hitting his former girlfriend. Baylor coaches said that they did not know about Ukwuachu's violent past. News reports indicate that they never asked for this information during the recruiting process.
The Big 12's step is important for stemming sexual abuse on campus by athletes. But it is only a first step. For starters, it applies only to transfer students who play sports at a very small group of schools. Only 10 schools are in the Big 12, and only 14 schools are in the SEC. This is a tiny segment of the overall college and university population nationally.
According to the US Department of Education's Office of Civil Rights, "When young women get to college, nearly 20 percent of them will be victims of attempted or actual sexual assault, as will about 6 percent of undergraduate men." Female college freshmen are at the highest risk for sexual assault between the first day of school and Thanksgiving.
United Educators Insurance, which insures colleges and universities, has reported that even though athletes comprise between 10 and 15 percent of a college's student body, athletes were accused of sexual assault at almost twice that rate, 25 percent. UEI paid out 36 million dollars on behalf of its insured between 2006 and 2010, in relation to campus sexual assault claims.
Under Title IX, a federal law enacted in 1972, sexual violence ("rape, sexual assault, sexual battery and coercion") are forms of gender discrimination, and are prohibited at all educational institutions that receive federal funds. As a practical matter, this means all schools--from preschool to universities.
So, for starters, to stem sexual violence (and gender discrimination) on campus, the Big 12/SEC rule should apply to all students, including all entering freshmen and all athletes. Colleges should screen all applicants, during the admissions process, for prior acts of sexual violence and domestic abuse. All college applications should have a specific question dedicated to that topic, requiring students to disclose convictions for domestic violence, sexual assault, dating violence and stalking.
Universities should also mandate that before new students are permitted to register, or play competitively for a collegiate team, they must complete an interactive seminar on human sexuality and healthy relationships. That class should include instruction on affirmative consent and sexual assault prevention. Athletes should not get a free pass during that process, no matter how talented they are on the field.
Administrators, coaches, and faculty also need to be completely on board with this process. They should receive the same training as the students, and make clear that there is zero tolerance for sexual assault, domestic violence, and stalking--on or off campus.
To date, lax enforcement policies have turned what should be a safe educational experience for victims into a hostile atmosphere, which impacts their ability to graduate. According to the DOE, "Victims of sexual assault are more likely to suffer academically and from depression, post-traumatic stress disorder, to abuse alcohol and drugs, and to contemplate suicide."
Given the high rate of sexual assault by athletes, colleges have an enhanced duty to ensure that athletes are not given special privileges exempting them from federal legal mandates. It is high time that athletic departments and colleges enforced Title IX, fully. Colleges must stop sacrificing the safety of students for athletic glory. They must also fully embrace their legal obligation to end sexual assault on campus.
************
Penny M Venetis is the executive vice president and legal director of Legal Momentum, the Women's Legal Defense and Education Fund. She leads impact litigation, policy and other advocacy efforts to protect women's rights. Venetis is on the faculty of Rutgers School of Law-Newark and has written widely on human rights law.
Related
Popular in the Community