It's been a year since we adopted the Sustainable Development Goals--a new roadmap for international development. Since then, I've noticed something strange. I can't remember the last time someone mentioned the SDGs without calling them "ambitious." It's as if we've collectively rebranded them the "Ambitious Sustainable Development Goals." Sometimes I worry that it reflects a belief that the goals are too hard, that we can't achieve them.
Poverty Reduction and the Private Sector
Ambition is a good thing. We should be aggressive about ending extreme poverty. But we need to be clear-eyed about the resources it will require.
To fully fund the SDGs would take additional investments between $1 trillion and $3 trillion a year. That leaves a big gap, but the good news is that we aren't in this alone. Today, private sector financial flows account for 91% of the resources flowing from the U.S. into the developing world. That includes things like private investment, private philanthropy, and people sending money to family members back home.
Official development assistance is just a small piece of this puzzle. So, if we are serious about ending extreme poverty--and I believe we are--it's time to evolve and expand our thinking. As donors, we need to ask: How can we be more catalytic? How can we help businesses spur economic growth and reduce poverty?
This is not a new idea. USAID has partnered with the private sector since the 1960s. And about 15 years ago, we built two powerful vehicles to unlock investment in sectors that matter for development. Through Global Development Alliances, we have formed more than 1,500 partnerships with organizations whose interests align with our development objectives. And, through the Development Credit Authority we have entered into hundreds of loan guarantee partnerships to mitigate risk for lenders. Between the two, we have mobilized more than $18 billion in public and private funds through public-private partnerships and catalyzed more than $3.9 billion in credit through guarantees.
These partnerships work best when there is strong shared value. For example, USAID partnered with Intel, Arizona State University, and Vietnam's Ministry of Education and Training to strengthen engineering education in Vietnam. It was a win-win: Vietnam wanted to improve job readiness for their growing tech industry and Intel wanted stronger engineering talent for their local business operations. Even after USAID's involvement ended, Intel continued investing in the project, and other tech companies have joined the effort.
The Next Generation of Partnerships: Pathways to Scale
Tools like the Development Credit Authority and Global Development Alliances remain a mainstay of USAID's work. At the U.S. Global Development Lab, we are looking for additional ways to make an impact at a scale to match the ambition of the SDGs. We see three promising frontiers: leveraging private capital, engaging with local private sector actors, and building multi-stakeholder alliances.
Leveraging Private Capital
For example, Power Africa is a multi-stakeholder partnership working to double access to electricity in sub-Saharan Africa. Mobilizing private capital is core to its approach. It works with more than 130 partners, from Fortune 500 companies to small, African-owned businesses. So far, the United States' initial commitment of $7 billion has mobilized more than $40 billion in private capital to finance energy access in sub-Saharan Africa.
The Lab is supporting Power Africa by funding innovations in off-grid household solar energy and through the Scaling Off-Grid Energy Grand Challenge for Development, including its newly announced call for high efficiency, low-cost, off-grid refrigeration solutions. Our work with start-up companies that offer off-grid energy solutions to households often involves blended financing approaches--using USAID grant funds to catalyze private investment into early-stage businesses.
Engaging the Local Private Sector
As we work toward the Sustainable Development Goals, local actors will matter the most in driving outcomes. That's why USAID is partnering more and more with local companies on the ground: they are the most important drivers of economic growth and job creation in their countries. These companies have strong local networks, and they have long-term commitments to the markets in which they operate.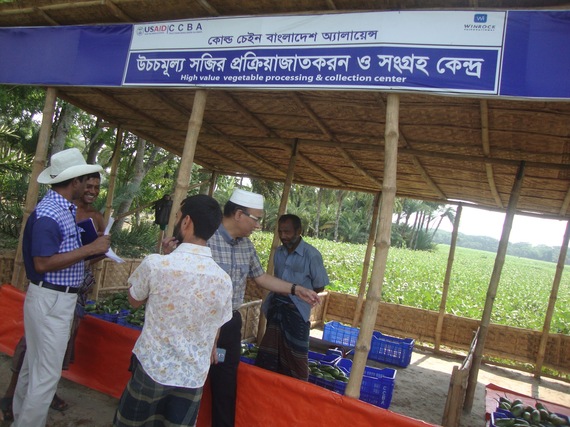 Farmers deliver their crops to the Cold Chain Bangladesh Alliance collection center. Photo: USAID Bangladesh
For example, USAID and Golden Harvest--a Bangladeshi company--are partnering to build Bangladesh's first integrated "cold chain." This network of refrigerated trucks and holding centers will help rural farmers get their crops to market before they spoil. Through this partnership, the Cold Chain Bangladesh Alliance will not only raise the income of more than 18,000 Bangladeshi farmers in just three years, but the initial investment, unlike more traditional assistance, is commercially sustainable and will not need ongoing USAID funding and support in the long run.

Multi-Stakeholder Alliances
The most complex problems require the coordinated efforts of government, civil society, and the private sector. Multi-stakeholder alliances offer a powerful, systems-based approach to problem solving, with each stakeholder playing a role. For example, USAID is a member of the Alliance for Affordable Internet (A4AI)--a coalition of 80 member organizations working to expand access to the internet in developing countries. A4AI focuses on policy and regulatory reform, and assembling local, multi-stakeholder coalitions to advocate for policy changes that would make internet access affordable.

Join us
With the SDGs, we have the opportunity for the biggest win-win in history. We can enable companies to do what they do best--make sound investments, create jobs, and spur economic growth. And at the same time, we can leverage private capital to reduce poverty. Achieving the Sustainable Development Goals will be no small task, and it will require unprecedented collaboration. But there is so much we can do together. I hope you'll join us.
Popular in the Community