There is an article making the rounds on the Internet titled "11-year-old girl goes on vacation alone, horrifying parents around the world." I am not immune to sensationalized article headers, so, like many people I clicked on the link, somewhat spurred on by the photo of a smiling girl wearing a backpack and holding her thumb up, in what I assumed was meant to make it look like she was hitchhiking.
Turns out, this 11-year-old girl was being put on a plane by her parents and being received at the other end by family members who then would take her into their home for her "vacation."
Now, I'm sorry, but she's far from the only 11-year-old traveling as an unaccompanied minor, and I really don't think that being on your own (with airline attendant supervision) on a plane is the same thing as "going on vacation" alone.
Let's set aside for a second the sensationalization of something rather banal in the hopes of getting readers all riled up.
I traveled as an unaccompanied minor for the first time when I was 4.
I walked to school, going from one end of town to the other, on my own, when I was 9.
I took the London Tube (the subway) and hailed cabs on my own when I was 11.
These things are not crazy. It was not a "sign of the times." It was not irresponsible of my parents to let me do these things. They taught me to make smart decisions and then let me make them.
That is nothing more than good parenting.
The job of a parent isn't to solely keep their child safe; It's to teach them to be ready to live in the world. If we spend all of our time coddling and shielding our kids from the pitfalls that might, maybe, could possibly happen, all we're doing is making it impossible for them to ever know how to manage on their own.
For a time, the phenomenon was known as Helicopter Parenting. You hovered, watched, stood by, darted in to fix things when the situation started to look a bit dicey. Now it's called Lawnmower Parenting. The parents plow through all possible obstacles, smoothing the way so their child is never challenged in any way.
Does that sound OK to you?
I've seen it many times. Kids who are never allowed to explore, never allowed to figure things out on their own, go hog wild when finally freed.
Imagine the teen never allowed even a tiny sip of beer at home going off to college for the first time. Imagine the child never allowed out with friends sneaking out of a window. Imagine the young adult never allowed to manage his or her own money finally getting a credit card.
These things never end well.
As a parent, our job is to teach our kids to do things safely and smartly while we're still in the wings to steer them back on path.
America was once a great nation of innovation and grit. We had to be. There was no one to pave the road or show us the way. We can't always be with them, so we'd better be teaching them to make good decisions. That can't happen if there are never any decisions to make.
Art, music, science experimentation have already been taken away from our schools. If we take away the ability to play outside, to explore, to discover the world without a hovering parent, we will be reduced to a nation of rule following, line toeing citizens, who have lost the ability to innovate and grow.
When my kids were toddlers, I let them climb onto chairs by themselves, I let them fail, let them try again and I applauded their success when they finally reached their goal.
I let my kids play for hours without checking in to see what they're doing.
I let my kids go to the bathroom on their own in restaurants.
I let my kids play with toys and art supplies as they see fit, even if it's not according to manufacturer's instructions.
I let my kids try daring stunts on playground equipment.
I let my kids climb trees.
I let my kids walk home from school with friends.
I let my kids walk to their friends' house down the street.
I let my kids walk the dog on their own.
I let my kids make their own breakfast.
I let my kids do their own homework.
I let my kids make mistakes, and fix them on their own.
I let my kids have hours and hours of unstructured, unscheduled time.
I let my kids get bored... and then find their own way out of that boredom.
I consider myself their coach and their encouragement. I don't do things for them. I don't pave the road they travel.
We used to be a nation of problem solvers. If our children never have to face any problems, how will they ever develop that skill?
We are reaching a ridiculous state where it seems to no longer be acceptable to parent in a way that will allow our kids to grow up strong, smart, independent, and able.
That's not just a crying shame. That's a crime.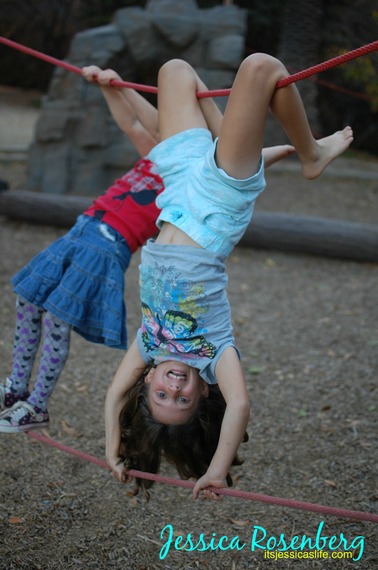 Jessica Rosenberg is a writer, a mom, a blogger, a friend, a social media marketer, a wife, a sister, a daughter, and everything in between. She spends her days juggling work, passion, and life.
She regularly shares her thoughts and insights on her blog It's my life...