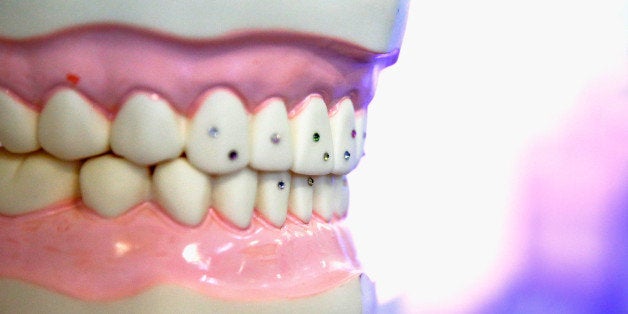 *Co-authored by Jack M. Levine DDS.
According to the World Health Organization, 60-90% of school children worldwide have dental cavities. In adults, severe periodontal disease is found in 15-20% of people. Oral health is essential to total health and well being, and research increasingly shows that poor oral health affects general health.
Yet, oral health is one of the most ignored areas of health care in the developing world, often low on the list of priorities in light of other more pressing diseases or emergency needs. Even in industrialized countries oral disease is the fourth most expensive ailment to treat, according to the WHO. Clearly we cannot afford to ignore the issue of dental health.
Essential surgery-basic, affordable surgical procedures that can prevent life-threatening complications or permanent disability¬-has become a part of our lexicon in recent years. Now it's time we talk about essential dentistry.
Cavities (Dental Caries), the nuisance we treat regularly and without alarm in the United States after consuming too much sugar or failing to floss, can have serious consequences if left untreated, and can often lead to more advanced diseases.
Children are often most affected by dental diseases, but they are also the group that can be most easily cured. For example, Noma, a gangrenous infection of facial tissues, is increasingly common in Africa, with more than 100,000 children under the age of six contracting the disease each year. Currently, 75% of Noma patients die without treatment. But what if they were treated promptly with antibiotics? An estimated 9 out of 10 of the children would survive.
Most work on dental care in developing countries has been focused on prevention, and rightly so. Preventative measures are the most effective way to eliminate oral diseases. WHO, Mercy Ships, Health Volunteers Overseas and other organizations have been working hard to find ways for people to up their fluoride intake and implement proper brushing habits. But when the disease has gone too far, and extractions, root canals, or excisions are needed, surgery is essential.
The first issue in providing surgery is that there are very few dentists available. In Africa, the dentist to population ratio is approximately 1:150,000, and this low number creates a catch-22 situation. Most oral diseases can be identified and treated easily, but because of such delays in access, when patients are finally able to see the dentist, the disease has reached the point where extraction is the only option. Developing surgical technicians to be trained to do basic procedures will be necessary.
The second issue is sterilization. Dentists in developing countries insert fillings, perform extractions and other minor surgeries using instruments without effective sterilization due to lack of electricity, which can contribute to new health issues.
One solution is outside help. It is not uncommon for dentists from the United States and other countries to take outreach trips to perform surgeries and train local dentists. These dentists bring their surgical instruments, but they still run into sterilization issues.
Dr. Jack Levine describes the problem from his personal experience below:
I received the call from the American Dental Association asking me to participate in a remote mission. Three dentists were selected to help solve the dental crisis in a refugee camp located just one day drive from Kigoma, Tanzania

The United Nations Human Commission for Refugees (UNHCR) has no dental or eye care in the hundreds of Camps throughout the world. This crisis was precipitated by a recent death of a teenager refugee who died from a dental abscess. There was an attempt to remove this infected tooth by other lay people in the Camp.

The request was to teach emergency care and essential surgical extractions to a small group of selected students in the Camp. This camp in Kagoma, Tanzania was a refuge from Congo, and Burundi. 55,000 people were without emergency dental care.

It was clear to our team that the barriers here were the same throughout the UNHCR Camps: 1) The absence of trained dental personnel 2) Lack of effective local anesthesia 3) Sterilization.

We were faced with using what was available at the site. It turned into "disinfection" rather than sterilization. Instruments were scrubbed then left to soak in cold solutions.

The make shift clinic had no electricity, lights, or dental chairs.

-Dr. Jack Levine
In the absence of sterile equipment, patients are at risk of surgical septic shock and other infections. Disinfection is not a safe substitute for sterilization, yet it is the method relied on in the developing world. For more than 150 years, sterilization technology has been reliant on the autoclave, which in turn relies on electricity. Without proper sterilization dentists will unintentionally transport bacteria and other pathogens into patients oral cavities, often doing more harm than good. Portable and power-independent solutions are the key to providing sterilization to medical instruments, even in the most remote areas.
Preventative measures and increasing the number of trained dental professionals in developing countries are two of the biggest factors in improving oral health worldwide, but sterilization is critical as well.
There has been much discussion and action on the global burden of disease and essential surgery, so why is this not the case for dentistry, which affects every population and demographic, and importantly contributes to overall health? Now is the time to shine the spotlight on this very important issue that so far has not received enough attention. The World Dental Foundation has begun to point out the inadequacies in oral care around the world with their report The Challenge for Oral Disease: A Call for Global Action. The aim of the report is "mapping a global health issue," and it pushes for the consideration of oral surgery as a fundamental right. Healthcare, in all its forms, is a human right, and dentistry is a crucial element to health. Essential dentistry is key to good health in developing countries. So let's put more teeth in global dental health programs.
In addition to his private practice in New Haven, CT, Dr. Levine has been working with dentists in the developing world for the last twenty years with extensive experience in remote mountain dentistry. He is a Fellow in the International College of Dentists, the American College of Dentists, The Academy of General Dentists, and the Pierre Fauchard Academy. His travels for dentistry have taken him to Nepal, Peru, Jamaica, Uganda, Rwanda, Tanzania, Kenya. He is currently the Program Director for the Health Volunteers Overseas dental project in Haiti.
Popular in the Community