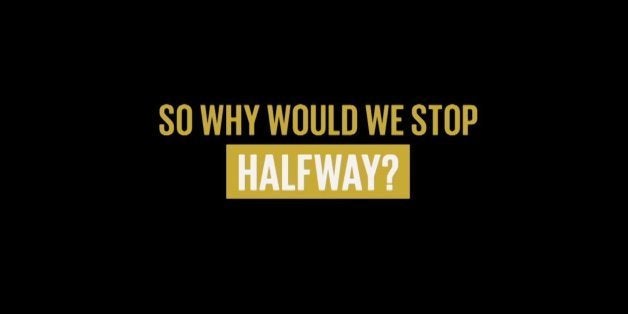 I have often said, we should seize the moment when we get the chance -- in both our professional and personal lives. It's the "Screw it, let's do it" approach I've described many times. If there was ever a time for the world to seize the opportunity to commit to undertaking bold action, it's now. 2015 is the year, and we have now reached the crucial weeks that matter most.
This month, the Global Goals will be adopted by the United Nations, with leaders from over 110 countries coming together in New York to show their commitment to eradicating poverty, fighting inequality and injustice, and combatting climate change.
The good news, thanks in part to the Millennium Development Goals, is extreme poverty has been halved in the last 15 years, an incredible achievement that we should all take a moment to celebrate. And in even better news, over the next 15 years we can make more of an impact. Why stop now?
Goal 8 of the Sustainable Development Goals seeks to "promote sustained, inclusive and sustainable economic growth, full and productive employment and decent work for all." As an entrepreneur and an employer of many valued staff -- Virgin has more than 65,000 employees -- I truly understand the importance of the role that business can play in making this goal a reality, and changing so many lives for the better.
Goal 8 gives us the chance to prove that business can be a force for good, and support the creation of a thriving economy for people and the planet. Using business as a force for good is core value of the Virgin Group, and our non-profit foundation, Virgin Unite.
At Virgin we champion entrepreneurship programmes across the globe, such as the Graca Machel Trust, the Branson Centres of Entrepreneurship in Jamaica and Johannesburg, Virgin StartUp, Virgin Media Pioneers and many more that give aspiring entrepreneurs the support they need to develop and grow their businesses. We've supported thousands of entrepreneurs over the years to create new jobs, increase revenue, and in turn, improve their livelihoods and the lives of those around them. The entrepreneurs we assist are all inspired to include purpose in their businesses, and truly understand the role they play within their communities. Entrepreneurs not only create jobs and help economies thrive; entrepreneurship can also contribute to building more sustainable communities.
It's not just fledging entrepreneurs that should be encouraged to create social good through business; there is also a necessity for more established companies to think about a different way of working.
The Virgin Unite-incubated initiative, the B Team, was launched to evolve business' narrow focus on profit, to profit with purpose. We need to change business for good. Creating social change cannot rest on governments, non-profit organisations and individuals alone; the world requires business to step up. Business can do a lot to solve the big problems; and consumers are rightly demanding higher standards from companies.
To create social change, businesses need to rethink the way they view work. We all need employment to make a living, feed our families, build for the future, grow our economies, and enhance our communities. But sometimes work can be unfair, unrewarding, inhuman, and, in many cases detrimental to our health and wellbeing. The B Team believes that workplaces should be fair and inclusive, enable growth, and have purpose.
Employment should be a way for everyone to contribute to the world and should be a mutually beneficial activity for both businesses and individuals, which enables us to build the thriving economies and vibrant communities of the future.
One of the core areas of focus for the B Team is helping to ensure workplaces are designed around people. When fashioned in a way that accommodates human needs and realises human potential, organisations are more productive and experience better growth. We call this being 100% Human at Work. There are a growing number of wonderful companies out there -- which belong to the B Team's 100% Human Network -- that are redefining the relationship between employers and employees.
At Virgin Group we feel that our employees are our best asset, and we are doing all we can to ensure they feel supported, rewarded, and enabled to grow. At Virgin Management we believe that flexible working is smart working, and have introduced a number of great initiatives -- such as working from home, unlimited leave and paid parental leave -- that encourage our employees to focus on their wellbeing. By giving our employees choice and treating them like the capable adults they are, we've been rewarded with increased productivity, innovation and happiness in our workforce.
We also encourage all our people to live and breathe the Virgin Group's purpose: to change business for good. In doing this, not only our people benefit, but so do our customers and the communities in which we operate. Over the next 15 years we intend grow our purpose, and look forward to seeing what great rewards come from it. We hope that more businesses, entrepreneurs and individuals join us in changing business for good, and in turn ensure that we realise Goal 8 of the Global Goals.
What is the role of business in meeting the Global Goals?
On Sep 24th The B Team is hosting a discussion, featuring some of the world's most innovative and ambitious leaders, to explore the answers to this question. Tune in to watch the discussion live here.
This post is part of a series produced by The Huffington Post, "What's Working: Sustainable Development Goals," in conjunction with the United Nations' Sustainable Development Goals (SDGs). The proposed set of milestones will be the subject of discussion at the UN General Assembly meeting on Sept. 25-27, 2015 in New York. The goals, which will replace the UN's Millennium Development Goals (2000-2015), cover 17 key areas of development -- including poverty, hunger, health, education, and gender equality, among many others. As part of The Huffington Post's commitment to solutions-oriented journalism, this What's Working SDG blog series will focus on one goal every weekday in September. This post addresses Goal 8.