On July 25th, 2017 at the International AIDS Society conference in Paris, France, new evidence was provided on the effectiveness of HIV treatments in curtailing transmission of the virus in serodiscordant couples—this time among gay male couples, building on similar effectiveness in heterosexual couples. These study results come on the heals of a conference held on June 30th, when the United States Centers for Disease Control and Prevention gathered leaders in HIV prevention for a momentous discussion on the impact that treatment has had on the sexual transmission of the HIV. Mounting empirical evidence since 2010 demonstrates that it is impossible for an HIV-positive individual, who is on treatment and completely suppressed the virus, to transmit the pathogen to their sexual partners— even in the absence of any other forms of protection. However, this growing body of scientific evidence, and current federal guidelines for the management of HIV, namely testing and treating, all run counter to outdated and discriminatory HIV criminalization laws, which continue to exist in the United States.
With the advancement of treatment and care in the last two decades people are encouraged to test and know their status so they can be effectively treated. Treatment is so advanced that people can take one pill once a day to suppress the virus and keep their immune system healthy, preventing them from acquiring any opportunistic diseases. While this is not a cure, an individual who is diagnosed early, accesses antiretroviral therapy (ART), and adheres to treatment can live a normal life expectancy because the virus is kept at bay. And growing number of HIV-positive people in the United States, close to 60%, are virally suppressed. Hence the importance of testing.
ART also has preventive benefits since it is impossible for a virally suppressed person to inspired to transmit the virus. This evidenced had led to the development the community message spearheaded by the Prevention Action Campaign that "Undetectable equals Untransmittable" ("U=U"). The U=U slogan and message have been espoused by myriad non-governmental organizations around the world. New York City's Department of Health and Mental Hygiene was the first government entity to sign on to the U = U consensus statement, along with hundreds of other research, community-based and activist organizations.
HIV criminalization laws fail to account for the benefits bestowed by modern HIV treatment. These laws prosecute HIV-positive individuals for acts of consensual protected or unprotected sex, spitting, or biting—with the underlying notion that blood saliva or semen are "biological weapons," as dangerous as a firearms. Between, 2008 and 2015, there have been at least 226 reported prosecution cases based on state laws that either directly or indirectly deem the potential and the unlikely transmission of HIV a crime, rising to at least 279 by the end of 2016. New Jersey is one such state. Under the state's diseased persons statute, a twenty-year-old man living with HIV was charged for having sexual relations with two women without disclosing his HIV status in March, 2010; he was sentenced for four years. In other states with such laws, court rulings are even more severe. For example, in Iowa, a 34-year-old person living with HIV, who had been convicted for "knowingly spreading HIV," pled guilty to two counts of reckless exposure of a contagious disease not resulting in transmission, and received a year in jail and credit for time served. And even in states without specific HIV criminalization laws like New York, the presence of HIV increases penalties: an HIV-positive man was sentenced for 10 years for aggravated assault for biting a police officer in 2006. While these laws were likely enacted with gay men in mind, in fact the majority of prosecutions are of heterosexual men. Since 2012 with the issuance of The Oslo Declaration, which called for an end of prosecution for HIV non-disclosure, there have been repeated attempts both in the United States and globally to undermine these laws. Yet they persist.
Our handling of HIV is based on antiquated understandings of the disease and stigma that persists in our society targeting HIV-positive and LGBTQ people.
Public health departments and activists should work to educate the populace about the current state of HIV treatment, and HIV criminalization laws in The United States (as shown in this inforgraphic created by public health students), and in this regard encourage legislators to repeal, and courts to overturn, HIV criminalization laws. In the meantime, prosecutors should use their discretion to not bring cases pursuant to these laws. Not only are these recommendations evidence-based, but they are rooted in social justice that underpin public health paradigms and values.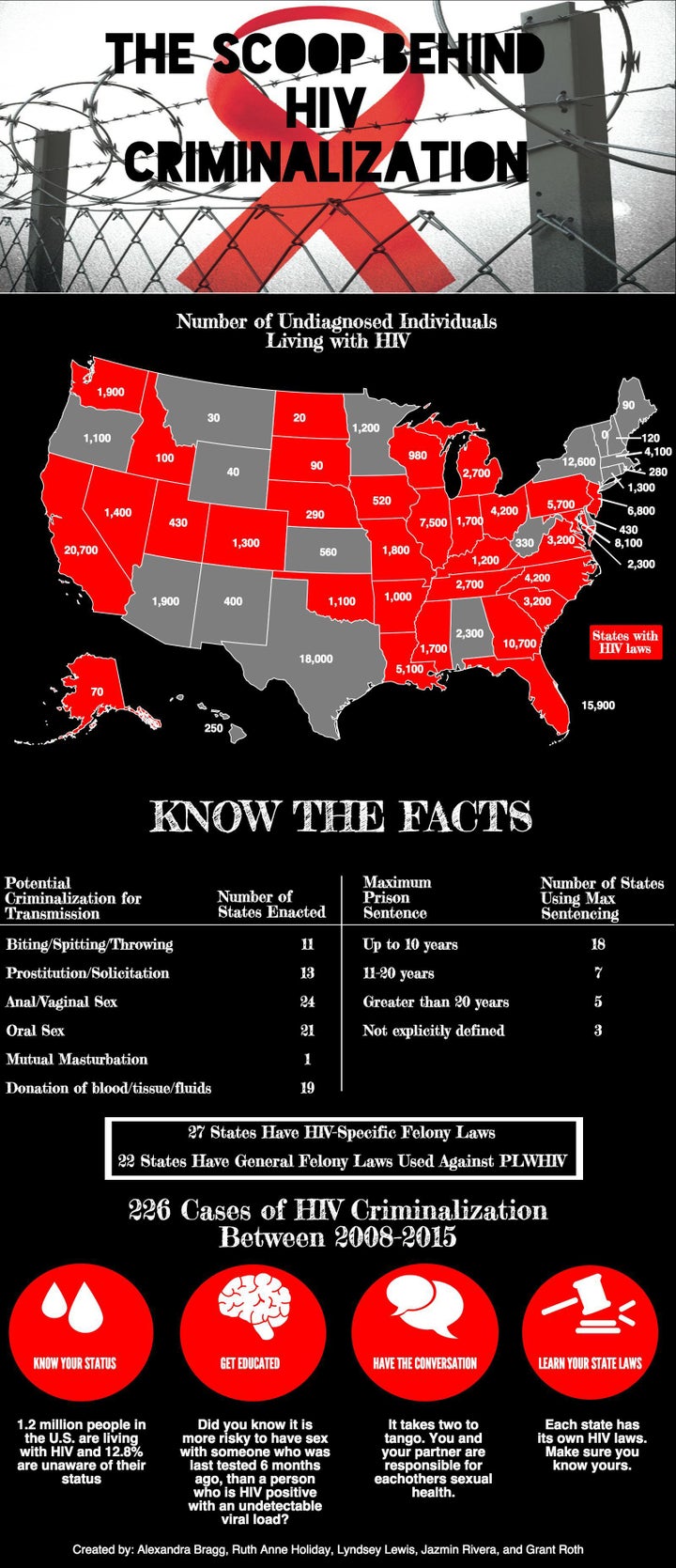 Support HuffPost
The Stakes Have Never Been Higher
Popular in the Community