Sharing your opinion can be scary, but trust me, it can be unbelievably rewarding.
Imagine if you shared your passion or opinion beyond your family and friends. How would that make you feel? What impact would that make?
Standing up and sharing your opinion can open up many opportunities. It can spark growth within yourself and even within other people.
For instance, in the lead up to marriage equality postal survey, one of my staff messaged me and said he had written an article about why you should vote yes to marriage equality and ask if I could have a look at it.
Not only did I read over and edit it, but we also got it published (read it here). Even better, sharing his voice added to the growing change of opinion, which has led to an overwhelming result of 'YES' to marriage equality.
I know firsthand that sharing your voice with the world can put you in a vulnerable position, particularly on sensitive issues, but if you say 'yes' to sharing your opinion, it can open so many doors.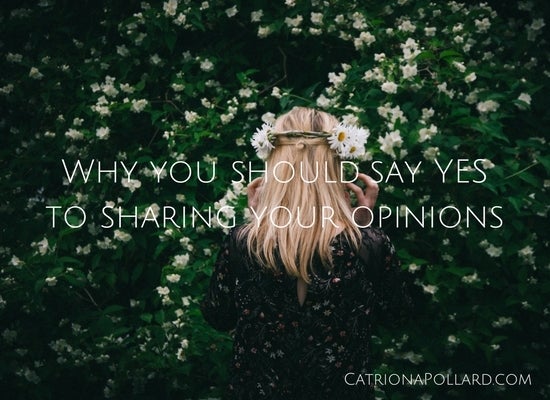 Everyone loves a good story
Here's the thing. If not you, who?
I believe we all have stories to tell that will help others in some way. We have experienced situations through our lives that should be shared because others will benefit from it. Or if we feel strongly enough about the issue, it's our responsibility to express that, to effect the change we want to see.
The world needs to hear what you have to say. If you don't, you miss out on sharing your beauty with the world. You miss your purpose.
Having the courage to be honest and exposed when you tell your stories through the media and social media will make them so much more impactful. They will start resonating with people.
When you start telling your stories and sharing your expertise because it is helping the people who are listening or reading it, you will be amazed with the emotional connection that you start building with people and the relationships you start developing – because you're positively impacting their lives.
We live in a world where we are encouraged to compare ourselves to others. As soon as we do this, we start living smaller lives. We start thinking our stories are not as important as theirs.
We need to have the confidence to know our stories are valid, not matter how big or small.
Overall, it's about saying YES to your voice, to equality and to love. You will find the more you voice your opinions and passions amazing things happen.
About the author Catriona Pollard is the author of From Unknown To Expert, a step by step framework designed to help entrepreneurs develop effective PR and social media strategies to become recognised as influencers in their field. www.unknowntoexpert.com
Catriona is also the director of CP Communications, which merges traditional PR tactics with cutting-edge social media strategies that engage consumers as well as business. www.cpcommunications.com.au
Calling all HuffPost superfans!
Sign up for membership to become a founding member and help shape HuffPost's next chapter
This post was published on the now-closed HuffPost Contributor platform. Contributors control their own work and posted freely to our site. If you need to flag this entry as abusive,
send us an email
.