The younger generation are the future, so why are we so often discredited, ignored, devalued, and incessantly patronised?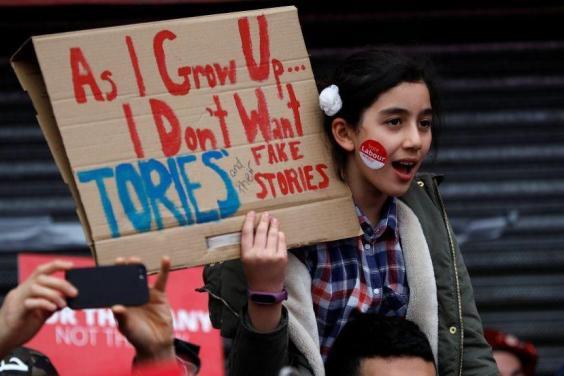 If you're below the age of thirty you will know exactly what I'm talking about; when it comes to politics, we simply are not taken seriously. Our views are seen as naive, idealistic, and as a direct result of not having enough 'life experience' to substantiate them. Not only is this insanely patronising, it's also an inane generalisation. If life experience were something we could measure in a points system it would not be directly correlated to the years an individual has lived. A twenty-five year old can have garnered more 'life experience' in their quarter of a century than someone twice their age, and even then, what is meant by this airy metaphor of 'life experience'?
Frequently we hear older generations spout that those younger than them have no experience of the real world, despite the fact that we grew up in an economy their generation ruined and have had no experience of the many privileged benefits they themselves enjoyed (affordable housing, no university tuition fees, an NHS that hasn't been crippled by the Conservatives). The younger generation have grown up in a vacuum of uncertainty whilst simultaneously being accused of causing it through their entitlement and laziness, so then how can it be said that we do not possess the thinking capabilities to understand the importance of making a difference? Our views are not idealistic, but rather they are a passionate commitment to wanting change. This vacuum we have grown up in, the only state of affairs we've ever known, is one we cannot and will not accept. It is less about optimism and more about defiance.
Building from this is the discrediting of any and all information we do provide to substantiate our belief systems. I personally have had this debate time and time again and every single time it has fallen on deaf ears. No matter how many facts we provide, how many sources we can send their way, no matter how much rational thought we provide to our arguments, we are received as over emotional and too concerned with feelings rather than reality. It is hugely frustrating, not least of all because politics is a hugely emotional topic for not only myself, but for many of us.
The lives of the disabled, the lives of the underprivileged, the lives of minorities, all of them are deeply important to me because I possess human empathy, so when discussing their rights and how they are being systemically taken away by right wing politics I do find myself becoming, as I am sure you do too, personally involved. I have learnt to curb these feelings for the benefit of debate in the hope that it will convince those who oppose me that the lives of minorities are worth more than a 'hard brexit' or any economic gain, but even when I do it is to no avail. The left as a whole are seen as over emotional by their opposition, but for young left voters it is even worse. It is time that we were listened to. It is time that people recognise we are intelligent, educated, and politically engaged.
Heavy criticism of our information gathering stems from the fact that the majority of information we receive is from social media. This criticism emerges from the idea that social media is simply a place where individuals upload pictures of their meals, fawn over celebrities, and send out indulgent selfies. Whilst all of the above do occur, and are perfectly justifiable behaviours, that is not all social media is. It is not at all what it used to be. Social media is an unbelievably powerful tool in data gathering. Millions of perspectives are broadcast there every single day, in an innumerable amount of ways and formats, providing a mosaic and enlightening view into individual existence. It is no coincidence that the 'social media generation' has created a legion of empathetic voters.
An unprecedented 72% of 18-24 year olds turned out to vote in the most recent General Election, and Labour made its biggest swing since 1945, gaining 30 seats (source). The Conservatives believed they would win by a landslide, and there greatest error was in underestimating the youth vote.
The younger generation are powerful and should neither be dismissed nor undermined, because we're prepared to fight for our future. Younger people are educated, they are not mindless, over emotional fools like the older generation so often try to depict. Recognise us and listen to us. The generalisations surrounding the youth vote are appalling and indefensibly dismissive, and if there is any one lesson to take from Theresa May's many errors it is this: dismissing the youth as anything but a strong voting base can severely backfire.
REAL LIFE. REAL NEWS. REAL VOICES.
Help us tell more of the stories that matter from voices that too often remain unheard.
This post was published on the now-closed HuffPost Contributor platform. Contributors control their own work and posted freely to our site. If you need to flag this entry as abusive,
send us an email
.