There is no doubt that social enterprise (SE) is the new black in business. Since 2012, Forbes has had a special section of their 30 under 30 list dedicated specifically to social entrepreneurs, and media outlets all over the world are excited to share inspirational ideas such as Jordyn Lexton's Drive Change, a food truck that hires and teaches previously imprisoned young people in New York City. Unfortunately, despite there being much talk, we have limited knowledge of the actual impact of social entrepreneurs. It's time to stop talking about social entrepreneurship and start collecting data, measuring outcomes, and helping enterprises mature from small-scale solutions to national-level impact.
A Day in the life of Drive Change. Video by Zagat
The first step is to increase our understanding of the sector. Thus far, most countries do not collect data on social entrepreneurship. The exception is the UK, with their Small Business Survey from the Department for Business Innovation & Skills (BIS). According to their criteria, 5% of sampled small and medium businesses qualify as social enterprise. Although the UK is a flagship when it comes to supporting social entrepreneurship, there are still many questions left unanswered. How many jobs are created? How much is contributed to the GDP? How much are SEs contributing to reach the Sustainable Development Goals? This lack of comprehensive data is reflective of a larger issue: we need to be less concerned with talking about how great social entrepreneurship is, and more concerned with measuring actual impacts.
Answering these questions is important because SEs are not operating in a bubble, but rather in a context of governmental policies, not-for-profit organizations and international development strategies. Once we assess how well social enterprises perform in comparison to solutions provided by government policies, we can start to understand where they can work together to create strategic synergies. Furthermore, we can understand when the government should step out of a market and just support social enterprises, or when it should step in with its own policy solutions. This is the key to bring the local strategy from social enterprises to national-level impact, and data will help us do that.
The second step is to increase financing for social enterprises and to make it more effective. The good news is that interest over time in the topic "impact investing" has been steadily increasing for the past five years (Google Trends), with the term shifting from a little-known topic to a buzzword in the social impact community. However, financing is still limited and social entrepreneurship is surrounded by uncertainties: interacting with marginalized people, relying on limited infrastructure, working in developing countries, facing political obstacles, or even mix of all of these. Given these constraints, could the sector really produce global companies that generate impact and profit? Could it produce its own Facebooks and attract more venture capital?
The answer is yes. Look at Kiva - their micro loan platform moved more than $800 million to micro entrepreneurs in 83 countries, with 98% repayment rates. So is there anything to learn from the venture capitalists of Silicon Valley, such as Andreessen Horowitz and Google Ventures that will make more Kivas possible? Their success relies broadly on a simple strategy to face uncertainty and mitigate risk in entrepreneurship. First, you amass capital and build a reputation so only the best startups compete for your funds. Then, you invest in 100 businesses. Ninety percent of the time you will lose money. Nine percent of the companies will do okay and have mediocre returns. And the one business that succeeds to become the next Facebook will compensate for all of the losses and generate new venture capital.
It's an attractive strategy, but in comparison to tech startups, social startups have limited returns on investment, and the pockets of social investors aren't as deep. To mitigate risk, a successful strategy has been to create large competitions for the funds and find the cream-of-the-crop startups in which to invest. A great example is the Hult Prize, the world's largest social entrepreneurship competition, with 25,000 participants from across the globe and a million dollar prize. Despite its worldwide reach though, under 1% of teams go on to become actual enterprises, and there is currently only one winner of the funding.
The localized "on-campus edition" of the Hult Prize also strategically opened more channels for funding by having teams compete in a quarterfinal round of the competition within their university, and involving local senior executives and investors are invited as judges of the innovative ideas. On our campus, the Stockholm School of Economics, the winner Kazi Connect received a spontaneous reaction from 5 of the judges, who affirmed they would be willing to invest in their idea right then! Hult Prize itself has hinted that they started exploring the creation of a social impact fund to diversify their portfolio of social businesses, which is a great step forward and a good example for other social impact investors.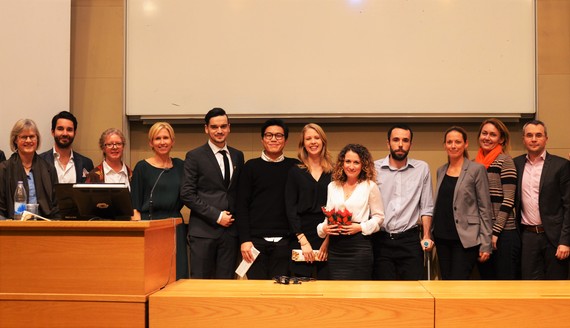 Team Kazi Connect and judges celebrate their victory in Hult Prize at Stockholm School of Economics. Photo by Sanne Johnsen.
The important thing we can learn from Silicon Valley and Hult Prize is that even after selecting the best companies, 90% of investments will fail because of the great uncertainty involved in entrepreneurship. In order to move forward we need to give more social entrepreneurs the opportunity to implement their ideas, measure their impact, understand the wider context in which they operate and keep growing. Let's stop talking about how great social entrepreneurship is and let's start collecting data and measuring outcomes to prove what works and what doesn't. Then we can make our investments more effective, attract new investors and scale from small business to national and global solutions.
Popular in the Community