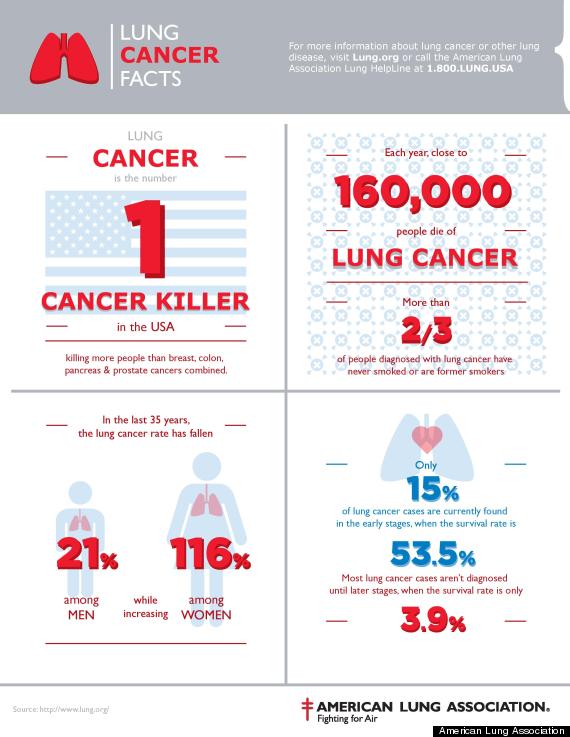 Lung Cancer Awareness Month is a double-edged sword. While it puts a spotlight on lung cancer, raising funds and building awareness, that spotlight only lasts 30 days, and lung cancer is taking close to 160,000 lives each year. Together, we have to make the lung cancer conversation last all year. We need to change our thinking about this deadly disease. It starts with us.
The reality is that lung cancer is an epidemic that touches 1 in 14 Americans. Every hour, 18 of our friends, neighbors and loved ones lose their battle with lung cancer. While lung cancer rates have fallen 21 percent among men in the last 35 years, they have risen 116 percent among women. Lung cancer has the horrible distinction of impacting a tremendous number of people and bringing with it a distressingly low five-year survival rate of only 16 percent.
We recognize that smoking is the leading cause of lung cancer. But, it's not the only cause. In fact, the second leading cause of lung cancer is exposure to radon and air pollution is also a significant cause. A recent report by the International Agency for Research on Cancer, a wing of the World Health Organization, concluded that outdoor air pollution causes lung cancer deaths, including 223,000 deaths worldwide in 2010.
Thankfully, new thinking and new hope is beginning to surface in the fight against lung cancer. New therapies using genetic biomarkers to customize lung cancer treatments are breaking the one-size-fits all mold for treatment. New guidelines are emerging to improve early detection - a critical key to curing lung cancer - using low dose CT scans. Specific high-risk populations are candidates for low-dose CT screening. These new screening procedures could dramatically improve survival rate and save thousands of lives every year. At the American Lung Association we realize the importance of early detection in reducing lives lost to lung cancer - that's why we recently expanded the scope of our successful Lung Cancer Discovery Award program, to support more research on the early detection of lung cancer.
Still, there is much left to be done. Despite its overwhelming impact, investment in lung cancer research lags behind funding for other diseases, receiving fewer dollars from both federal and private sources. We need better tools to detect lung cancer at an earlier, treatable stage, and improved resources to support patients and caregivers as they face this disease. The tobacco industry continues to churn out new tobacco products, aimed to appeal to kids, and addict another generation of smokers, destined to disease and early death. And while we and our public health partners fight to protect the air we breathe, others are determined to side-step the Clean Air Act and protect polluters who spew carcinogens into the air we all share.
As the leader of the American Lung Association, I'm honored to have an opportunity to keep this conversation going, throughout Lung Cancer Awareness Month and beyond. We've been fighting lung cancer for more than 50 years. With today's new treatments, improved screening tools and increasing awareness, together we can topple lung cancer from its perch atop the cancer heap through advocacy, education and research. We, along with others, remain determined to win this lifesaving fight. I hope you will consider making the same commitment.
Related
Popular in the Community