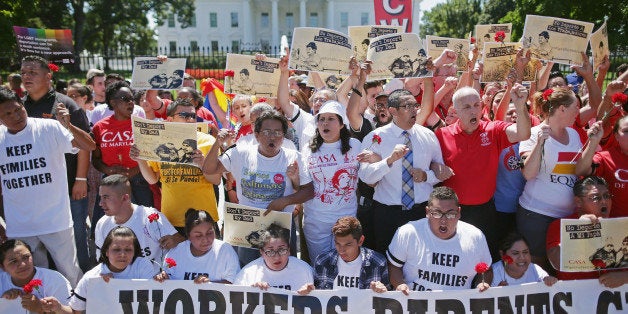 Huerta is one of many immigration reform supporters who say the delay amounts to prudent politics. Major executive changes to immigration policy, the argument goes, could spook voters ahead of midterms elections, potentially costing Democrats their control of the Senate. But that argument obscures a fundamental problem with Obama's decision that should concern both those who support and oppose reform: our president is backing away from a policy he says he will enact anyway, and he's telling voters openly that he's timing it for political reasons. The debate isn't about whether Obama will actually take these actions, but rather when.
That move isn't just a strategic calculation. It's a method of stripping away a layer of accountability in a political system moving ever closer to a permanent state of campaigning, in which lawmakers often view the performance of their jobs as a risk rather than a responsibility.
Some on the left, like Huerta, have argued that Obama's timing amounts to sound politics, that waiting until after the election will allow Democrats to maintain control of the U.S. Senate, which will ultimately lead to reform.
But our democratic system is supposed to be based on accountability and transparency, not jealously guarding control of the U.S. Senate.
If voters support executive action on immigration, perhaps they will reward Democrats with more seats. If they oppose it, perhaps they will reward Republicans with more seats. Maybe a majority of Americans will ultimately come to the conclusion that deportation relief, in lieu of action by Congress opposed by House Republicans, makes sense, but the Democrats will still lose the Senate because the people who care the most are concentrated in states like California or Texas, where U.S. Senate races are uncompetitive.
None of that really matters. If the president says he'll enact the policy anyway, he owes it to the American public to enact it from the moment he was convinced it made sense for the country, not his party. Conversely, if he's not willing to do it now, he shouldn't do it at all. Voters, not to mention the millions of immigrants residing here who are citizens in all but name, need to know where he really stands. Shifting the ground beneath their feet every few months doesn't help them do that.
By comparison, Obama responded by coordinating a regional campaign to warn about the dangers of human trafficking and by expediting court proceedings for the unaccompanied minors to provide a disincentive for families and traffickers to send them.
Some of these policies put him at odds with immigrant activists, and for good reason. None of it addresses the root causes of poverty, violence and corruption -- much of it caused in large part by the U.S. government -- that drive immigration. Furthermore, an untold number of the unaccompanied minors have a fighting chance to win the right to stay here, either by claiming asylum or protection under U.S. law as victims of trafficking. Even so, many of those kids will face a judge without a lawyer because deportation cases are heard in civil court, so the government isn't required to provide the children with a public attorney.
Despite its problems, Obama's strategy showed results. Fewer children are coming. The crisis, for the moment, has been averted. It was never realistic to paint children as a security threat, and there's really no reason why the unaccompanied minors' crisis should continue to derail the immigration debate.
Some on the right have tried to argue that it's unconstitutional to provide deportation relief and work authorization through executive action. Their arguments notwithstanding, the law very clearly allows the executive to set standards for prosecutorial discretion and to offer people employment if their deportations have been deferred.
That's why the focus on immigration policy has shifted from Congress, where the vast majority of Republicans and a few Democrats have made it clear they won't allow reform to pass, to the White House. If Obama truly thinks offering deportation relief and work authorization to more undocumented immigrants is the right step, he should enact the policy before elections and let the voters decide. It's not about which party wins the Senate. It's about crafting policy that makes sense and that U.S. voters support.