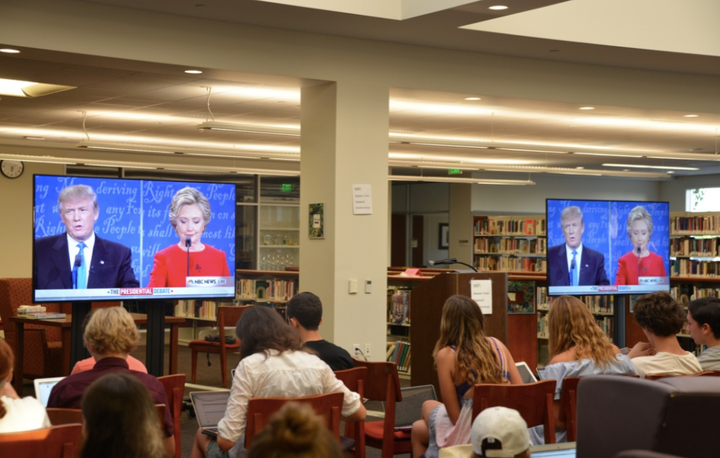 Clara Nevins, 17, and Joseph Touma, 18, offer a new perspective on the political state of America.
I walked in the door of my high school in West Virginia on the morning of November 8th, the day Donald Trump was elected the 45th president of the United States.
I too walked in the door of my high school in urban Los Angeles on November 8th.
My friend ran up to me, gave me a hug. "We are going to make it great again," he shouted exuberantly in the halls.
My friend also ran up to me, gave me a hug, but she whispered with tears falling down her face, "I don't know how we'll make it through the next four years."
The two of us live in the same country, governed by the same laws and led by the same people. We are both high school students, consumed by the same pressures of a future life both imminent and unclear. We are both Americans who love our country and the opportunities it has afforded us.
Even so, we were each raised in very different places, with very different ideas, ideals, and beliefs. One of us grew up in the conservative foothills of the Appalachian Mountains in southern West Virginia, while the other was raised amidst the liberal skyline of southern California. One state was unquestionably red, and the other undoubtedly blue. We were as geographically and politically divided as two states could be, and this was reflected in our first encounter at a summer program several months ago.
It was there that we engaged in hour long emotional debates about the future of our country. Are unborn fetuses full fledged? Should people be faced with higher taxes as they climb the socioeconomic scale? Should undocumented families be uprooted, or given allowed a pathway to the same opportunities Americans enjoy? Is it a fundamental right to own a gun? These conversations were heavy and emotional, and there were many moments of frustration. However, we realized that understanding and tolerance can lead to a productive conversation, and that was exactly what our culture was failing to do. Why is this so? We see it in our parents. We see it in our media. We see it in our leaders. Quite simply, this intolerance is ingrained in society and our heads from day one. The minds of young people, supposedly malleable, seemed to be reflecting the bad attitudes of our elders. We were just as stuck, fastened, and fixed in our ways as they were. We knew that this needed to change.
So we decided to bridge our divide and begin to approach conversations with an attitude of appreciation and curiosity. We wanted to shift our mindsets, and actually learn and hear from each other. Committing to this new philosophy was not easy, but the shift was valuable and we have worked to spread it ever since.
Together, with several other politically-minded youth, we founded a nonpartisan political organization called Bridge the Divide. Encouraging students to engage in respectful and substantive political conversation, the organization has three main components: live online political discussions, moderated op-ed publishing, and an ambassadorship program. Real-time discussions cover a variety of topics and often garner hundreds of comments. The website contains information on volunteer and internship opportunities for youth in the political community. To date, our organization has a leadership team spanning more than 10 countries and has attracted thousands of users and contributors. We see Bridge the Divide as a vehicle for our generation to begin to create a political climate of respect, cooperation, and understanding that our world desperately needs.
Together we can reshape the political landscape of this country, but we need your help. Adults-- tell your kids, share this post and visit our website. Young people-- become an ambassador, participate in our discussions or submit an op-ed.
Both of us are avid American history students; we can see what's so great about our country. However, it's only if we work together will our generation be able to reinvigorate the democracy that makes America extraordinary.
Popular in the Community