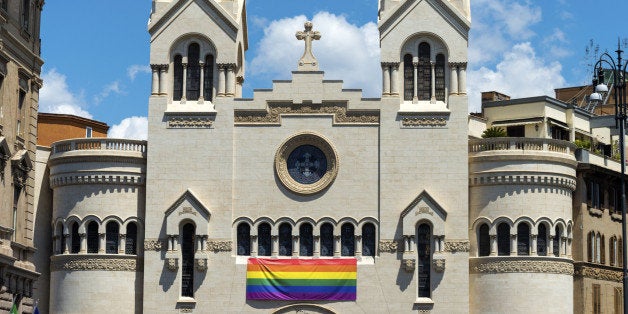 Every now and then, you can catch Cardinal Donald Wuerl - Archbishop of Washington - walking past an Episcopal church near Dupont Circle in Washington, DC. Sometimes he walks past the church around 6:00 pm on a Sunday evening. Where he is going is something I do not know. What I do know is that, at that time on Sundays, there is a Catholic Mass taking place in that Episcopal church. How do I know that this Catholic Mass is taking place? I know because I attend that Catholic Mass and I am the Vice President of the organization who sponsors it. My name is Vincent Testa and I am a proud member of Dignity/Washington.
For the past 43 years, Dignity/Washington (D/W) - the largest chapter of the national organization, Dignity/USA - has provided the Washington, D.C. LGBTQ community, their family, and their friends with Catholic Mass and services.
In the beginning, D/W was able to hold their masses at chapels on the Georgetown University campus. When a letter was published in 1986, by then-Cardinal Joseph Ratzinger - in his position as Prefect of the Congregation for the Doctrine of Faith - Georgetown president Rev. Timothy Healy expressed his remorse in having to expel D/W from campus. The letter written by the future Pope Benedict XVI said that homosexual groups who did not adhere exactly to church teachings (i.e. practice chastity in their homosexual relationships) should not be allowed to utilize Catholic Church property. After some searching, D/W formed a relationship with a local Episcopal church and has called that church home since 1987.
It is not a secret that the Catholic Church has fallen "behind the times" in terms of the way the majority of our modern society thinks and acts. It seems as though Pope Francis has been working overtime in order to speed the modernization process up; however, despite his intriguing level of support of the LGBTQ community, there is still a very fine line between allowing LGBTQ Catholics into the church community and truly accepting them.
Dignity/Washington has extended several invitations to Cardinal Wuerl (and his predecessors) to attend one of its services; invitations that have been declined each time. In the most recent declination, William W. Gorman, the Associate Moderator of the Curia, asked D/W President Daniel Barutta, "Is it correct that your community is founded upon the assertion that the Catholic Church's teaching on chastity is inconsistent with her affirmation of the dignity of all?" In other words, do you disagree with the fact that the Catholic Church teaches that LGBTQ individuals have dignity, but can only practice abstinent relationships? I will speak for myself when I respond with a resounding, "Yes, I disagree!"
In a recent interview with the National Catholic Reporter, Cardinal Wuerl - who is currently attending the Synod of Bishops in Rome - said, in reference to the church's responsibility, "You have to speak with clarity, but then knowing what the fullness of the teaching is, you go out and meet people where they are ... You go out to bring them the truth but sometimes to be heard you have to let the person know you know their struggle if you're going to accompany them at all."
I would like to know what my struggle is as an out and proud, gay, Catholic man. Is it that I want to have marital relations with my future husband? Is it that I want my love to be recognized in the church I was raised in and the tradition I continue to uphold? Or is it that I would like to get married in the church in which I was baptized and confirmed? The issue that I present to Cardinal Wuerl is that he is not "practicing what he preaches" - forgive the pun - and meeting people where they are. The members of Dignity/Washington have been celebrating at that Episcopal church for almost thirty years. Is he willing to meet us there?
Calling all HuffPost superfans!
Sign up for membership to become a founding member and help shape HuffPost's next chapter