The sport of yoga asana has been celebrated in the United States for over a decade. Inspired by a long-standing tradition of holding yoga competitions in India, the United States Yoga Federation (USA Yoga) has run regional and national championships for 11 years. Top placements are sent to compete at the global level.
On May 31, 2014, the best of the best will compete onstage when London hosts the World Yoga Sports Championship, run by the International Yoga Sports Federation. Yoga competitors from over 25 countries will gather and cheer one another on. After all, the event inspires a spirit of camaraderie and support.
As with any new sport, the rules are continually being refined to promote a level playing field and encourage healthy competition. 2014 marks two firsts: Competitions now include a seniors division, and it is the first time ever that former international champions will be able to defend their titles. In previous years international champions proudly wore their badges of honor but weren't able to participate in future competitions. All that's changed.
Meanwhile, the U.S. Nationals are impending -- they'll be held in San Antonio, Texas, March 14 through March 16, 2014. Former international champions -- Joseph Encinia, Jared McCann, and Gloria Suen, among others -- will grace the stage alongside those up-and-coming to compete for a spot in the Worlds.
The action will be live-streamed on usayoga.org and iysf.org.
Here are some words from the champs to get us into the spirit.
Joseph Encinia, New York, Adult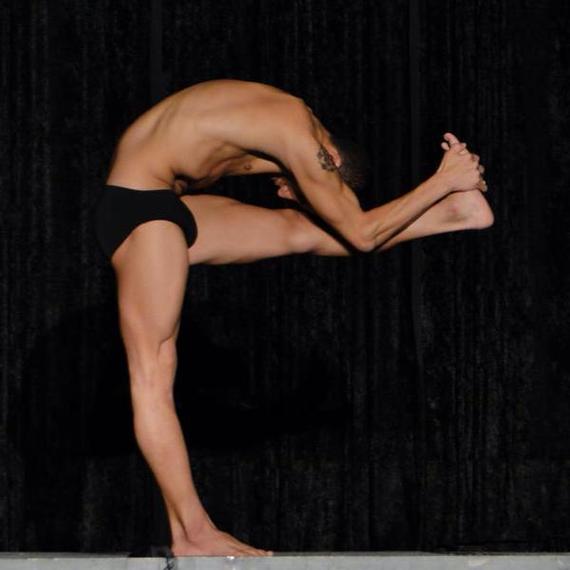 How many years have you been competing in championships?
I've competed for seven championship seasons. I'm the 2008-2011 Texas Regional Champion, 2009-2011 National Champion, and 2011 International Champion.
This is the first time you're competing since your 2011 international win. How does it feel to know you'll be defending your national -- and hopefully your international -- title?
The first time I defended my national title, I actually did not feel that I was to defending my title against anyone but myself. The only person in the way of my championship success is me.
Does going into Nationals feel different, emotionally? How?
The pressure going to Nationals is definitely there. Emotionally, I try to keep myself in check. Competing over the years, I've realized that the pressure to perform at your best comes from within. I try to constantly remind myself to demonstrate what I practice every day on the mat.
Are you demonstrating any "new" poses for the competition?
Yes, but I'm not saying what. I feel my strongest and most inspired when I push myself and the boundary of physical limitations beyond what has been seen in the past. So stay tuned!
Who has been a major influence on your yoga practice? Why?
The biggest influence on my yoga practice recently has been from my students. Teaching yoga regularly and seeing the growth in their practice remind me to keep striving.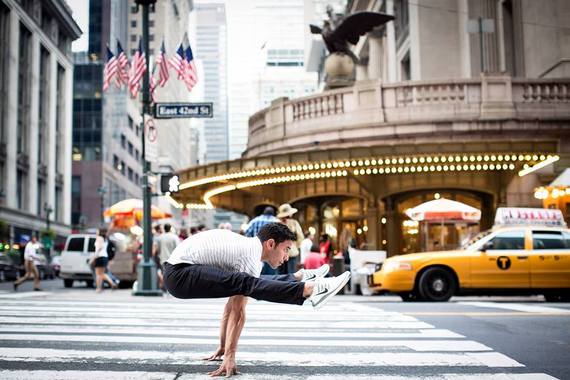 Describe a typical day of training.
A typical day of training involves about an hour and a half of stretching and strengthening exercises at home, followed by a 90-minute hot yoga class at midday and half an hour of additional training on my competition routine. I teach yoga in the evening. I repeat this the next day.
How important are rest days in between training? How do you relax?
Practicing moderation is key to training. Resting is equally as important as pushing myself physically. I relax by taking one day a week off of my physical practice by spending time with my partner and watching superhero movies.
What challenges you most about yoga competition?
The mental aspect of competing is most challenging for me. It doesn't matter how skilled you are physically; if you're not focused, you fail. It's all on you!
What style of yoga do you practice? And do you participate in any other sports regularly?
I practice Bikram yoga -- 26 plus two posture series -- regularly. I enjoy surfing, rock climbing, and playing with my IndoBoard.
Describe those last few moments before you step on stage and demonstrate. What do you do? What goes through your mind?
Before I demonstrate, I look back on how far I've come, from suffering with rheumatoid arthritis and having a heart attack to the here and now. I practice yoga for "me" and then bring that to the stage.
Does yoga have what it takes to be an Olympic sport?
I strongly believe that yoga has what it takes to become an Olympic sport. The skill required of yoga athletes is strongly comparable to that of an elite gymnast.
If you could embody one pose, which would it be?
The "scorpion." This posture serves as a constant reminder that I am my own worst enemy. By stamping the top of my head with my feet, I strive to remove all bad characteristics and qualities of my mind.
Gianna Purcell, Illinois, Adult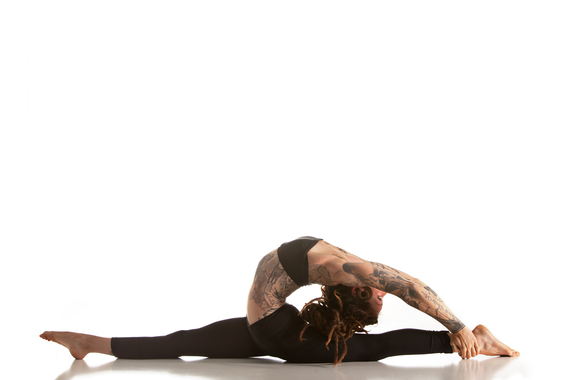 How many years have you been competing?
My first regional competition was 2009. I placed first in 2010-11, 2011-12 and 2013-14 for the Illinois Regionals, and in 2012-13 for Texas Regionals. I placed first nationally, and fourth internationally, in 2012-13.
I compete to become a better teacher for myself and my students. The more I train for competitions, the more lessons I learn physically and emotionally, and the better I understand and open my body. The competition itself is simply a practice in presence.
What advanced poses are you working on for the Nationals?
I work on all the postures I can almost do in hopes that they will change, whether it be for competition or not. "Om," "goodbye," "lotus in palm," and "one-arm peacock" are just a few I've been working in daily.
Who has been a major influence on your yoga practice?
Of course my coaches, Mary Jarvis and Jessica Rask, have been huge influences and played a major part in the advancement of my understanding of the postures and the body itself. While living in Austin, my best yoga friends and influences have been Afton Carraway and Kathy Durham. We talk yoga all the time, we work on postures together, and we are each other's biggest cheerleaders. It's easy to be influenced by such dedicated yogis.
I practice a couple of different yogas and look to a lead inspiration in that community for knowledge and guidance. I follow Mary Jarvis and David Swenson as my teachers or my "gurus."
Describe a typical day of training.
I usually get up and take a morning class to warm up, go through my training series of lunges, backbends, handstands, drills and posture practice. I finish up by running routines and doing a cool-down sequence. I often follow that up with an evening class to reset the body.
How important are rest days in between training? How do you relax?
My rest days consist of a simple yoga practice and doing the other things I live to do. I'm a musician and a stylist, so without these two things, I'm not fully being true to me. It is easy to get lost in the yoga room and in the practice because the body is infinite and you could explore forever, but what makes me me is all that encompasses me, and that is music and styling. That said, I am truly relaxed when I'm juicing. There is something very meditative and satisfying about preparing your own fresh juice. I even enjoy cleaning the juicer.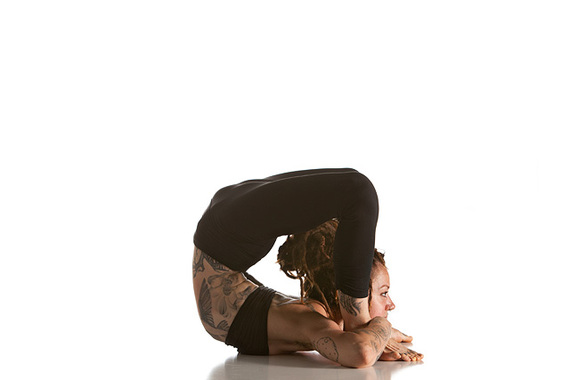 What's the most challenging thing about competition yoga?
The most challenging thing to me is the unpredictable body. When you work through an asana practice, you don't just shift the physical body; there's also an energy shift. There are new muscles and new flexibility to get to know. A shape shift. During a concentrated yoga practice the body can change quickly, making a posture you thought you "had" a posture you have to learn once again. This is why I train, for those moments. Everyone wants to do well when they're on stage, of course, but what's more exciting are the body shifts that came before.
What style of yoga do you practice? And do you participate in any other sports regularly?
I practice Bikram yoga and Ashtanga yoga. I've found them to be perfect complements, physically and mentally. Even if I wanted to practice another sport after dedicating to these two practices, I wouldn't have the time for it.
Describe those last few moments before you step on stage and demonstrate. What do you do? What goes through your mind?
I dedicate my demonstration, and then I clear my mind. I have two sick parents who, though quite ill, still worry more about how I am doing than themselves, and they will get the dedication this year.
Does yoga have what it takes to be an Olympic sport?
I think it does. There is so much strategy, mental power, physical precision and control that goes into the sport that I don't see it to be any different than curling, skiing or diving.
If you could embody one pose, which would it be?
Any open-hip posture, because it is the body part most full of congestion that I may have to wait until my next life to understand. "Pasasana" and "viranchyasana" are just a couple I'm working on.

AlanKane D'Quebec, California, Youth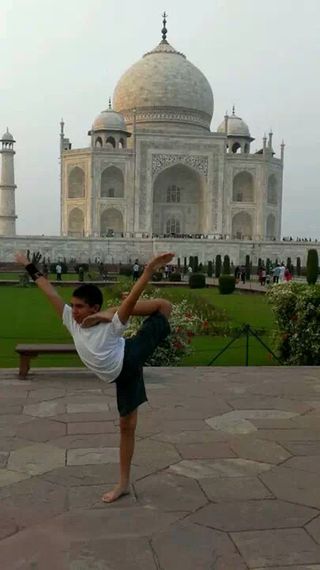 How long have you been competing?
I have been competing in yoga asana championships since I was 11 years old. I'm 13 now. In 2013 I got first place at the California Regionals, first place at Nationals, and placed fourth at Internationals. This year, 2014, I got first place at the California Regionals.
I compete so that my practice can encourage others, both kids and adults, to give yoga a try. I want to inspire those around me to believe that with hard work, anything is possible.
Tell us about the advanced poses you'll be demonstrating.
The advanced poses that I'm working on for Nationals are "bow-legged peacock" and "full standing bow."
Who influences your practice?
My mom. Seeing her, for years, practice and work on advanced postures made me want to practice. I begged her to take me with her to the yoga studio. She finally did, and now, along with my dad, we practice as a family.
I don't, but there is a person who I respect, love, and look up to: Bikram yoga teacher Emmy Cleaves. She has instilled in me a certain amount of confidence. She encourages my yoga practice like no one else does. Practicing the advanced series with her is surreal. Her wisdom and her passion can't be compared. She understands the human body and brings out the best in me. I'm so lucky to have her in my life. My competition routine is always dedicated to her. I want to make her proud.
What's a typical day of training like?
A typical day of training consists of being properly hydrated and eating healthy. I use a camera to record my routine. Video is an important part of my training because I can see where I am at, technically, and can easily make adjustments.
Do you make rest days a priority?
Rest days are very important in between training. As an athlete, I never want to overwork my body. I relax by taking hot baths, eating pizza and being a kid.
What's the toughest thing about competition?
The most challenging thing about competition yoga is staying calm, focused, and remembering to breathe.
What types of yoga, and sports, do you practice?
Aside from practicing Bikram yoga, I also run track and field.
What's running through your mind before your routine?
In the last few moments prior to stepping on stage to demonstrate, I run my routine in my head. I tell myself, "Kane, stay calm, relax, smile, go out there and have fun!"
Does yoga have what it takes to be an Olympic sport?
I believe yoga has what it takes to be an Olympic sport because it requires training, skill, technique, grace, and a certain degree of difficulty.
Pick one yoga pose you would choose to be.
If I could embody one pose it would be "bow-legged peacock," because it shows flexibility, strength and balance. These are the three things I try to practice in my everyday life.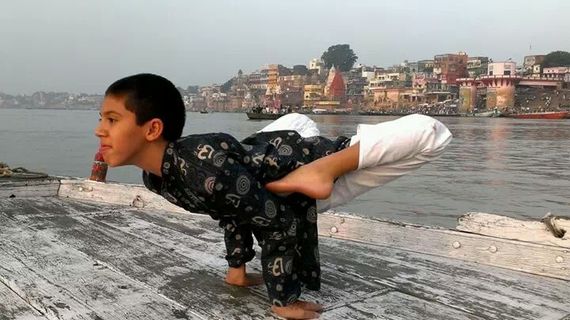 Related
Popular in the Community