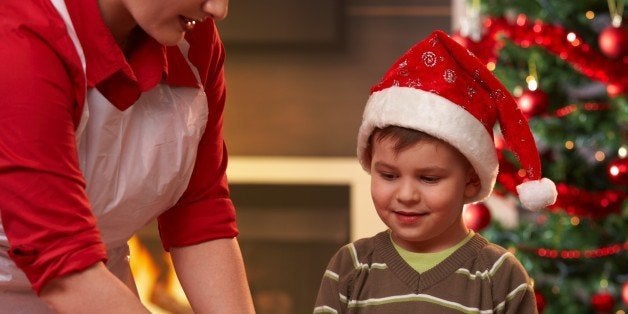 Why Not Create Your Own Holiday Traditions?
A friend of mine was concerned about the upcoming holiday season. Recently married to a man with two young children, she and her husband were at a loss as what to do about traditions.
"The kids have been wonderful about accepting me as part of their lives, and I wanted to do something special for the holidays."
The problem is, she continued, they have no family traditions established for when they come to her house.
Another friend is worried that following the traditions already in place by her parents as well as her in-laws will leave no room for her and her husband to have something that is theirs alone, something they can share with their children.
There are many in the same position as my friends. Some families are a two-religion household. Some decide that the customs and traditions of their childhood aren't what they now need; still others grew up with out any real traditions but wish they had.
The solution? Create your own traditions.
Holiday traditions become something special because of the memories associated with them. Some are religious, like lighting special candles or serving ethnic foods symbolic of your faith. Others are just generic fun. Anything you do for a holiday can become a tradition.
If you have become a step-parent recently and this is the first holiday together with the children, be innovative. Ask them what they would like to do and honor their requests for special food or customs. Remember, familiarity to a child is comforting. But do introduce new traditions, ones that you create as a blended family.
It can be as simple as having hot chocolate with whipped cream after dinner or as elaborate as putting special decorations with each family member's name imprinted on them in a place of honor.
If you and your husband are of different faiths or belief systems, create something that is distinctly yours as a couple. One husband and wife I met have a tradition that is special to them. They make heart-shaped breads filled with raisins and currents every year. It symbolizes their love. This year they have begun making the breads as gifts for their friends too.
Another couple has a tradition of having two dinner parties, a week apart, for both of their families. At one they serve traditional Jewish food, at the other traditional Italian food. Both families learn to appreciate each other in a friendly gathering. They look forward to this cultural exchange every year. Holding to old traditions and customs is warm and loving but creating new traditions to enjoy every year is exciting and fun.
Traditions are something that make memories. Make a few new ones this year.
Copyright 2014 Kristen Houghton all rights reserved
Popular in the Community