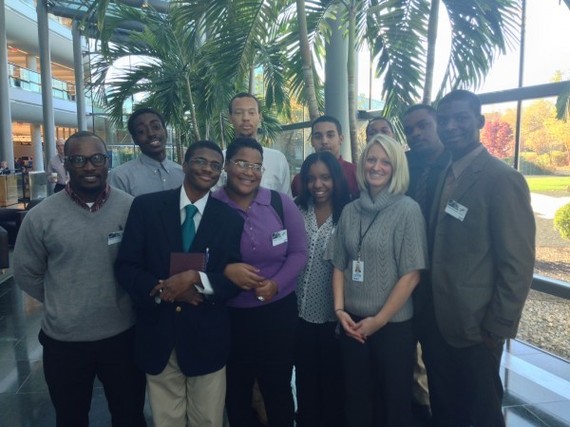 14 students from the ITWorks program in the Philadelphia area visited SAP America last week for Career Day this year. The ITWorks program, created by Tech Impact, is a program open to vulnerable young adults that helps them develop strong leadership and community skills while becoming certified in IT. Career Day is just one of the opportunities students have to immerse themselves in the technology landscape.
"One of the best things we do for ITWorks students, throughout the program, is enable them to experience facilities like SAP. It's not just the building though. When they can meet the people, their lives change. Meeting people in the field who are willing to help them, and who want them to succeed, changes their outlook on life. It changes what they believe is possible for themselves and they begin to expect more. It's a crucial step in giving them the belief that they can attain careers in IT," Anthony Pisapia, director of development and programs at Tech Impact, said.
SAP America, located in Newtown Square, PA, is a subsidiary of SAP AG, a multinational technology company producing enterprise software solutions. The students were invited by Stephen Shander, SAP America's chief customer officer and board member on Tech Impact's board of directors.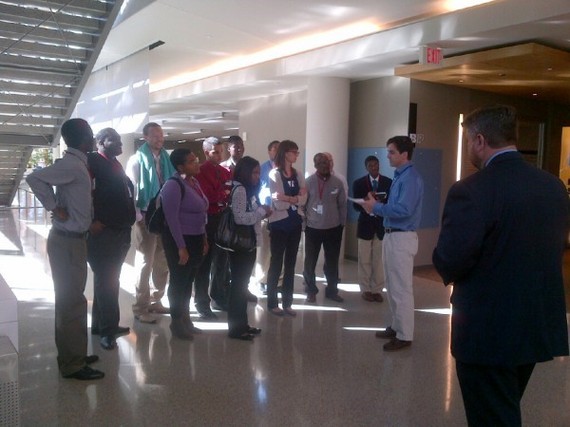 Upon arriving the students were greeted in the lobby and told about SAP's Green (LEED certified) building, followed by a tour of the Data Center and Mission Control Center, where a team handles high priority customer trouble tickets. Grace Harpole, ITWorks program manager, added that, "The students really enjoyed seeing some of the things they are learning about during the data center tour and the MCC tour."
The students were later connected to 2 SAP employees in Brazil via SAP's video conferencing software and Cisco equipment. And to end the day, a presentation on mobile apps and software demos was given.
Merisa DiRocco, SAP corporate social responsibility, who organized the event shared her thanks, saying, "Just seeing the looks on their faces when they entered the building speaks volumes, but to see their faces when you shared our SAP story and all of the cool things we do in our daily jobs means so much more! They left here today with not only knowledge about what we do at SAP, but Confidence."
REAL LIFE. REAL NEWS. REAL VOICES.
Help us tell more of the stories that matter from voices that too often remain unheard.