At the recently concluded 17th meeting of the Convention on International Trade in Endangered Species (CITES) Conference of the Parties (CoP17) - the largest meeting of its kind ever held - IUCN helped inform a number of landmark decisions on regulating sustainable and legal trade, writes Richard Jenkins, Deputy Director of IUCN's Global Species Programme, from Johannesburg.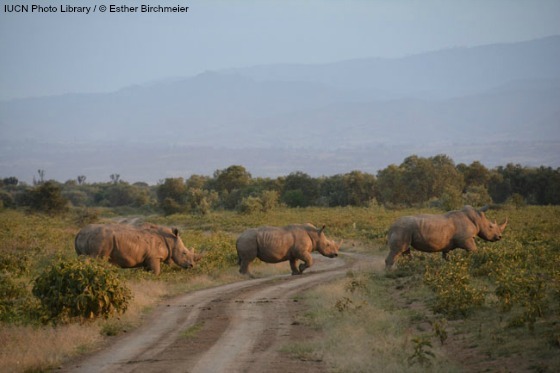 Many of the issues discussed at the CoP17 conference were recently brought to light at the IUCN World Conservation Congress in Hawaiʻi. The role of the International Union for Conservation of Nature (IUCN) as an inter-governmental observer organisation to the Convention is to provide technical input and expertise on species and conservation. As scientific information on the biology and conservation status of species in the wild is fundamental to decision-making in CITES, IUCN, through its Species Survival Commission (SSC), plays a key role. In Johannesburg, the IUCN SSC was represented by its Specialist Groups, providing a wealth of expertise on African rhinos, African and Asian elephants, amphibians, antelopes, boa and pythons, cats, chameleons, crocodiles, eels, orchids, pangolins, sharks, seahorses, small carnivores, tortoises and freshwater turtles, as well as livelihoods and the sustainable use of wild species.
IUCN's African Elephant Status Report, launched during CoP17, provided the most up-to-date information on the African elephant population, highlighting the countries that have experienced most serious declines, and the ones that are sustaining large and stable populations. The report guided a key decision on a proposal to up-list elephant populations in Botswana, Namibia, South Africa and Zimbabwe onto Appendix I, which includes species threatened with extinction.
Debates on whether to add, remove, or transfer species between the CITES Appendices were further informed by the IUCN/TRAFFIC Analyses, which objectively examine proposals to amend the appendices against the CITES listing criteria. Other decisions adopted at the meeting were informed by status updates, such as the joint IUCN/TRAFFIC Rhino report, and information on the status and trade in pangolins, provided by the IUCN SSC Pangolin Specialist Group.
Aside from debates on iconic mammals, there were also a number of excellent outcomes for communities that live with, and depend on, wildlife. The President of the Republic of South Africa addressed the CoP on the first day and emphasised the importance of sustainable use of wildlife for socio-economic development and rural livelihoods.
The CoP saw a renewed effort to raise the profile of rural communities as beneficiaries of the sustainable use of wildlife and their vital role in combatting wildlife crime. A particularly noteworthy decision was to set up a CITES working group dedicated to determining the best way of engaging rural communities in CITES processes. This decision echoed an IUCN resolution adopted last month at the IUCN Congress, highlighting the need to recognise, understand and enhance the role of indigenous peoples and local communities in tackling the illegal wildlife trade crisis.
The sustainable use of wild species - a fundamental principle of CITES - was at the heart of many discussions and decisions at the meeting, which were taken to strengthen the convention's oversight of sustainable trade in wild-harvested and captive-bred species. These new and improved procedures will help to prevent legal trade from becoming detrimental to species in the wild.
During the meeting, IUCN's Boa & Python Specialist Group highlighted its new reports which reveal that the wild harvesting and farming of CITES-listed pythons is ecologically sustainable and results in socio-economic benefits for poor households in South-East Asia.
Many species for which current trade levels - if left unchecked - would likely threaten wild populations were added to Appendix II so that they come under CITES trade controls. These included six species of soft-shelled turtles (Trionychidae), two genera of African pygmy chameleons, two African vipers, the Hong Kong warty newt, the earless monitor lizard, the masobe gecko, chambered nautiluses, devil rays, silky sharks, the tree genus Dalbergia and other commercially important timber species, pony tail palms and Grandidier's baobab.
There was also a serious effort to focus on combatting the illegal wildlife trade in species and their parts, with decisions taken to bolster initiatives to tackle corruption and cybercrime, to reduce demand for illegal wildlife products, and to strengthen enforcement activities.
As in previous CITES meetings, elephants and rhinos were the focus of many debates and decisions and attracted a great deal of media attention. The CoP saw the acceptance of the National Ivory Action Plans as a tool for Parties most affected by illegal trade in ivory, including source, transit and destination countries, to strengthen their controls of the trade in ivory and ivory markets, and help combat the illegal ivory trade. The plan was supported by other decisions on ivory stockpile management and forensic analysis of large-scale ivory seizures. The continent-wide African Rhino Conservation Plan, led by South Africa and IUCN's African Rhino Specialist Group, was also launched at the meeting and received warm support from African rhino range states.
Current levels of trade are so high in some species that they were put on Appendix I to prohibit international commercial trade. These species, which also face multiple other threats, included five species of alligator lizards, the psychedelic rock gecko, the Chinese crocodile lizard, the turquoise dwarf gecko, the Titicaca water frog, the Barbary macaque and the African grey parrot.
There was some positive news too, with the Cape Mountain zebra being transferred from Appendix I to Appendix II thanks to effective conservation action and management. Madagascar's tomato frog was also down-listed from Appendix I to Appendix II, while the two other species in this genus, Dyscophus guineti and D. insularis, were listed on to Appendix II under the 'lookalike' principle, i.e. species that are very difficult to distinguish from other species that are threatened by international trade. The CoP was also used to draw attention to particularly critical species conservation issues, such as the plight of the vaquita porpoise, which is threatened with extinction by illegal gill-net fishing for toataba, and the hunting of helmeted hornbills for their highly-valued casque ivory.
The challenge now is to implement these new decisions and resolutions, and IUCN stand ready to assist the Parties and CITES Secretariat where scientific information and species expertise is required.
Calling all HuffPost superfans!
Sign up for membership to become a founding member and help shape HuffPost's next chapter