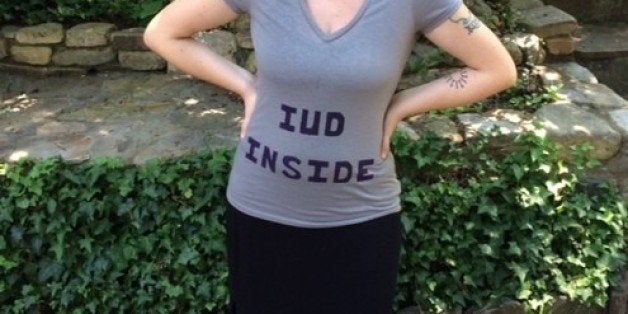 Last month's Hobby Lobby ruling by the Supreme Court filled me with such blinding rage that I have been unable to write about it (or even think about it) in a reasonable manner. And railing at the universe with vitriol and bitterness is useless. It turns into preaching to the choir. If any of us hope to effect change, that is one lousy way to do it.
So let me get this off my chest and I'll be able to move on.
Ugh, I can't do it. I can't curse out the members of SCOTUS who formed the majority of the ruling or Hobby Lobby in writing. It would be irresponsible because it would basically invalidate everything else I say.
But I AM DOING IT IN MY MIND.
Okey doke. I do feel a tiny bit better. You know what else has made me feel better? Buying a "Notorious R.B.G." t-shirt.
Why am I so upset? Obviously, an employer rather than a medical professional making health care decisions that only affect women is a big problem for me. But leaving that for a moment, what scares the living sh*t out of me is how this court values the rights of the few over the many. Business owners are not a majority in our country. They tend to be more powerful and wealthy than the general population. And in this ruling their wants were given more weight.
The ruling is un-American.
Imagine for a moment that Christian business owners were not the ones who brought the law suit, rather, a group of Muslim business owners who disliked birth control being a component of the company healthcare plan. Do you believe for a second the ruling would have been the same?
Certain business owners do not want to pay for birth control, either all of it or some of it. But you know what? They aren't paying for it at all. Health care is not some benevolent gift granted to workers by a company. It is compensation for services rendered. The idea that a company can dictate how any part of a compensation package is spent, especially based on religious ideology, is mind-boggling. Could a closely-held company run by a devout Jew ban employees from purchasing pork with money they earned in his or her employ? Could LBGT community members be denied jobs based on sexual orientation?
Those examples seem extreme, but no more extreme than the ruling handed down on June 30th. My shock that day was complete. I did not believe for a moment that the ruling could possibly go the way that it did.
Fifty years from now when this court is considered by historians, the majority opinion will be judged harshly.
Would you like to know why I choose an IUD as birth control?
Because my husband and I enjoy having sex and we cannot afford another baby. Because I have been on hormonal birth control to manage severe menstrual cramps since before I was sexually active. Because I had a D&C five days postpartum after delivering our first son to stem the horrifying bleeding caused by a piece of left-behind placenta and I hemorrhaged six hours after the birth of our second son and menstrual bleeding now scares the hell out of me and exacerbates my anxiety disorder. The tiniest blood clot makes me seize up with terror. What does that have to do with anything? A side effect of the Mirena IUD is a much lighter flow. My reasons are complex and simple, much like the choices any woman makes about her reproductive health and life.
To have that choice compromised by an employer is unconscionable. The women who work for Hobby Lobby are hourly and low wage employees. They cannot just get another job. Low wage retail is a subsistence existence. They would get out if they could. The women with the least power are the ones getting screwed. Un-American. Shameful. Frightening.
So, what does an outraged feminist do? This one makes a t-shirt. And wears it in pubic with pride. My tiny action might not make any difference at all. I usually wouldn't advertise my private choices on my t-shirt. But this one matters. I am not ashamed of my IUD. I'm grateful for it. And I'm pissed that I need to be grateful to my husband's employer for not objecting to it.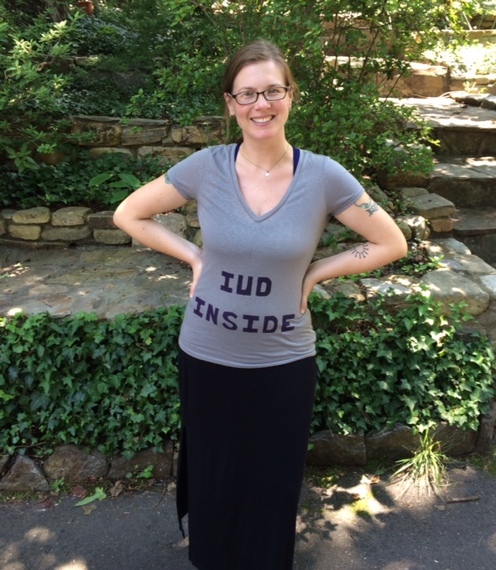 Bam. The IUD is right in there doing its thing. Hope the folks I passed by at Target and at the Children's Science Museum yesterday enjoyed it as much as I do.
Popular in the Community