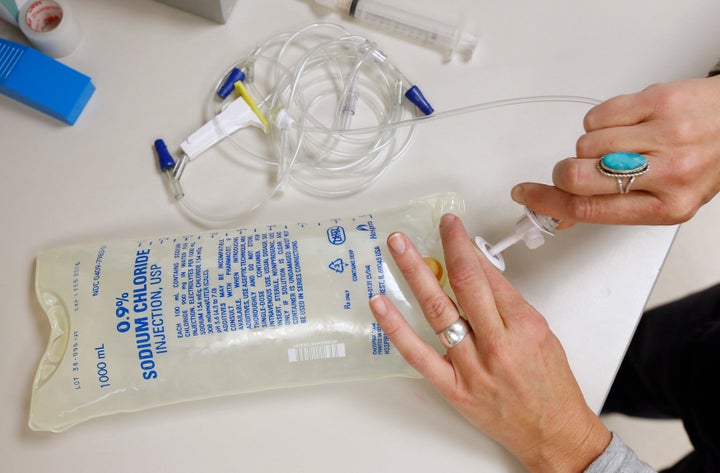 It's been a year since Hurricane Maria hit Puerto Rico and other Caribbean islands, and Paul Seamann, a paramedic in West Virginia, still doesn't have enough IV saline bags.
Seamann is director of operations for Jan-Care Ambulance Service, which serves 100 ambulances over 8,000 square miles of mostly rural communities. He's incredulous that bags of IV fluid are still so difficult to procure a year after Maria wiped out power and capabilities at the Puerto Rico-based manufacturing plants of Baxter International, a top producer of the bags.
He's had to hire another person in his supply chain to look across the country for IV bags. His department has had to pay up to 10 times what it normally would for certain medication-infused saline bags because of the short supply. And most concerning: Jan-Care's ambulances now go out with three or four bags instead of the eight to 10 they normally would.
"We're in a constant state of hoping there isn't a mass shooting and hoping there isn't some sort of industrial accident, as we wouldn't be able to provide the medications to save someone's life," Seamann told HuffPost.
James Augustine, an emergency room physician in Cincinnati, says he starts every shift asking how many bags are available that day.
"I'll tell you, as of two weeks ago, our supplier for bags of saline has no bags available," said Augustine, who's also on the board of directors at the American College of Emergency Physicians. "So it may feel like it's different, but in fact, when you ask the distributors, 'Can I buy a box of saline?' it's as bad as it was a year ago."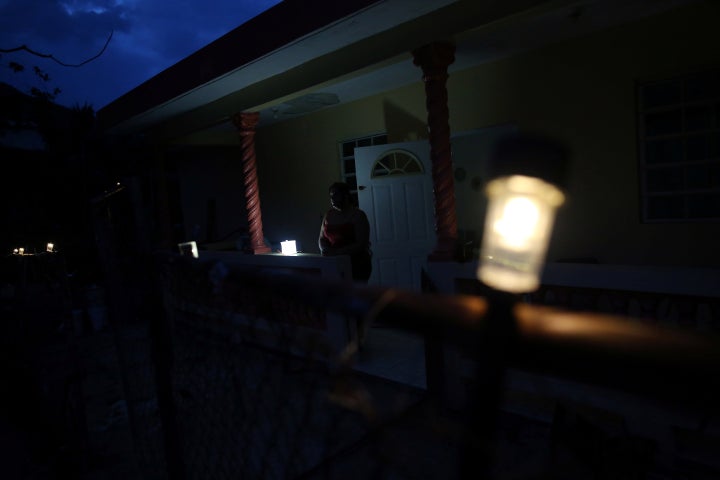 A Vital Piece Of Medical Infrastructure, Gone
As Hurricane Maria decimated Puerto Rico's power and infrastructure last September, it also took away its ability to deliver the island's biggest export: pharmaceuticals and medical devices.
Drug shortages and medical device shortfalls abounded as pharmaceutical companies scrambled to find enough diesel to run their factories, deal with power outages, locate and ensure their employees' safety, and figure out how to transport people to work on obstructed roads.
"Full manufacturing production ramped up following the connection of all of our facilities to the island's electric grid in late 2017, which led to the resumption of pre-hurricane manufacturing levels in early 2018," Baxter spokesperson William Rader told HuffPost in an email.
The shortages abated in April and May, when Baxter's production fully resumed, but smaller services with less purchasing power are still scrambling to get the materials they need, said Stacey Barksdale Price, a product manager for medical supplier Boundtree who works with Seamann and Augustine.
Meanwhile, the Food and Drug Administration announced in July the development of a task force that includes leaders from the Centers for Medicare and Medicaid Services and the Department of Veterans Affairs. The group aims to address the persistent drug and medical device shortages after Hurricane Maria.
According to an FDA spokesperson, the task force will work to expedite "facility inspections and drug application assessments so that a facility producing a product in shortage can become operational as soon as possible."
"We're in a constant state of hoping there isn't a mass shooting and hoping there isn't some sort of industrial accident, as we wouldn't be able to provide the medications to save someone's life."
But many on the ground feel that's not enough to address the product shortage ― nor is it keeping up with the current need. A group of major hospitals has even formed a nonprofit to produce generic drugs to combat the constant shortages.
Ultimately, saline is not part of the emergency drug stockpile, says Erin Fox, the senior director of the University of Utah's drug information services, who tracks drug shortages for the American Society of Health-System Pharmacists. But, she argues, it probably should be, considering how such a shortage of the essential product has devastated the health care system.
"When we think about how hospitals absolutely require saline to run on any given day, and they need thousands and thousands of bags to do it, it seems odd that they don't consider that supply chain," Fox said, adding that protecting the supply chain should be a part of a national security conversation.
This is a particularly urgent matter as weather patterns become more severe, according to Nicolette Louissaint, the executive director of Healthcare Ready, a group that works to strengthen health care supply chains.
Take Hurricane Florence, which is currently ravaging North Carolina, home to many pharmaceutical manufacturing plants. While many of the companies have been on high alert, in part after seeing the effects of Maria, the U.S. could find itself right back in the throes of another shortage in a cycle that is seemingly unending, Louissaint warned.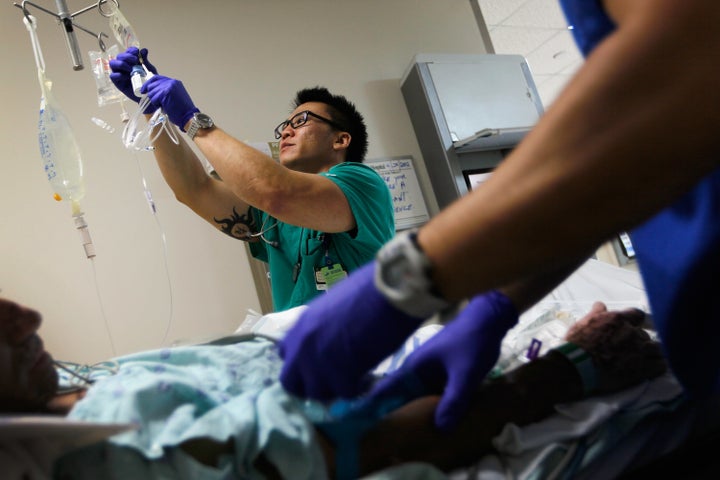 How A Weak Supply Chain Hurts Patients
Baxter's main manufacturing plants for its IV bags were in Puerto Rico. When the company's capabilities went down due to hurricane damage, the bags ― already limited after an issue with quality at a B. Braun factory and a record flu season ― were in even shorter supply.
Hospitals and medical establishments across the country made do with what they could get their hands on. And when they couldn't use the regular bags, nurses or paramedics would have to use syringes to inject directly into a vein, or switch out IV-administered drugs for pills when possible.
"It became so critical that hospitals were actually giving patients liquid to drink as hydration, as they didn't have enough of the bags to give," Michael Ganio, the director of pharmacy practice and quality at the American Society of Health-System Pharmacists, told HuffPost.
Medical providers decried the shortages for endangering patients as medical personnel switched up common procedures ― upping the risk of a life-threatening medical mistake.
"Anytime you deviate from standard medical practice, you risk an error," Ganio explained.
Fox said the lack of IV bags led to "a large number of downriver shortages," such as shortages of syringes, which medical workers had to increasingly rely on as an alternative.
"It's amazing that here in the U.S., we pay the highest prices for pharmaceuticals, [more] than any other country, and to be short of the most basic products we need is absurd," Fox said.
"Here in the U.S., we pay the highest prices for pharmaceuticals, [more] than any other country, and to be short of the most basic products we need is absurd."
A Domino Effect
"You don't seem to run out of tennis shoes and nails to do construction," Seamann says. "We're not sure how something so basic to medicine could be so greatly impacted."
And yet, Hurricane Maria upended an entire medical supply chain, affecting the entire country's access to a product that's been a bedrock of medical care.
"If one company goes down, it's a complete domino effect," Barksdale Price said. "It definitely, for me, paints the picture that if one piece falls out of place then the whole system is crippled. And it's frightening."
For Louissaint, Hurricane Maria is only the latest example of the importance of emergency preparedness and management.
"It's really critical to making sure the supply chain is protected, so patients can get what they need in the crisis," she said. "From the patient's perspective, all they know and care about is you're telling me there's something I need that you're not able to give me."
"When you've got a life in the back of the ambulance, and you're 40 to 50 minutes from the hospital, then we need the medications to save that life," Seamann said. "We need to get it solved."
CORRECTION: A previous version of this story indicated all of Baxter's manufacturing plants were in Puerto Rico; while its main plants for IV saline bags are there, it has other plants elsewhere. A previous reference to the American Society of Health-System Pharmacists also misstated its title and has been amended.
Popular in the Community