Today's Huffington Post Gay Voices RaiseAChild.US "Let Love Define Family™" series installment features a military couple's journey to parenthood. As you will read, for Ivan Acosta and George Guthrie, Father's Day is also an important anniversary.
When 3-year-old Emma Acosta-Guthrie's dad puts on his dress blues, she often dons her own uniform of sorts -- a taffeta-and-tulle pink gown with a tiara or a flowing blue dress like the one worn by the heroine of the box office smash "Frozen." Emma's papa, Ivan Acosta, is a Lieutenant Colonel in the U.S. Air Force and her daddy, George Guthrie, is a human resources manager for Southern Wine and Spirits. Besides having two fathers, Emma is a "girly girl" who is not that different from most other military children. Except, perhaps, that there's no question her parents planned meticulously for her arrival.
Ivan, now 40, met his husband, now 46, in 2002 while Ivan was stationed at Cape Canaveral Air Force Station in Florida. Back then, they knew they wanted to have children but the military's "Don't Ask, Don't Tell" policy kept them from pursuing their dream. After they moved to Redondo Beach, California in 2010 and the ban was lifted, they began considering their options for becoming parents.
"We'd been together for 11 years or so at the time, so it just created something new, a new challenge for us," said Ivan. "We had been pretty comfortable together and understood each other pretty well. This definitely brought on new challenges on how to raise a child together and learn about each other more."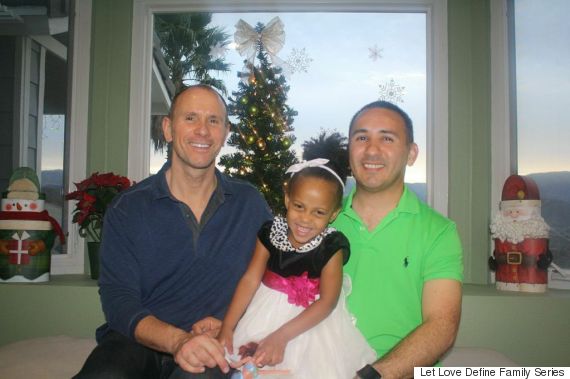 The couple chose to work with the Los Angeles County Department of Children and Family Services (DCFS). After attending the orientation and required classes, and fulfilling other requirements, the couple was approved for foster care in May 2012. A week later they received a phone call saying that there was a match, a three-month-old girl.
"We were placed with Emma the weekend of Father's Day so it was quite a cool way to start our family," said Ivan. "About a year later we finalized the adoption."
"One of the things we wanted was to make sure they would give us a child that had a low risk of going back to a family," Ivan explained, "so they did tell us that there was a high possibility that the child would need a permanent home. We took that risk with foster-to-adopt and we were blessed that it happened to be the right match for us."
Although the family has moved again, this time to Edwards Air Force Base in southern California where Ivan works at the Air Force Research Laboratory's "Rocket Lab'' in the Mojave Desert, Ivan says the military makes sure career aspirations and family life are compatible.
Emma has attended the childcare development center on base since she was four-and-a-half months old.
"I think the Air Force is very family-friendly and family-oriented. It has childcare and support systems so it really fits just fine," said Ivan. "Having a child does limit some things you do, but not because you are in the military. Having a child changes priorities, for sure. For me, personally, it became a priority for us to raise a child in a good home and a good environment. It definitely didn't change my work ethic, but it changed my priorities in my personal life now that I have somebody I have to look after."
Ivan's family is mostly from Florida and George's family is from Texas. Both Ivan and George's families were supportive of the adoption, although the dads took awhile to share the news.
"We didn't really tell too many people right away when we started the process because we wanted to make sure that things would work out," said Ivan. "We didn't want to get our hopes up or somebody else's hopes up. When you have a foster child, you can't really divulge too much of that child's background or issues. And you want to make sure you're ready for questions, because people get excited when you tell them and they ask a million questions, and you may or may not be ready to divulge that information to family or to strangers right away."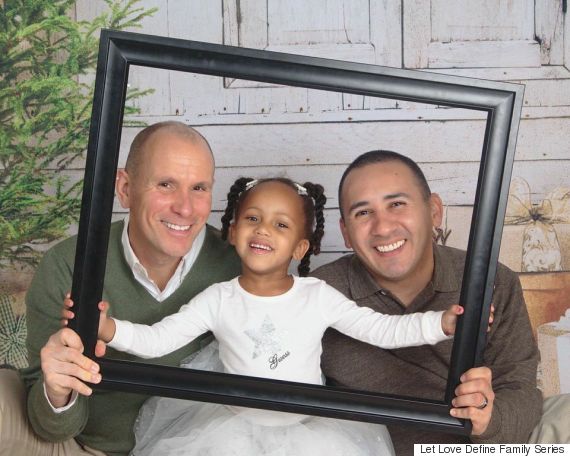 Watching his daughter grow has given Ivan a fresh perspective on the "nature versus nurture" debate.
"She's a 'girly girl' and I was not expecting that!" said Ivan, who enjoys the contrast his daughter's flights of fancy provide with his day-to-day military work. "She's very much a princess and she loves all the princess movies. However, I think she picks up on my personality because I'm very Type A and she's not messy at home. She knows where things are supposed to be and to throw the garbage out and things like that. But she just has her own personality. She's picked up some things that we say and how we say it, but most of the time she's her own person in the way she behaves and acts."
In terms of moving again, Ivan is not sure what the future holds but he and George have one very important plan: they want to adopt again and they hope they'll be able to do it in southern California again with the same DCFS social worker.
"I'm pretty determined," explained Ivan. "I make sure that if there's something I want, I do my best to try to reach that goal. We've been trying now to get another baby so we'll see what the future brings. We're hoping that Emma can have a sibling that she can play with and grow up with. She does have a biological sibling that lives close by that we keep in contact with, so I think that's good for her, but I want her to have someone at home that she can grow up with."
Ivan now encourages others to adopt through foster care.
"I think after having gone through it myself, the people I've shared my story with are more comfortable with the process," he said. "I think being able to provide knowledge or some background helps. I've had both military and civilian friends who have gone through or are going through the system. I even have family members who are thinking about it now!"
Corinne Lightweaver is the Communications Manager at RaiseAChild.US, a national organization headquartered in Hollywood, California that encourages the LGBT community to build families through fostering and adopting to serve the needs of the 400,000 children in the U.S. foster care system. Since 2011, RaiseAChild.US has run media campaigns and events to educate prospective parents and the public, and has engaged more than 2,500 prospective parents. For information about how you can become a foster or fost/adopt parent, visit www.RaiseAChild.US.
REAL LIFE. REAL NEWS. REAL VOICES.
Help us tell more of the stories that matter from voices that too often remain unheard.