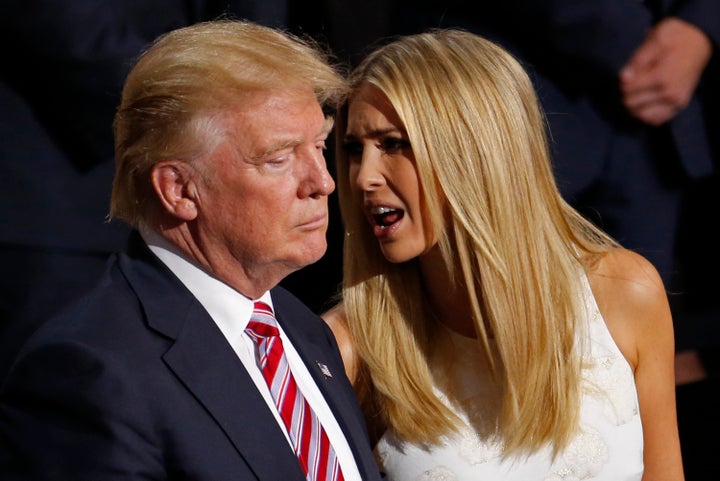 Ivanka Trump ― former model, vice president of development and acquisitions at the Trump Organization, creator of a self-titled clothing brand, and founder of the #WomenWhoWork initiative ― is considered by some campaign insiders her father's single greatest asset in winning over young female voters.
But Ivanka herself isn't all that popular with her intended targets. Only 28 percent of women ages 18 to 34 say they have a favorable view of her, while 42 percent have an unfavorable view, according to a recent Cosmopolitan/Morning Consult poll.
She's better liked among millennial men and older women. According to the survey, 42 percent of men ages 18-34 have a favorable view of her, while 36 percent have an unfavorable view. Among women over the age of 65, 67 percent have a positive impression.
On the whole, less than half of all registered voters have a favorable view of Ivanka.
Perhaps part of the problem is a disconnect between Ivanka's message and her father's words.
Of the four adult Trump children who spoke at the Republican National Convention, Ivanka was given the most prominent speaking slot, introducing her father before his acceptance speech. Her address portrayed her father as a purveyor of women's issues, one who strongly supports equal opportunity in the workplace.
"He is color-blind and gender-neutral," Ivanka said. "Women are paid equally for the work that we do. ... As president, my father will change the labor laws that were put into place at a time when women were not a significant portion of the workforce."
That pronouncement came as something of a surprise in light of Donald Trump's actual rhetoric on women's issues. The GOP nominee has said little, if anything, on the campaign trail to back up his daughter's remarks.
To many observers, Ivanka's speech sounded more Democratic than Republican. ABC political director Rick Klein tweeted, "Is there anything Ivanka Trump has said tonight that wouldn't be cheered at a DNC?"
Indeed, not once in the 58 pages of the 2016 Republican platform does the word "gender" appear. Nor do the terms "wage gap," "equal pay" or "inequality." There are no provisions on gender equality or policy prescriptions for equal pay.
The 2016 Democratic platform, in stark contrast, uses the word "gender" 19 times. An entire chapter is dedicated to the "Fight for Economic Fairness and Against Inequality," with a separate subsection on "Guaranteeing Women's Rights."
Ivanka's failure to connect with young female voters might also be a reflection of her father's own trouble with women. Only 29 percent of women say they have a "favorable" impression of Donald Trump, while almost 7 in 10 have an "unfavorable" one, according to an Economist/YouGov poll.
The Republican nominee has been criticized recently for his response to the sexual harassment scandal surrounding former Fox News CEO Roger Ailes. Trump called it "very sad" that women are coming out against Ailes. This prompted one USA Today reporter to ask: What if someone had treated Ivanka the way Ailes allegedly treated these other women?
"I would like to think she would find another career or find another company if that was the case," Trump responded.
But most women lack the financial resources that Ivanka has and can't simply quit their jobs. More importantly, a woman who has faced sexual harassment should not be expected to "find another career" ― because she did nothing wrong. It's the harasser who should suffer the consequences.
Brother Eric Trump jumped into the fray with an equally misguided response, shifting the blame for sexual harassment onto the victim. "Ivanka is a strong, powerful woman," he said. "She wouldn't allow herself to be subjected to it."
Fox News anchor Megyn Kelly captured the absurdity of the younger Trump's reply:
The Cosmopolitan/Morning Consult survey of nearly 3,000 registered voters nationwide was conducted July 22-24. Respondents were reached online and the data were weighed to approximate a target sample of registered voters based on age, race/ethnicity, gender, educational attainment, region, annual household income, home ownership status and marital status. Results have a margin of error of plus or minus 2 percentage points.
Popular in the Community