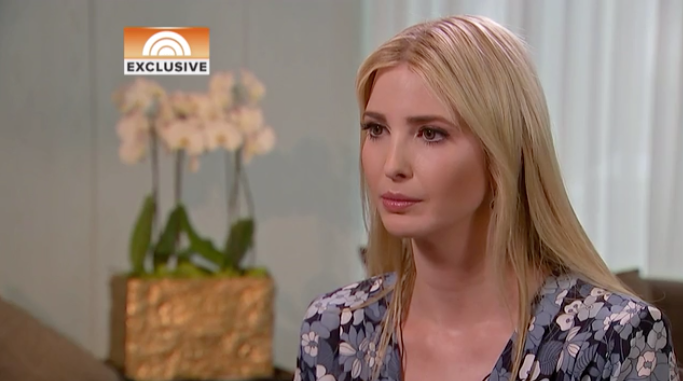 Ivanka Trump is officially the Assistant to the President—she has a security clearance and everything. And yet, she doesn't seem to enjoy words that imply she is a part of her father's administration and thus is at least somewhat responsible for the decision-making therein. It appears that Ivanka wants to exist on a separate but overlapping dimensional plane that runs parallel to the one her father and everyone else exists within. This way, she can keep up her serene-centrist, women-first persona while still working within an administration that runs in opposition to all the things she claims to represent.
A few weeks ago, when asked by Gayle King on CBS News if she was complicit, Ivanka responded by saying, "[i]f being complicit is wanting to, is wanting to be a force for good and to make a positive impact then I'm complicit."
She's right and she's wrong.  That's not what complicit means, but yes, she is complicit.
Yesterday, after being booed and hissed at during an appearance at the W20 Women's Summit in Berlin, Ivanka sat down with Hallie Jackson of TODAY.  A small exchange from the interview was released involving another word: accomplice.
Jackson brings up the headline of local, daily newspaper Berliner Zeitung, which called Ivanka the "First Whisperer" and "the most favored child of the U.S. President."  They went on to ask if she will "put her father on a moderate course, as many hope? Or will she be a loyal accomplice?"
Again, Ivanka was not a fan of the word choice: "Well, I don't like the intonation of that, which uh, you know assumes that, I think, you know, I don't like the word accomplice, because, you know, in this context; I don't know that that's productive."  She then sidesteps the question and muses about her father's ability to "curate ideas."
So, just so we're clear, Ivanka is only complicit by her definition of complicit, which is not the definition of complicit, and she doesn't like the word accomplice.
I wonder how she feels about: sidekick, confederate, collaborator, accessory, cohort, aide and comrade?
Calling all HuffPost superfans!
Sign up for membership to become a founding member and help shape HuffPost's next chapter