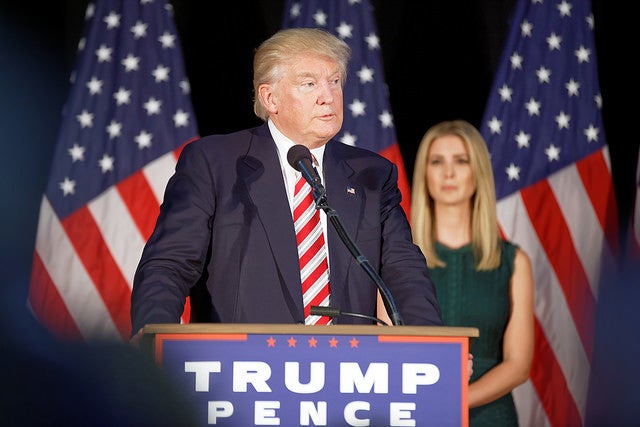 She might be worshiped by Chinese women for her beauty and style but the European women who attended the W20 Summit on Tuesday were having none of it and promptly booed Ivanka Trump when she had the audacity to say that her father is a champion of women.
"Grab them by the pussy."
To be fair, we've heard this song before and should be well aware that she is very much her father's daughter, complete with the same delusional relationship with the truth. And even if these lies come in a much prettier package, they're still lies. The panel's moderator, Miriam Meckel, editor of German business magazine WirtschaftsWoche, challenged Ivanka about the things her father has said about women and how this "might leave one questioning whether he is such an empowerer for women." Ivanka truly, actually, pulled a Donald and blamed it on the media. If you find that as unbelievable as it sounds, you can read and watch the whole thing for yourself here.
"It's OK to call my daughter a piece of ass."
Some of my friends didn't like the booing and perhaps it would have been inappropriate had she just been first daughter, but then if that were the case, she wouldn't have been there. This former model and businesswomen (with just a little help from daddy, of course) with zero political experience is now installed in the West Wing as an unpaid advisor to her father and even has a security clearance.
Her journey to Germany showcased this new official role as she represented POTUS abroad by sitting on a panel about female entrepreneurship side by side with German Chancellor Angela Merkel, International Monetary Fund managing director Christine Lagarde and Queen Maxima of the Netherlands. Merkel reportedly invited her to participate on the panel as way to further develop a relationship with her as a backchannel to the president.
Ivanka Trump embodies a right-wing fantasy of what feminism should be. In fact, it's a brilliant tactic: instead of a full frontal assault on feminism, a la feminazi, they claim the term via hollowed out platitudes about women's empowerment. Then all they need is the perfect spokesperson, a wealthy, pretty and well-dressed blonde who dutifully pays lip service to putting motherhood above all else.
This fake feminism is infuriating and dangerous. It undermines the slow slog towards progress we've been making in favor of less funding for women's healthcare, a nearly all-male presidential cabinet and a president who not only says crude things about women but has been accused of sexual assault and harassment more than 15 times.
"If Ivanka weren't my daughter, perhaps I'd be dating her."
While I want very much to see more women in politics regardless of their ideological leanings, I also reserve the right to go just as hard after women I disagree with as the men. Politics is a blood sport and much to her credit, Ivanka showed her ability to don thick skin in the face of booing despite her novice status. Calling out the sexism that we watch female candidates face over and over is one thing but supporting an anti-feminist in feminist clothing, just because she's a woman, is very definition of voting with our vaginas.
In the bleary-eyed post-election haze, Ivanka Trump seemed like the least of our worries. She clearly had her father's ear and seemed to be a force for moderation. We noted how she moved in cosmopolitan, New York circles and was friends with Chelsea Clinton and theorized that she'd end up doing her step mother's neglected first lady duties. But we now know that Ivanka Trump doesn't want to be first lady, she wants to be secretary of state. She's already the preferred backchannel to Trump of important world leaders such as Angela Merkel and Justin Trudeau because they recognize her usefulness. Don't be fooled by her perfect smile, fashion prowess and calmly spoken complete sentences, Ivanka is Trump's more attractive mini-me. She deserves to get booed.
Related
Popular in the Community