President-elect Donald Trump and his daughter Ivanka Trump met with former Vice President Al Gore on Monday to discuss "climate issues," the Trump transition team said.
The transition team initially announced that Gore was to meet only with Ivanka Trump at Trump Tower in Manhattan. After the meeting, Gore disclosed he had also met with the president-elect, describing the conversation as "very productive" and a "sincere search for areas of common ground."
"I had a meeting beforehand with Ivanka Trump," Gore said, according to a transition pool report. "The bulk of the time was with the president-elect, Donald Trump. I found it an extremely interesting conversation, and to be continued, and I'm just going to leave it at that."
Ivanka Trump is angling to make climate change one of her "signature issues" as a way to build a bridge to "moderates and liberals disgusted and depressed" with the incoming administration, according to Politico.
Gore, an outspoken voice on climate change, supported and campaigned for Democratic nominee Hillary Clinton. In October, the climate crusader warned that Trump would create a "climate catastrophe" if elected president.
Trump and his team have signaled that his administration will undo some of President Barack Obama's policies aimed at fighting climate change. Trump has also made comments in the past that cast doubt on the link between human activity and climate change. For example, he previously called it a "hoax" invented by China to make U.S. manufacturing less competitive.
In an interview with The New York Times after his election, however, Trump appeared open to accepting that there's "some connectivity" between human activity and climate change. But he also warned that combating climate change would "cost our companies."
Gore is not the first Democrat to walk into Trump Tower since Trump's election. The president-elect has sat down with Rep. Tulsi Gabbard (D-Hawaii), Sen. Heidi Heitkamp (D-N.D.) and education reformer Michelle Rhee.
CORRECTION: A previous version of this story incorrectly identified Heidi Heitkamp as the senator from North Carolina.
This story has been updated to include Al Gore's comments after the meeting.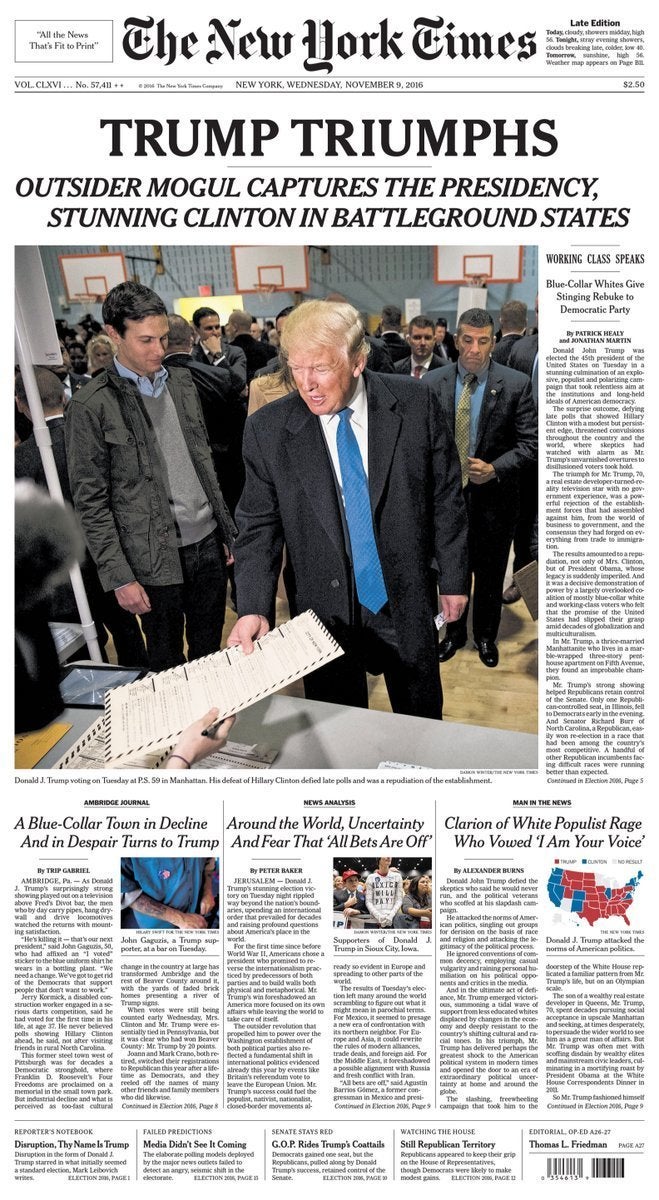 Newspapers React To President Trump