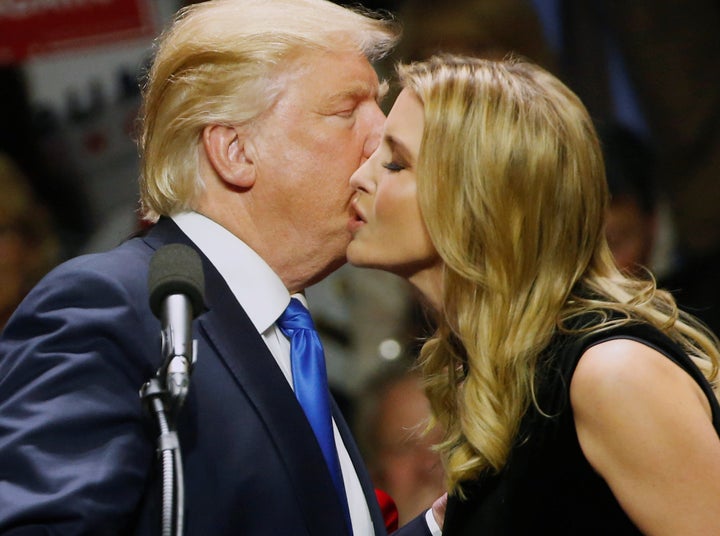 UPDATE: Dec. 16 ― The private coffee chat appears to have been removed from the Charity Buzz site. Charity Buzz, the Trump transition team and the Eric Trump Foundation did not immediately respond to requests for comment from The Huffington Post.
Ivanka Trump is auctioning a private meeting over coffee for two people willing to pony up a huge contribution to her brother's foundation.
The "meet and greet" on a mutually agreeable date next year at either Trump Tower in Manhattan or the Trump International Hotel in Washington will last up to 45 minutes, according to a description on Charitybuzz, which values the auction at $50,000.
The winning bid is good for two people, who must pass criminal background checks and be approved by the Secret Service. They're also expected to "conduct themselves appropriately" with "polite manners" and "respect," the description says. Proceeds will go to the Eric Trump Foundation, run by Ivanka's brother, which supports St. Jude Children's Research Hospital.
As of Monday, bidding had reached $23,000. The auction closes Dec. 20.
The auction appears to veer perilously close to the same kind of situation President-elect Donald Trump claimed existed at the Clinton Foundation. Trump lashed the foundation during his campaign, arguing that it was a way the wealthy could curry favor with Hillary Clinton through "pay to play" contributions while she was secretary of state. In Ivanka Trump's case, the winning bidders could curry favor with a daughter who has the ear of a president-elect — and is active herself in his incoming administration.
The Charitybuzz listing describes Ivanka Trump's business experience, including her work as vice president of her father's Trump International company, and notes that husband Jared Kushner is a real estate developer and owner of the New York Observer newspaper.
It's no secret that Trump hopes to bring the couple into his administration — providing lawyers can figure a way to avoid breaching anti-nepotism and conflict-of-interest laws. Ivanka Trump, her husband, and her brothers Eric and Donald Jr. are already serving on the president-elect's transition team.
Ivanka Trump also has been at her father's side at meetings with political leaders, including one with Japan's Prime Minister Shinzo Abe last month in Trump Tower at the same time she was awaiting a lucrative licensing deal with the Japanese apparel giant Sanei International, The New York Times reported. The meeting sparked controversy from critics concerned about the Trump family's blurring of lines between politics and business interests.
Ivanka Trump has been quick to cash in on her White House connections. After an interview with her father in November on "60 Minutes" her jewelry company sent out a press release hawking a $10,800 bracelet she wore on camera. A company spokesman later apologized, blaming the move on a "well-intentioned marketing employee."
Popular in the Community