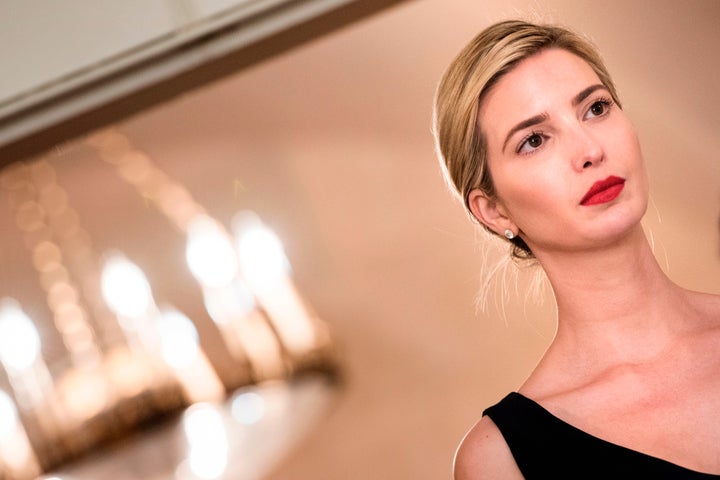 Ivanka Trump has remained silent about alleged labor violations, low pay and poor conditions at the Chinese factories that make her goods. But her brand finally released a statement, roughly a week and a half after Chinese labor activists were arrested while investigating her supply chain.
The U.S. State Department has called for the three activists' release, but the first daughter's company doesn't mention them. Instead, it merely attempts to distance itself from the growing scandal.
"Products have not been produced at the factory in question since March," company president Abigail Klem said in a statement sent to HuffPost. "Our licensee works with many footwear production factories and all factories are required to operate within strict social compliance regulations."
The statement notably doesn't suggest Trump's brand has been proactive in resolving documented issues related to poor conditions or rights violations at the Chinese factories, or that the company is taking steps to ensure it doesn't use non-compliant facilities in the future. It doesn't even state Ivanka Trump products won't be made at the same facility in the future.
When asked about the specific alleged violations at the factory, or what action it would take in the future, Trump's company declined to comment further.
China Watch Labor has appealed directly to the Trump family to assist in the release of Li Zhao, Hua Haifeng and Su Heng. The organization said the incident is the first time in 17 years that "any [of] our investigator[s are] being detained under a criminal process."
"Our activists discovered evidence that a supplier factory for Ivanka Trump's brand company and many other brands had violated workers' rights in ways that included: forced overtime, wages lower than China's legal minimum wage, managers' verbal abuse of workers, and violations of women's rights," its website reads. "We appeal to President Trump, Ivanka Trump herself, and to related brand companies to advocate and press for the release our activists."
"We urge China to release them immediately and otherwise afford them the judicial and fair trial protections to which they are entitled," said spokeswoman Alicia Edwards.
The Chinese government declined, saying the three men are accused of using secret recording devices, a charge China Labor Watch denies.
The lukewarm response of "Team Ivanka" comes just months after another watchdog group, the New York-based Fair Labor Association, uncovered low salaries and unfair working conditions at a Chinese factory contracted by the company that licenses Ivanka Trump's clothing. The unnamed factory was cited for two dozen violations of international labor standards, and according to Li Qiang, executive director of China Labor Watch, it is the same facility at which two of the three men were arrested.
Qiang sent a letter to Trump on April 27, detailing the abuses his associates had so far uncovered at the factories. He called for her to publicly advocate for change, noting workers were only making about $363 per month and suffering overtime without pay, lack of safety training and verbal abuse.
"I hope that you understand the urgency of this matter," he wrote. "China Labor Watch expects you, as an assistant to the president and an advocate for women's rights, to urge your brand's supplier factories to improve their conditions. Your words and deeds can make a difference in these workers' lives."
The lack of action adds yet another layer to the Trump family's problematic ties to China ― one noted by the Democratic National Commitee.
"Ivanka's company should switch suppliers, and the Trumps should stop hypocritically telling corporations to 'buy American and hire American' while they continue to knowingly take advantage of workers' abuses abroad," said DNC spokeswoman Adrienne Watson.
To date, Trump has continued to import goods from China through her father's election and presidency, even reportedly importing 53 metric tons of goods from China during the inauguration alone ― while the president trumpeted his "America first" policies.