Ivanka Trump's clothing and accessories brand saw a spike in sales in February, according to the company's president and market research data. 
Abigail Klem, who took over as president of the brand after President Donald Trump's daughter stepped down in January, said the company has seen near-unprecedented success since last month.
"Since the beginning of February, they were some of the best performing weeks in the history of the brand," Klem said in a statement. "For several different retailers Ivanka Trump was a top performer online, and in some of the categories it was the [brand's] best performance ever."
While the company does not publicly share sales figures, recent market research reports backed up Klem's statement. 
Lyst, a British e-commerce website that sells thousands of different brands, said sales of Ivanka Trump products increased 346 percent between January and February, while sales of the brand are up 557 percent over last year. Ivanka Trump was the site's 11th most popular brand in February, up from 550th in January. 
"To see such an extreme spike in one month is completely unheard of and came as a huge surprise to us," Lyst spokeswoman Sarah Tanner told the BBC earlier this week.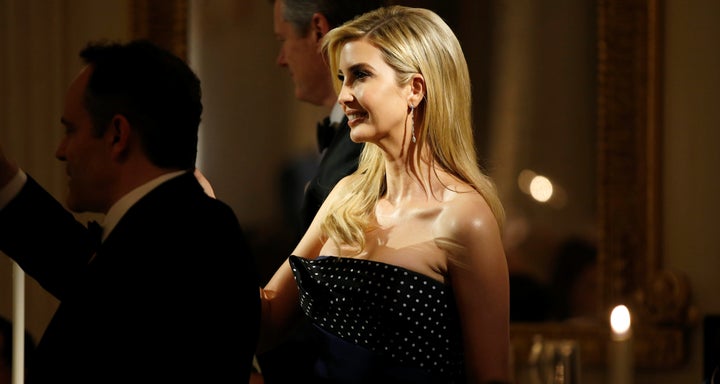 Market research firm Slice Intelligence, which tracks purchases from 4.4 million consumers who have allowed the firm to analyze their email receipts, saw a 207 percent increase in purchases of Ivanka Trump products between January and February. (The same firm reported a 26 percent drop in the brand's sales in January over the same month of the previous year.) 
Amazon, one of the most high-profile retailers carrying Ivanka Trump products, did not immediately respond to a request for sales figures for the brand. However, Ivanka Trump perfume is currently the website's best-selling fragrance.
And a company spokesperson said sales of the brand were up by 21 percent in 2016 over the previous year's sales. 
That spike may be attributable to increased public interest in the Trump family over the last year. The February sales surge coincided with the president's first month in office, during which Ivanka Trump made multiple high-profile appearances, including at the inauguration and the president's address to a joint session of Congress. 
The surge also came after several stores, including Nordstrom, dropped or stopped promoting the clothing line amid calls for boycotts against companies that sell Trump family products.
Following Nordstrom's announcement, White House counselor Kellyanne Conway urged consumers to "go buy Ivanka's stuff." 
"I'm going to give a free commercial here," she said Feb. 9 during an appearance on "Fox & Friends." "Go buy it today, everybody. You can find it online."
Many ethics experts condemned Conway's remarks, and the Office of Government Ethics called on the White House to discipline her for potentially violating a rule prohibiting officials from using their positions of power to promote products. However, the White House declined to penalize Conway, arguing the comment was made "in a light, off-hand manner."
The president himself attacked Nordstrom for dropping Ivanka Trump products, tweeting that the department store chain treated his daughter "unfairly."
REAL LIFE. REAL NEWS. REAL VOICES.
Help us tell more of the stories that matter from voices that too often remain unheard.
BEFORE YOU GO
PHOTO GALLERY
Trump's First 100 Days