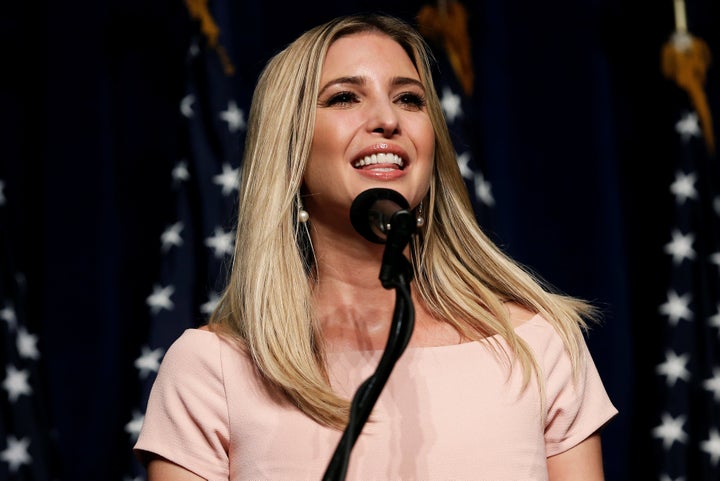 Just about every politician, pundit and voter in the country has had something to say about Donald Trump's 2005 "Access Hollywood" tape, in which the GOP presidential nominee boasted about sexually predatory behavior. That is, just about everyone other than the Trump campaign's spokeswoman for gender equality.
After keeping mum on the controversy a week and a half, Trump's daughter, Ivanka, 34, finally addressed her father's shocking hot-mic comments on Monday. Her statement, issued to Fast Company, was, well, brief: "My father's comments were clearly inappropriate and offensive, and I'm glad that he acknowledged this fact with an immediate apology to my family and the American people."
Ever since her speech at the Republican National Convention in July, the successful businesswoman has tried to temper her father's public image as a misogynist. This has not been an easy task, given the candidate's long track record, on Twitter and elsewhere, of insulting women and shaming their bodies. It became even more difficult after the world could hear the GOP nominee bragging about how he can grab women "by the p***y." Since The Washington Post published the audio earlier this month, several women have come forward to claim that Trump made unwanted advances on them.
Terse as her statement was, Ivanka went a step further than her brother Eric Trump, another campaign surrogate, by condemning her father's comments as "offensive." While saying he didn't think the comments were "right," Eric wrote off his father's boasts as "locker room talk." "That's what happens when alpha personalities are in the same presence," he explained.
In an interview with Fast Company ― her statement on the audio came separately ― Ivanka said she has learned how to "shrug off" the unflattering coverage of her father, including allegations of sexual assault.
"The greatest comfort I have is the fact that I know my father. Most of the people who write about him don't. I do," she explained. "So that gives me an ability to shrug off the things that I read about him that are wrong."
Read the full interview here.
HuffPost readers: Have you bought Ivanka Trump's shoes, clothes or accessories in the past? If so, has her involvement in her father's campaign made you more or less likely to do that in the future?
Popular in the Community