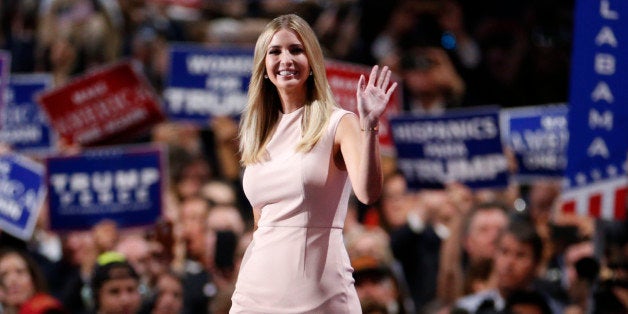 I'll admit it: I recently fell victim to the trap of Feminist Ivanka Trump.
I mean, the woman basically runs the Trump Organization while operating her own lifestyle brand and pretty much directing her father's presidential campaign. She also calls herself "absolutely" a feminist, and actually got Republicans to cheer at the idea of paid family leave at the Republican National Convention.
Plus, in a blog post about her upcoming book, she unleashed what may be my new personal motto:
"If you ask me, there's nothing more incredible than a woman who's in charge of her own destiny -- and working daily to make her dreams a reality," she said.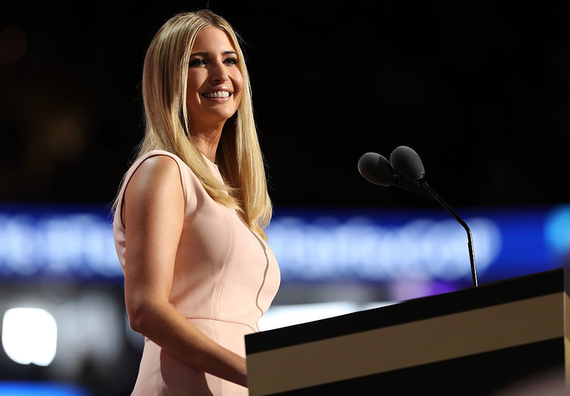 Maybe I accepted Ivanka with open arms because I'm desperate for someone to make Republicans address women's issues. Maybe it's because everyone keeps telling me we look alike. Who's to say?
Still, questions lingered: How can an advocate for working women campaign for a man who once called women in the workforce "dangerous?" How can she stand in support of someone who has never supported maternity leave or equal pay? And how could she give a speech about her father's stance on women's rights, knowing full well he wouldn't mention them once during his own RNC speech?
The answers to these questions lie in the unique brand of feminism that Ivanka peddles.
It starts on her website, which is basically a giant advertisement for the Ivanka Trump lifestyle brand. The site claims to serve the "modern working woman" who embraces her "multidimensional" life. The site prominently features the #WomenWhoWork hashtag, which Ivanka uses to spotlight women in the workforce. But it quickly becomes clear that there is only one kind of woman that Ivanka wants to empower.
"After finishing law school in Australia, Kate Williams spent a year on a round-the-world trip and fell in love with New York in the process -- so much so that she decided to move here," the article reads.
This is the kind of woman Trump's feminism serves: Those with the power and privilege to attend law school and spend a year traveling the globe before ultimately settling in the second-most expensive city in the country.
This is not feminism for all women. This is feminism for women like Ivanka. It's feminism for women who can survive, even thrive, through a Trump presidency, because they don't rely on things like public health care, quality public education, or safe and reliable access to abortion -- all things her father would take away from them.
This is the kind of "marketplace feminism" that Andi Zeisler decries in her book "We Were Feminists Once." It's a kind of feminism used to sell us products -- like Dove bodywash or Always pads -- and now presidents, like Trump. And it's owned by corporations and individuals who have no interest in the public good, and every interest in making a profit.
"Corporations are not in the social justice business," Zeisler told the Huffington Post. "They're in the money business, and ultimately capitalism is not something that is compatible with social movements."
Nowhere is this better exemplified than in Trump's policies for her own employees.
The 12 employees of the Ivanka Trump brand enjoy eight weeks of paid maternity leave and flexible hours. And Ivanka takes pains to emphasize this, even offering quotes to Business Insider for an article about her female employees.
"I think parental leave is enormously important -- and it's a personal decision," she told Business Insider. "Part of building a company whose goal is to empower women in all aspects of life is that I've given my team some leeway to determine what parental leave looks like for each of them individually."
Apparently, Trump doesn't think these same privileges should be extended to other women -- namely, those who make her products.
The Washington Post reports that the company that designs and distributes Trump's clothing line gives no maternity leave to its workers. One of the company's female workers reportedly drained her vacation days and used up her savings to afford her pregnancy.
Ivanka Trump has contracted with this same company since 2012, and reportedly works very closely with them on the design. Yet, she has not pressured them to uphold the very values she's built her brand on.
Like so many companies before her, Trump is simply using feminism to boost her -- and now her father's -- brand. And if she should succeed, the people she lifts up will not be the working-class women struggling to support their families. It will be the wealthy, privileged women that she already caters to.
In fact, Trump's brand of feminism can be summed up in just one line from her New York Time best-selling business book:
"We've all been dealt a winning hand," the business heiress wrote, "and it is up to each of us to play it right and smart."
Ivanka Trump is not going to use her winning hand to help women. She's going to use it to play them -- right and smart.
Related
Popular in the Community