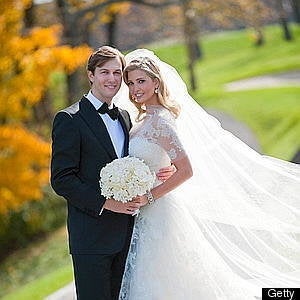 Ivanka Trump married New York Observer owner Jared Kushner Sunday in a private Orthodox Jewish ceremony at the Trump National Golf Club in Bedminster, NJ.
The bride, 27, wore a Vera Wang gown inspired by Grace Kelly. Guests included Regis Philbin, Barbara Walters, Rupert & Wendi Murdoch, Jeff Zucker, Rudy Giuliani, Russell Crowe, Natalie Portman, Emmy Rossum, and Andrew Cuomo.
People reports that Donald Trump gave a simple toast: "Be happy and enjoy your life."
Barbara Walters discussed the wedding Monday morning on "The View," calling it "absolutely gorgeous" but not "glitzy" and adding that Donald was "very low-key." Walters noted that the two young Murdoch girls, Grace and Chloe, were "little bridesmaids."
Walters also showed the invitation, which was in English on one side and Hebrew on the other.
Popular in the Community