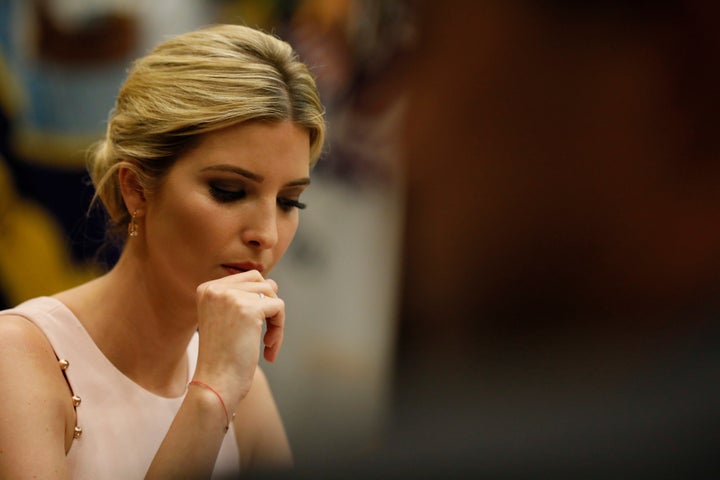 Ivanka Trump, the daughter of President Donald Trump, responded to a white supremacist rally in Charlottesville, Virginia, by saying that, "there should be no place in society for racism."
Ivanka Trump converted to Judaism before her 2009 marriage to Jared Kushner, who was raised in the Orthodox Jewish tradition. The pair serve as advisers to the president.
Thousands of members of the so-called "alt-right" movement― white supremacists and other radical activists― poured into Charlottesville this weekend for Saturday's "Unite The Right" march. Many in the group wore shirts bearing Nazi insignia or waved flags with swastikas on them. Richard Spencer, a prominent white supremacist figurehead, also attended the events, which turned violent even before the march officially began. 
A 32-year-old woman was killed on Saturday afternoon after a car rammed into a group of pedestrians protesting the bigotry. James Fields Jr, 20― who was in Virginia for the 'Unite The Right' march― was arrested and charged with murder.
Both Republican leaders and Democratic lawmakers― as well as civil rights groups― called on Trump to denounce white supremacy.
Trump also sparked ire last year after receiving an endorsement from former KKK leader David Duke, who he later disavowed. Duke said on Saturday that this weekend's white supremacist events "fulfill the promises of Donald Trump."
"That's what we believed in, that's why we voted for Donald Trump," Duke said. "Because he said he's going to take our country back. That's what we gotta do." 
REAL LIFE. REAL NEWS. REAL VOICES.
Help us tell more of the stories that matter from voices that too often remain unheard.