WASHINGTON ― Ivanka Trump and Education Secretary Betsy DeVos held an event at the National Air and Space Museum Tuesday, promoting the administration's support for young women in the fields of science, technology, engineering and mathematics. They even appeared with astronaut Kay Hire and showed the movie "Hidden Figures," a story about the achievements of African-American women at NASA. 
Trump paid homage to the women featured in the movie for "paving the way for greater representation of women and African-Americans in these fields." 
"My father's administration has expanded NASA's space exploration mission and added Mars as a key objective," she added.
President Donald Trump's 2018 budget, however severely undercuts this women-friendly image put forward by DeVos and his daughter Tuesday.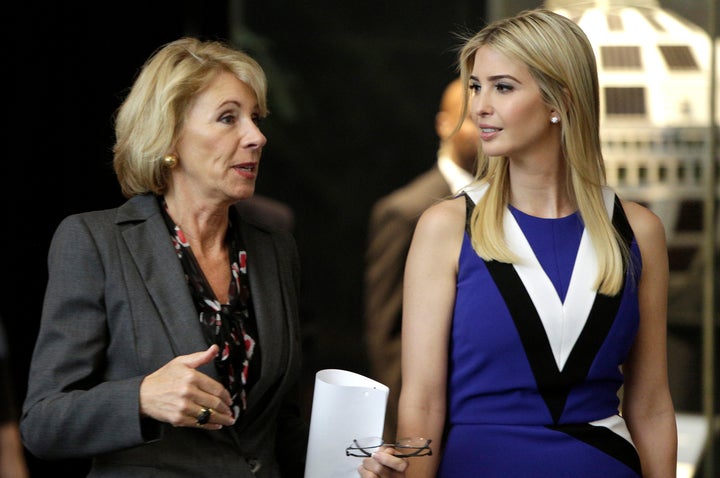 If Trump gets his way, his budget will eliminate the $115 million NASA Office of Education. The popular NASA initiative provides internships, enrichment programs, camps and scholarships for young scientists, and tries to get more underrepresented communities into STEM.
Advocates say it's a critical way for more women and minorities to enter these fields, and that axing it would be devastating.
"It's how I started my career in the space industry. It's how so many people I know got started in the space industry," Laura Seward Forczyk, a planetary scientist, told The Washington Post. 
"Education Secretary Betsy DeVos and Ivanka Trump are feigning an interest in STEM careers with a photo op at the National Air and Space Museum while eliminating all funding for NASA's education programs. This takes chutzpah to a new level," said Randi Weingarten, president of the American Federation of Teachers labor union.
Growing up in Virginia, Leland Melvin thought he was going to go to college and eventually play professional football. But then he learned about a NASA program that would pay for him to take classes towards his master's degree in materials science engineering. After a football injury sidelined his original plans, he continued his science education with additional NASA funding ― all funneled through the NASA Office of Education.
"If it hadn't been for NASA Education I wouldn't have been funded to go to school, to work at NASA Langley, to become an astronaut," Melvin told The Washington Post. He eventually went on to run the education office as well. 
NASA has said that if the education office is eliminated, it will absorb those programs into the Science Mission Directorate, another office at the agency. The directorate's budget for education and outreach, however, is much smaller, meaning some of the education office's programs would still be cut or eliminated. 
The president recently signed legislation that requires NASA to encourage more women and girls to go into STEM, even though his budget takes away critical funds for such efforts. His budget also proposes taking away billions from the federal Pell Grant program, which helps low-income students attend college.
Ivanka Trump didn't mention these cuts at the event Tuesday, although she did reveal that she and her 5-year-old daughter will be attending a coding class this summer.
Want more updates from Amanda Terkel? Sign up for her newsletter, Piping Hot Truth, here.
Calling all HuffPost superfans!
Sign up for membership to become a founding member and help shape HuffPost's next chapter
BEFORE YOU GO
PHOTO GALLERY
NASA Space Tourism Posters