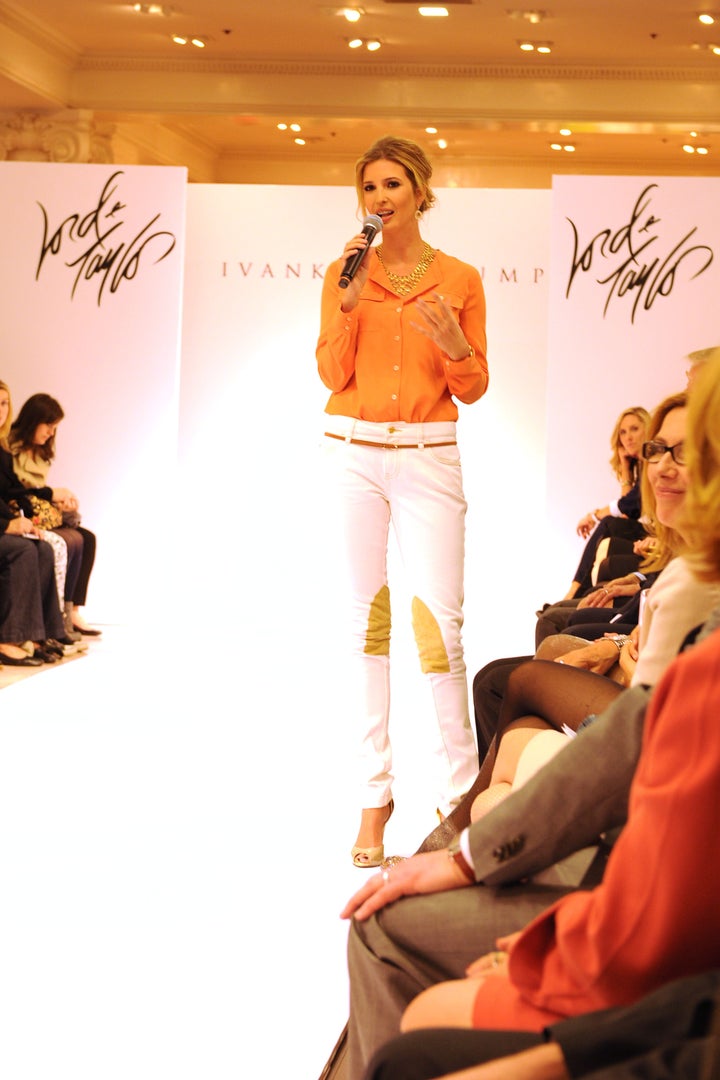 Ivanka Trump, it seems, can do no wrong. As the daughter of one of American's most famous billionaires, Ivanka could have partied around, skated through college and settled comfortably into the high-flying life of a gilded socialite.
Instead, she attended the Wharton School of Business at the University of Pennsylvania, graduated summa cum laude, got a job and worked her way up to become Executive Vice President of Real Estate Development and Acquisitions within The Trump Organization.
Then, lest she stop at total real estate domination, she launched The Ivanka Trump Collection of jewelry, shoes, handbags and now, for the first time, ready-to-wear. We caught up with the mogul at the first-ever runway show for the Ivanka Trump Collection, held at Lord & Taylor, to dig a bit deeper: can this poised, polite, statuesque businesswoman-slash-mother really do everything?
Below, excerpts of our interview, in which Ivanka admits there's one pose we'll never see her strike...
The Huffington Post: Hi! Are you wearing your collection today?
HuffPost: Do you wear your collection all the time?
I.T.: I do. I love it, obviously. The shoes, the handbags, the jewelry, the clothes – I wear at least something now from the line.
HuffPost: Is that your incentive to make more lines?
I.T.: It basically is. Somebody was asking, 'What product category I wanted to go to next?' and I'm like 'Children's clothes!' Then I won't ever have to buy anything ever again. If I cover that, then I'm good.
HuffPost: What does [Ivanka's 8-month-old daughter] Arabella like wearing?
I.T.: I like dressing her in pink and white. I'm pretty traditional like that -- I like her looking cute, pink and girly. But to me the ultimate is the basic onesie. I wish I could wear it. I'm very jealous of her bedtime outfits.
HuffPost: When you're designing, you're clearly designing for what a woman like you would like. But are there any specific designers that are favorite designers of yours or designers that you channeled?
I.T.: I tend to like people who understand a woman's body -- how to make them look elegant, how to make them look feminine, sexy but in a beautiful way, not sort of an over-the-top way. So the people I always seem to admire are the Oscar de la Rentas; of the younger generation, the Jason Wus -- people who really understand how to make a woman look pretty without diminishing her. You know, powerful pretty.
HuffPost: Does your father ever give any insight into the fashion stuff or does he basically stay out?
I.T.: Yeah, that's one area he allows me to do my own thing. Although he has a lot of advice to offer on the business side of it. His ties, cufflinks and suits are Macys' bestsellers, so it's been a great business for him as well.
HuffPost: It seems like with all the different lines and with all your areas of business, it's just been success after success. Has there been any moment of serious failure along the way, whether it be with the clothes or your entire career?
I.T.: I think I have had a tremendous amount of learning moments. Thankfully they haven't culminated in what I would deem serious failure, although I'm sure it will happen during some point in my career! [Ed. note: Highly unlikely.] But most of the things I look back on and wish I had done differently were probably more valuable because I made the mistake and can recognize that and that will benefit me going forward, to not do it again.
HuffPost: Can you remember one big flub?
I.T.: No, because it wasn't like necessary big things. I've never sort of gone into a transaction and really wished I hadn't. It's more just... I think part of the challenge being my age and the position I have is interpersonal: dealing with people, having to sort of grow and evolve in terms of your management style and all of those things. [Ed. note: We told you -- perfect!.]
HuffPost: Whether it be in a boardroom or elsewhere, did you find that there have been challenges because you're a woman?
I.T.: Oh, definitely. Especially when dealing outside of the United States. So even in America, women and real estate tend to be on the brokerage side and the marketing side, not the development side or finance side. So, you definitely feel it. But I personally think it's not as bad to be the one who stands out in a room as long as you're comfortable with that.
I.T.: I couldn't do it. It's not for me. I actually think it's a very beautiful time for a women and I think it's a very special time, and I didn't just want to do another shoot like that, plus I wouldn't feel comfortable doing it. But I don't know, I think Demi Moore did it so well and everyone's sort of trying to recreate that -- I kind of think she did it once and did it well. Now it's a little more common, so it's a little less exciting when I see that.
HuffPost: Now that you are a mom, what is your fashion like when you're home? What are you wearing when you're around the house or taking care of your daughter?
I.T.: I am almost always, when I'm at home in the evening after work, in a silk bathrobe I got from India. Like, I never take off this bathrobe. I have a series of Indian silk bathrobes that I love and that's what I rock all the time. It's like Pavlovian –- I walk into the door, grab my baby and she comes with me to change into my bathrobe.
HuffPost: How has your father been as a grandfather?
I.T.: Oh, he's cute. Really cute. He points out all the ways she looks like me when I was her age, so it's very sweet.
HuffPost: I know your dad's probably a really big role model for you in business. Are there any women who have been role models for you?
I.T.: Oh, my mother. My mother is a great example of that, and I know plenty powerful women in business who I think are a great example of that. Indra Nooyi is a great example of a strong female executive who has just an amazingly interesting story in terms of her ascent, so she's someone who is very inspiring. And then I think you have people who are really inspiring in terms of the good that they do: Queen Rania of Jordan is a very strong character and does a lot of good for a lot of people.
HuffPost: Speaking of royals, what are your thoughts on the royals who are now so high-profile, like Kate Middleton?
I.T.: I think she's been incredible for the royal family. She's brought a level of glamour that's really been absent since Diana.
HuffPost: So you approve of her fashion style?
I.T.: Oh, yeah. I think she's great. I think she's just really naturally graceful and elegant. She doesn't put herself out there so much, she doesn't take outrageous risks for the sake of attention. She just consistently looks beautiful.
HuffPost: How do you and your husband balance being in the public eye, now that you have your own family?
I.T.: I think it's about conscious decisions. I know, I grew up [in the public eye]... I know there are certain circumstances where there'll be press and others when there won't be, so just trying to balance that. I don't do press for the sake of press. I tend to only be in the press when I'm introducing something or collaborating on something or whatever it may be, as opposed to inviting someone into my home to photograph my closet for no particular reason. I think it's just managing that.
HuffPost: Now that you have ready-to-wear is there anyone you would love to dress? Or who you would love to see wearing your clothes?
I.T.: Not really a celebrity, but just the women who come up to me who have bought from my collection -- the ones who tell me they went to their first job interview wearing my suits and they felt empowered because they thought they looked great, or they wear my shoes to their wedding. You know, stories like that are the most exciting.
Check out Ivanka, her famous family, her fashion industry fans and the actual clothes in the pics below.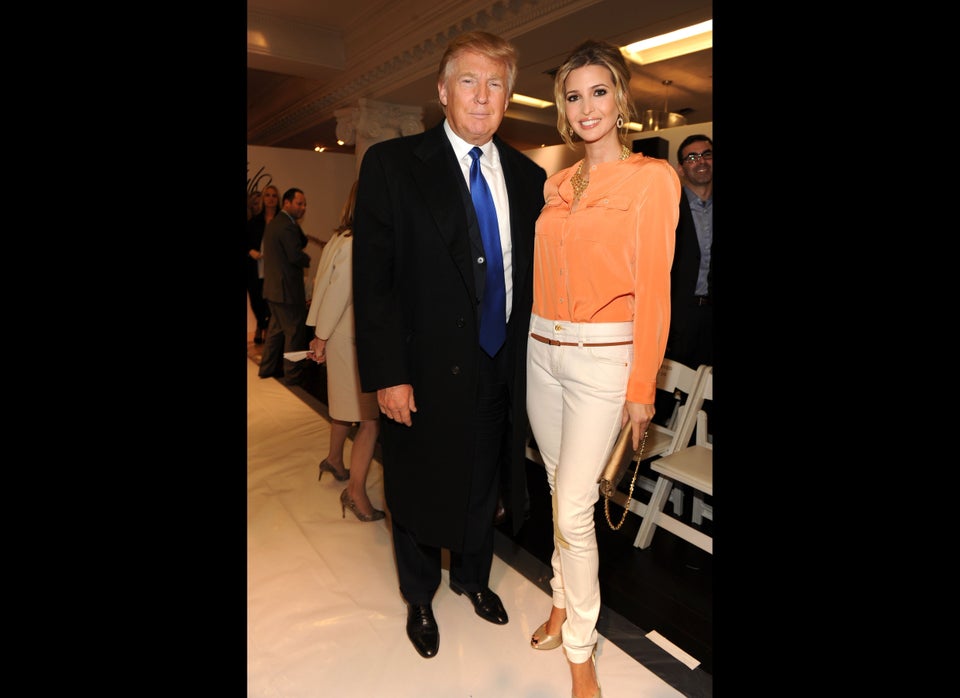 Ivanka Trump Runway Show
Popular in the Community