President Donald Trump's daughter Ivanka Trump responded to criticism of her role in her father's administration, attempting to assuage ethical concerns and the perception that she and her husband ― two of her father's most trusted advisers ― are "complicit" by not publicly pushing back on the president. 
"I think that for me, this isn't about promoting my viewpoints," she said in a "CBS This Morning" interview that aired Wednesday. "I wasn't elected by the American people to be president. My father is gonna do a tremendous job. And I wanna help him do that. But I don't think that it will make me a more effective advocate to constantly articulate every issue publicly where I disagree."
"I think most of the impact I have, over time most people will not actually know about," she added. 
I don't think that it will make me a more effective advocate to constantly articulate every issue publicly where I disagree.

Ivanka Trump
Despite initially saying that she would not have a role in her father's administration, Ivanka Trump has become increasing visible, taking an office in the West Wing, advising her father and hosting White House events on women's issues and education. The White House announced last week that she would become an official government employee with the title "assistant to the president" but no salary. 
"This particular title was about giving critics the comfort that I'm holding myself to that highest ethical standard," she said Wednesday.
She also defended her decision to not place her fashion brand in a blind trust, which would have reduced concerns that she is profiting off of her father's presidency. She said other people would have been able to use her family's name if she had relinquished the brand.
"Because the name of the business is Ivanka Trump, had I sold the business, an independent third party would be able to go around the globe today licensing and leveraging the name of the 45th president of the United States of America ― completely unfettered," she said.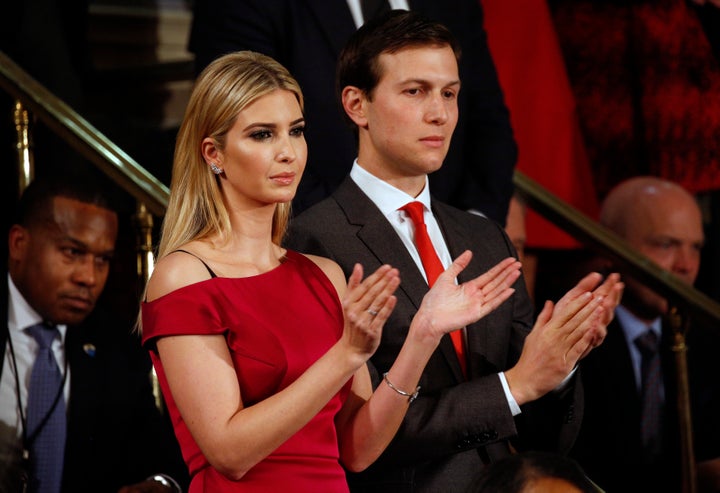 Ivanka Trump also responded to criticisms that she is "complicit" in her father's presidency, the subject of a "Saturday Night Live" parody featuring Scarlett Johansson last month. 
"If being complicit is wanting to be a force for good and to make a positive impact, then I'm complicit," she said. "I don't know that the critics who may say that of me, if they found themselves in this very unique and unprecedented situation that I am now in, would do any differently than I'm doing. So I hope to make a positive impact. I don't know what it means to be complicit, but, you know, I hope time will prove that I have done a good job and much more importantly, that my father's administration is the success that I know it will be."
She also downplayed questions about her husband's outsized position in the White House. Jared Kushner, the president's son-in-law and close adviser, has taken on an unusually large variety of issues, including government reform, peace in the Middle East and the opioid crisis, despite having no political experience.
"A lot of people would say the same about how could somebody successfully win the presidency who had never been engaged in politics? And my father did that, and Jared was instrumental in helping his campaign succeed," she said. "So, you know, Jared is incredibly smart, very talented, has enormous capacity. He is humble in the recognition of what he doesn't know, and is tremendously secure in his ability to seek informed viewpoints."
Calling all HuffPost superfans!
Sign up for membership to become a founding member and help shape HuffPost's next chapter
BEFORE YOU GO
PHOTO GALLERY
Trump's First 100 Days